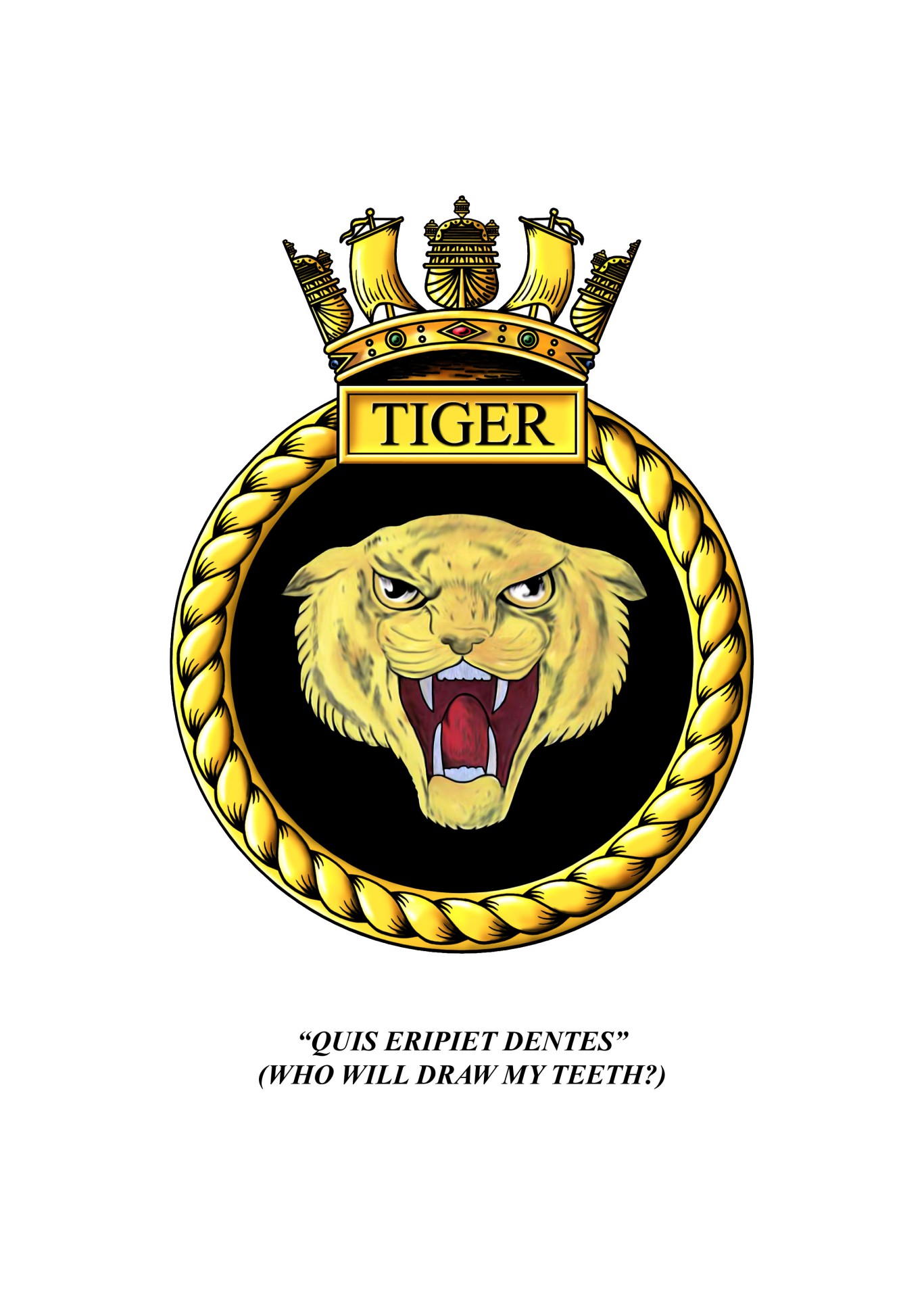 HMS Tiger ( C20 ) 6" Cruiser, 1965/66,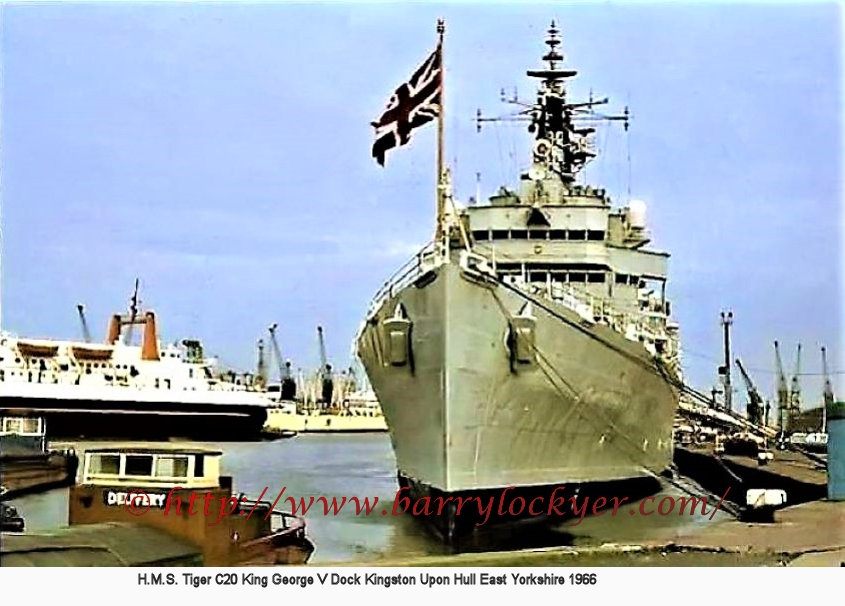 My home town, the best run ashore I ever had in the Royal Navy.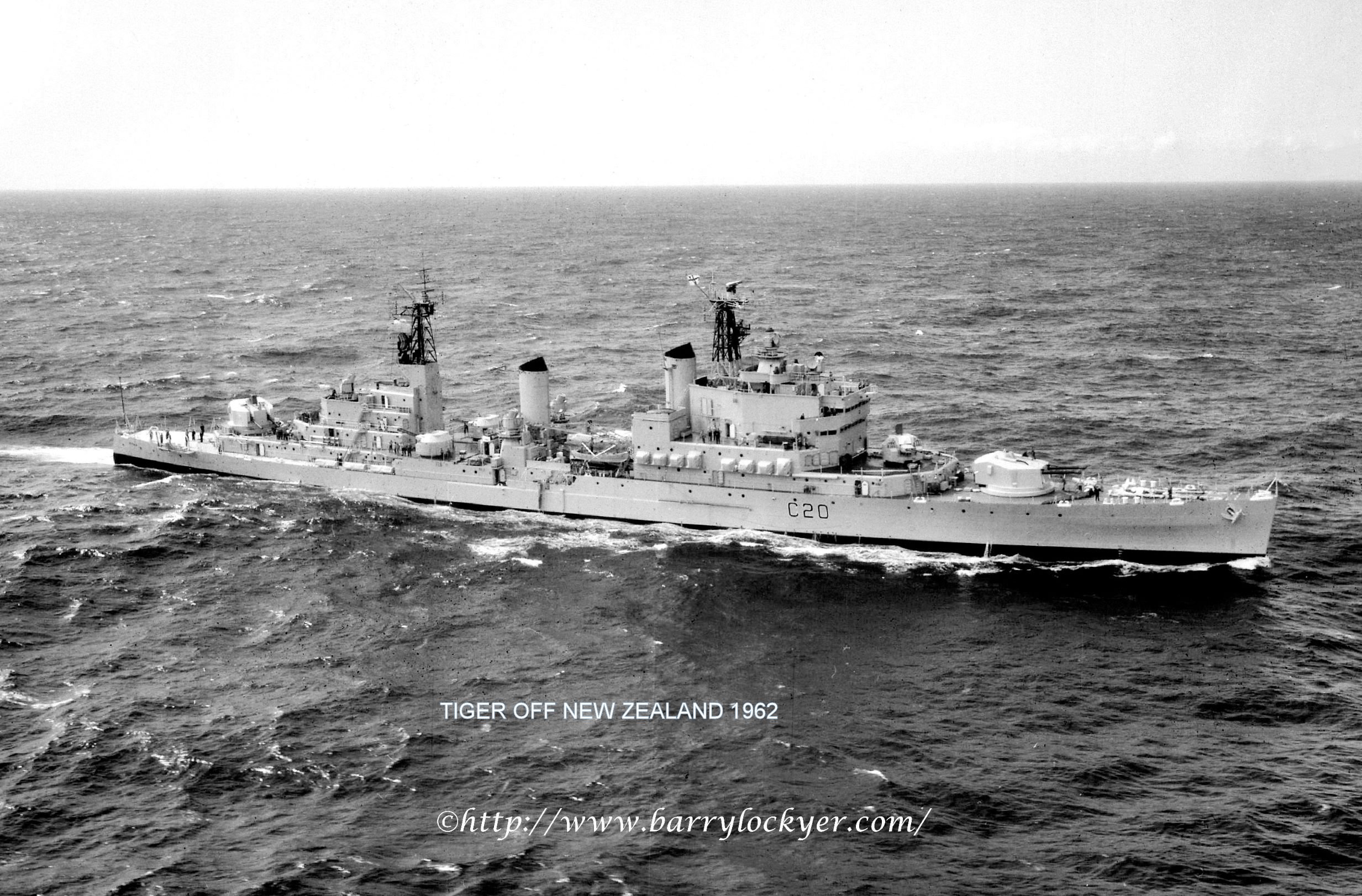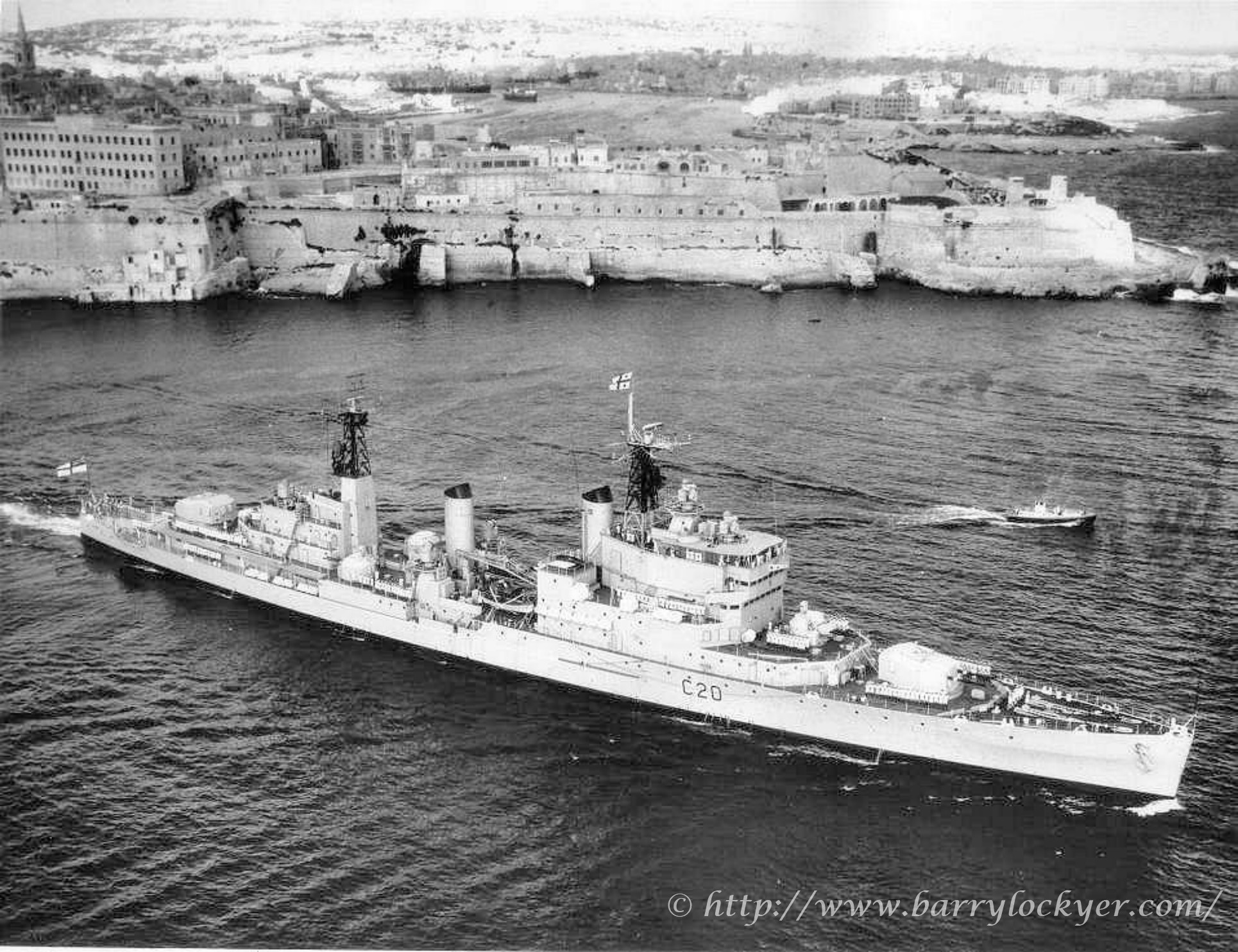 On 21st October 1966, whilst H.M.S. Tiger was in Cardiff Docks,
The little Welsh village of Aberfan suffered a horrendous incident that will live in the memories of the whole nation alive at that time, a watch of the Tiger crew were dispatched to Aberfan to assist in the recovery of the children and teachers who were lost in the tragedy.
The shame of the National Coal Board
The Aberfan disaster 1966. - YouTube
The Aberfan disaster was the catastrophic collapse of a colliery spoil tip in Wales on 21 October 1966. The tip had been created on a mountain slope above the village of Aberfan, near Merthyr Tydfil, and overlaid a natural spring. A period of heavy rain led to a build-up of water within the tip which caused it to suddenly slide downhill as a slurry, killing 116 children and 28 adults as it engulfed Pantglas Junior School and other buildings.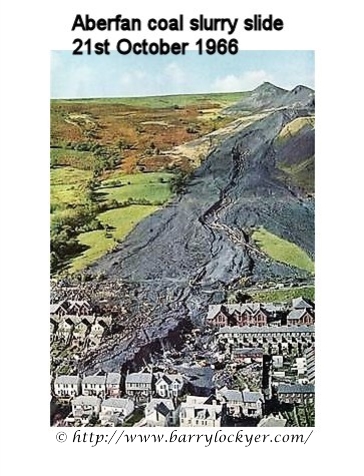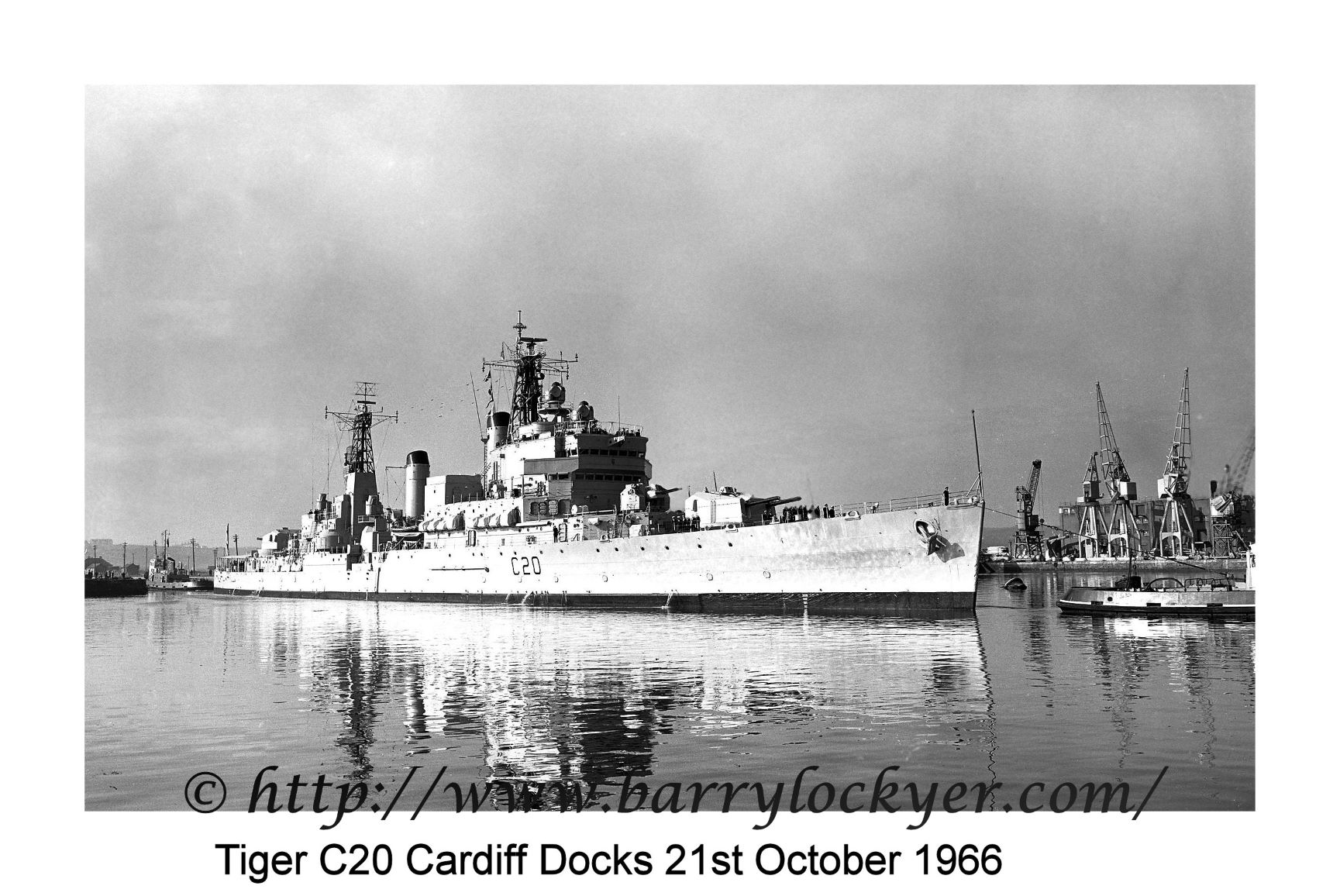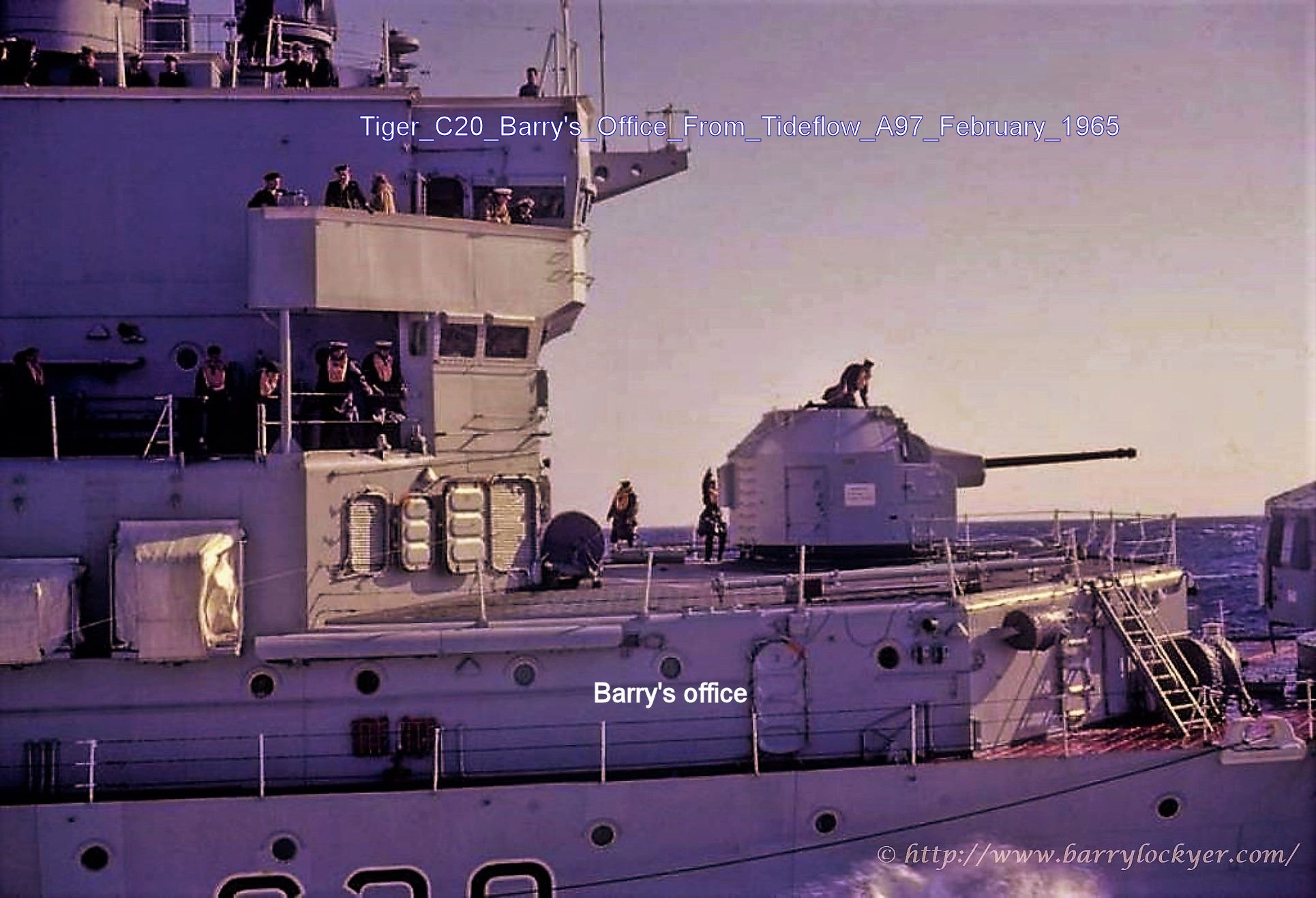 The Naval Stores Office where I worked was under the forward 3" Mounting, the first porthole to the left of the Watertight Door.
When the mounting was firing, the noise and vibration was pretty excessive, but a very unique experience, fortunately we never shot anyone in anger.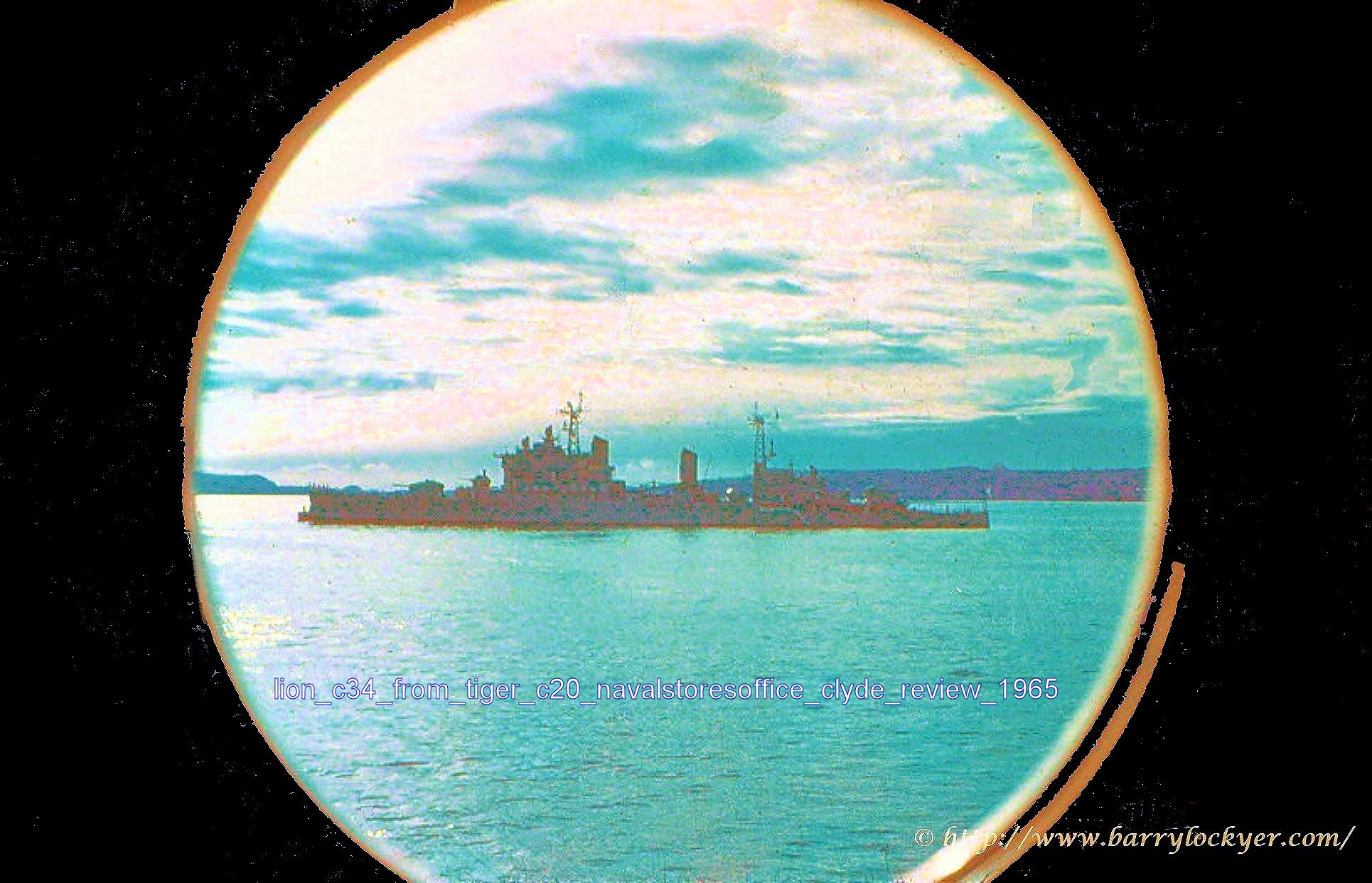 Sister ship H.M.S. Lion through the Naval Stores Office Scuttle during the Queen's Review of the Fleet in the River Clyde August 1965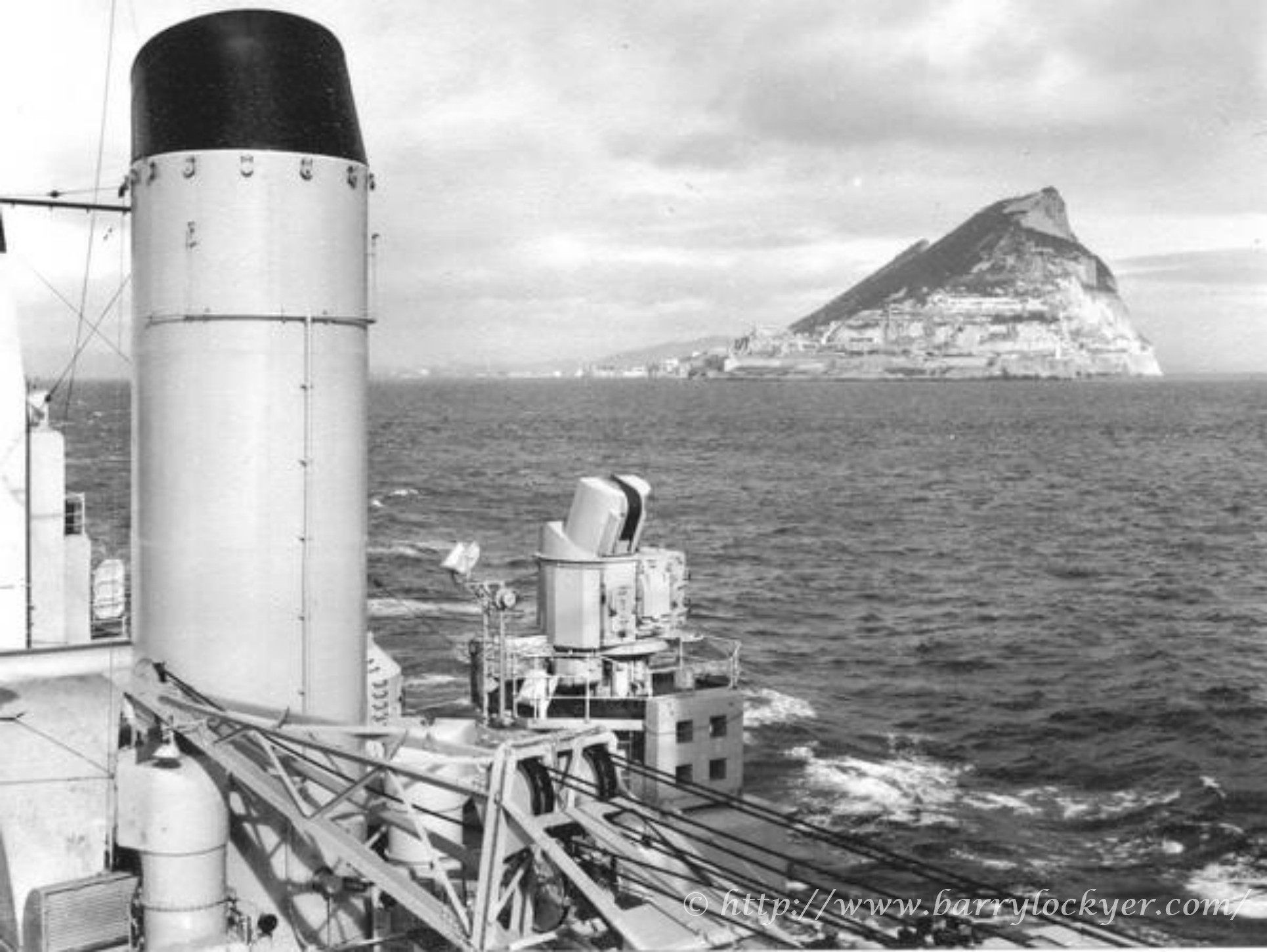 Approacing Gibraltar from the Tiger.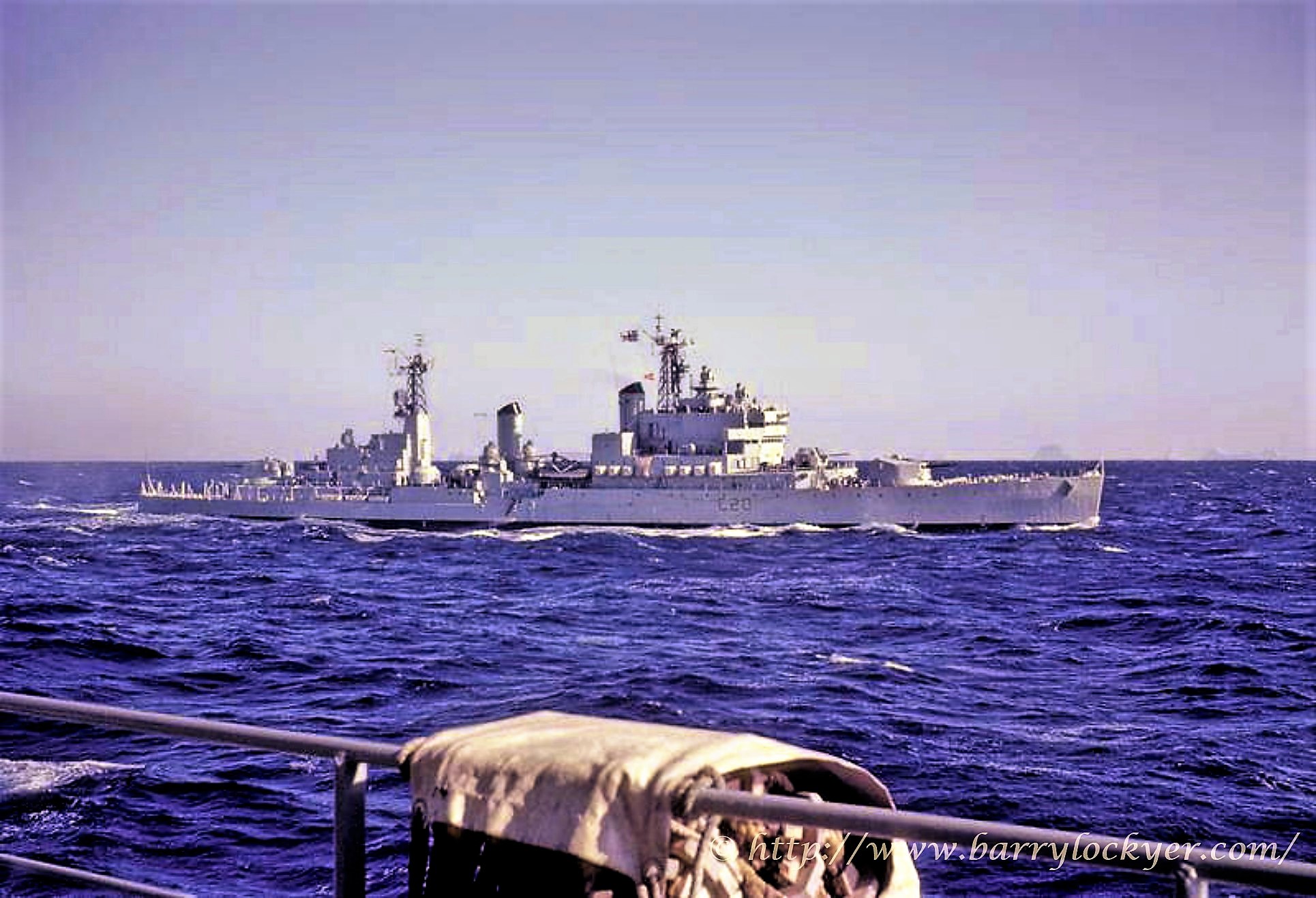 Tiger approaching Narvik, Norway April 1965 courtesy of Alex, serving on RFA Tideflow, my favourite photograph of HMS Tiger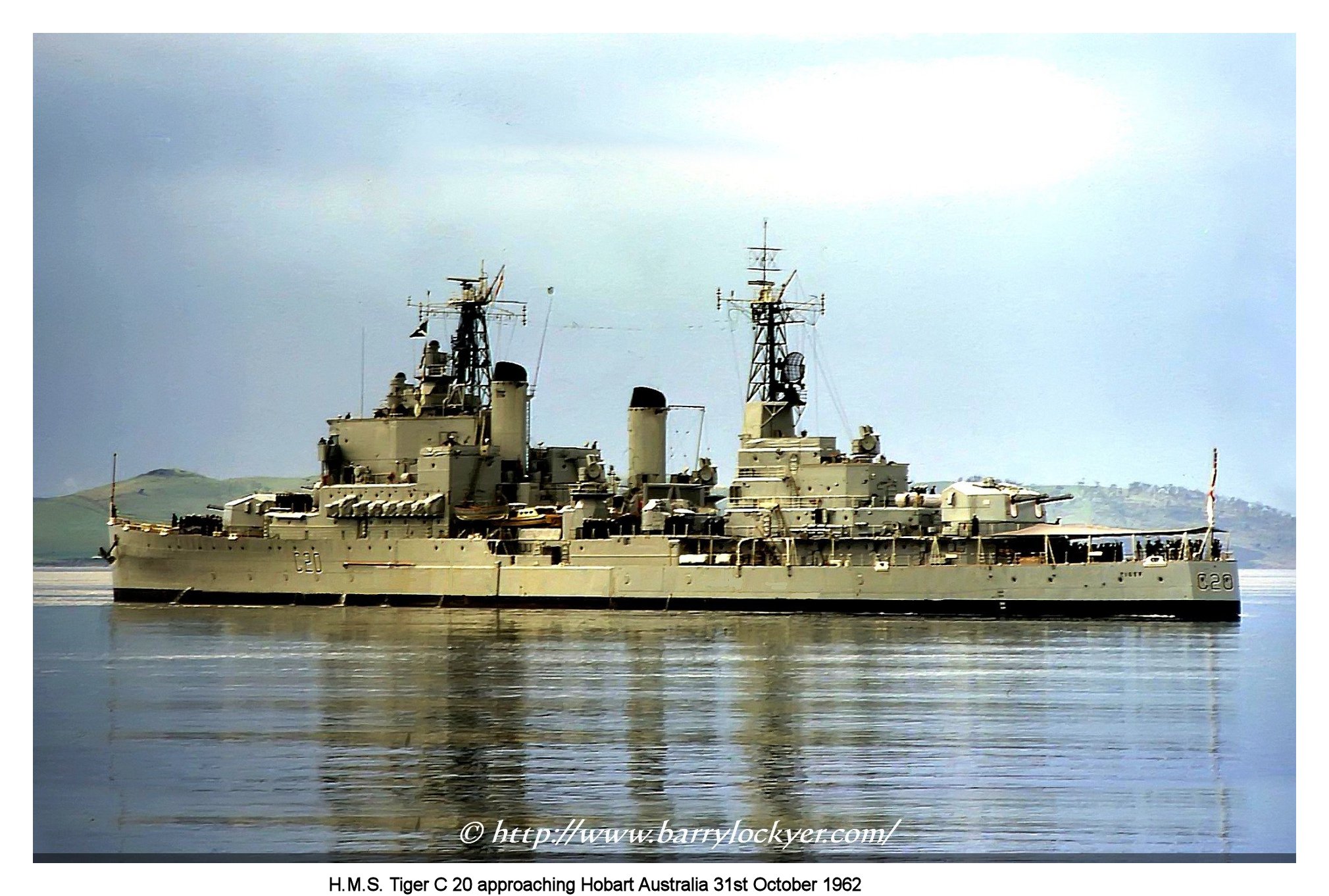 H.M.S. Tiger at Hobart October 10th1962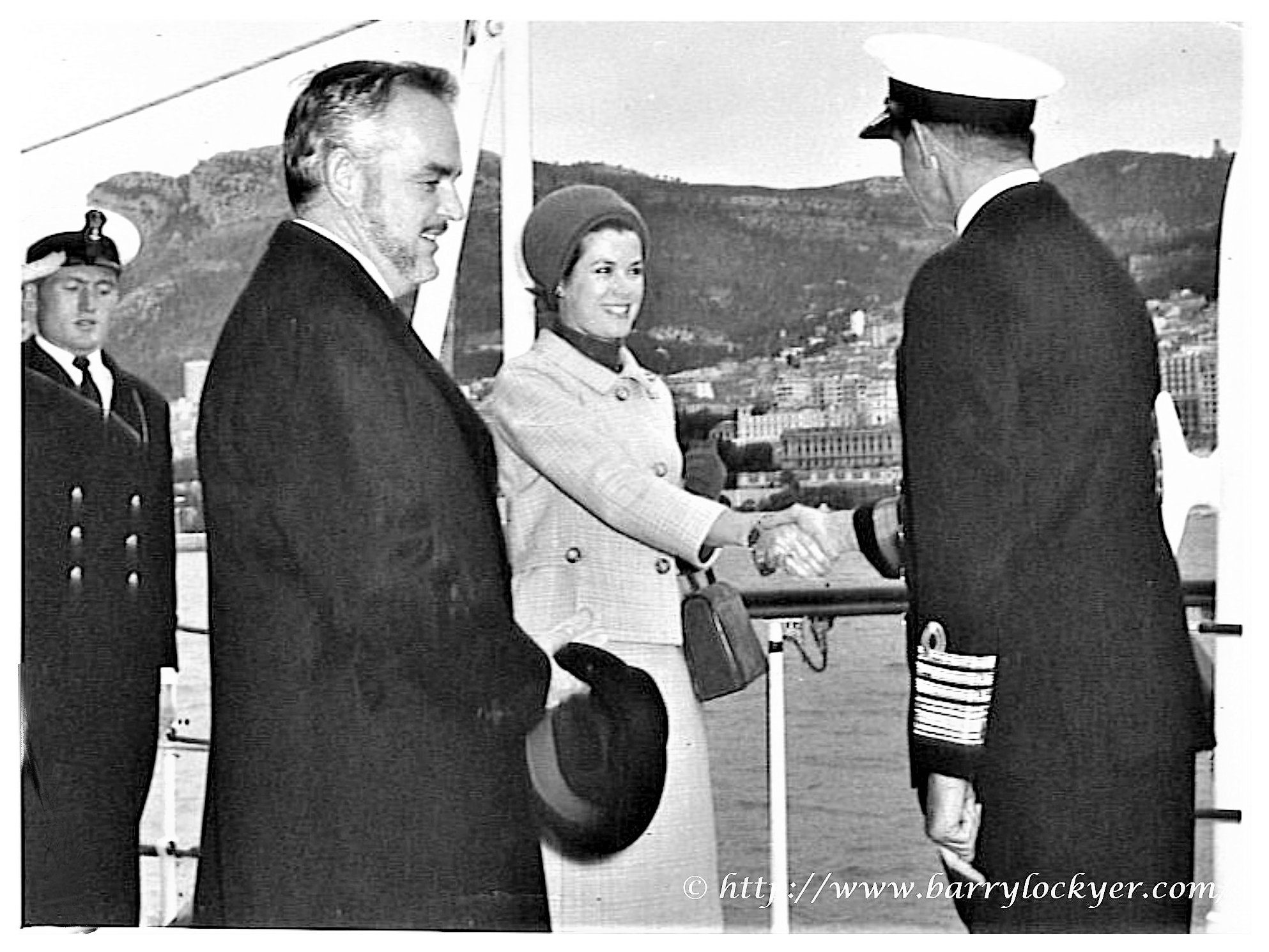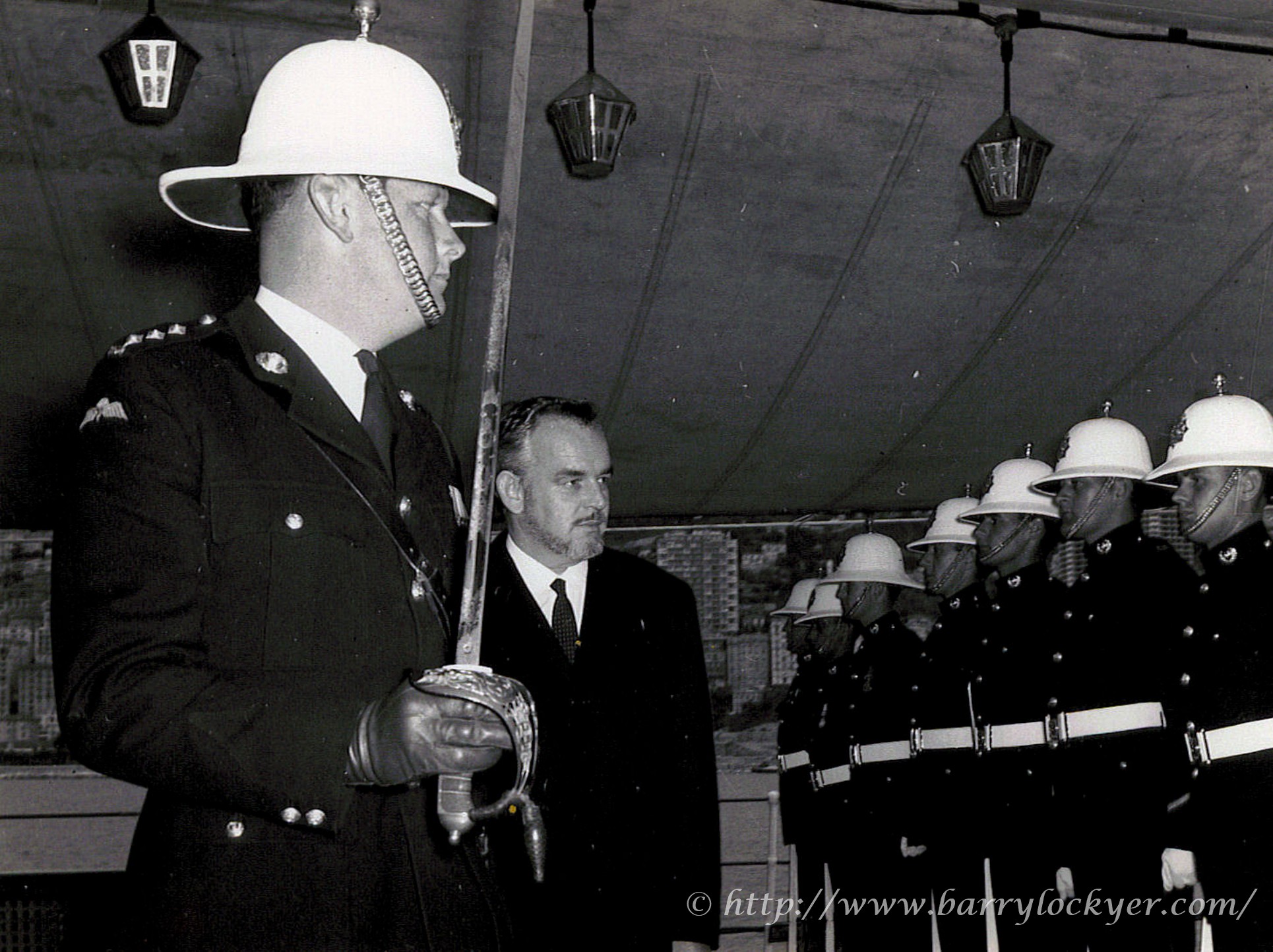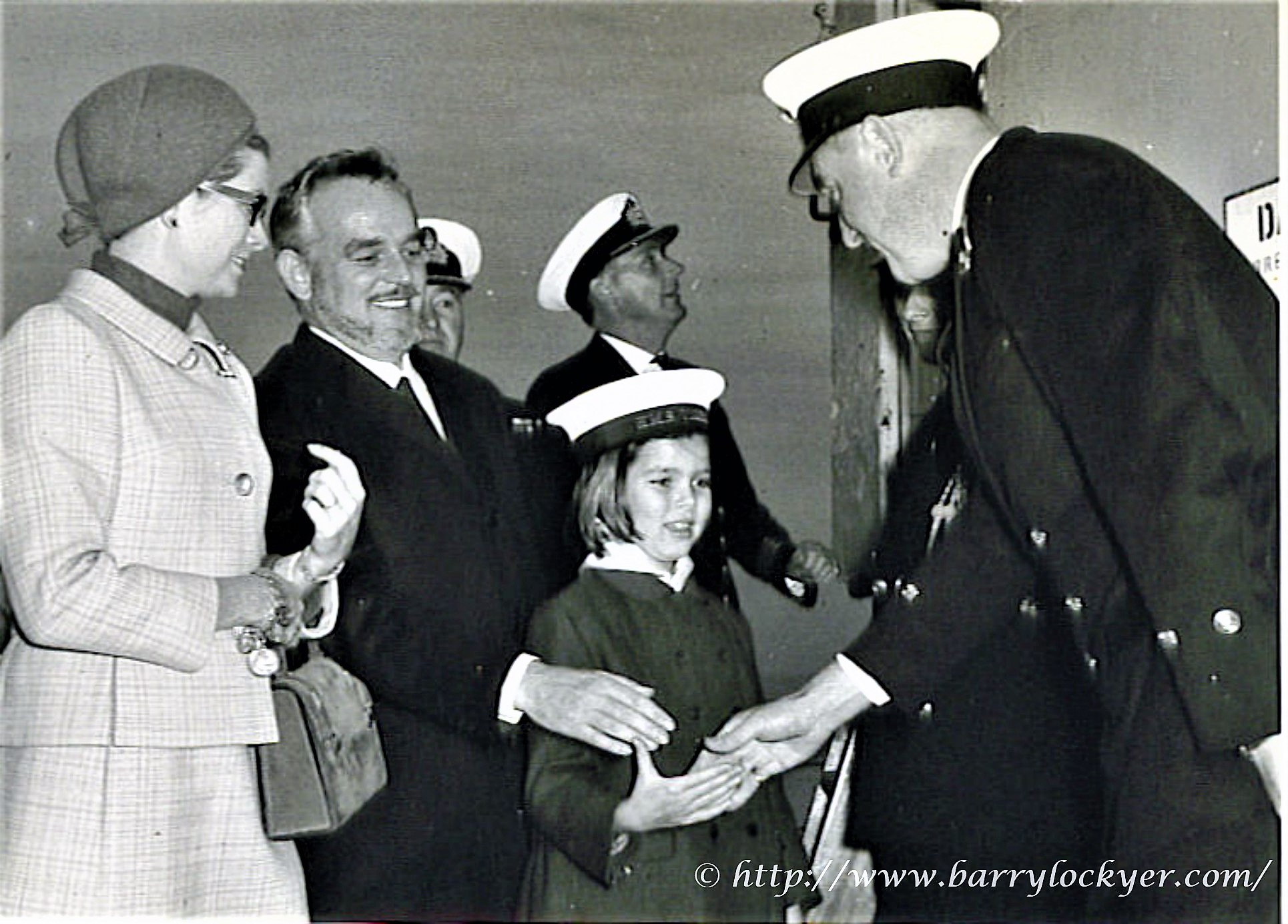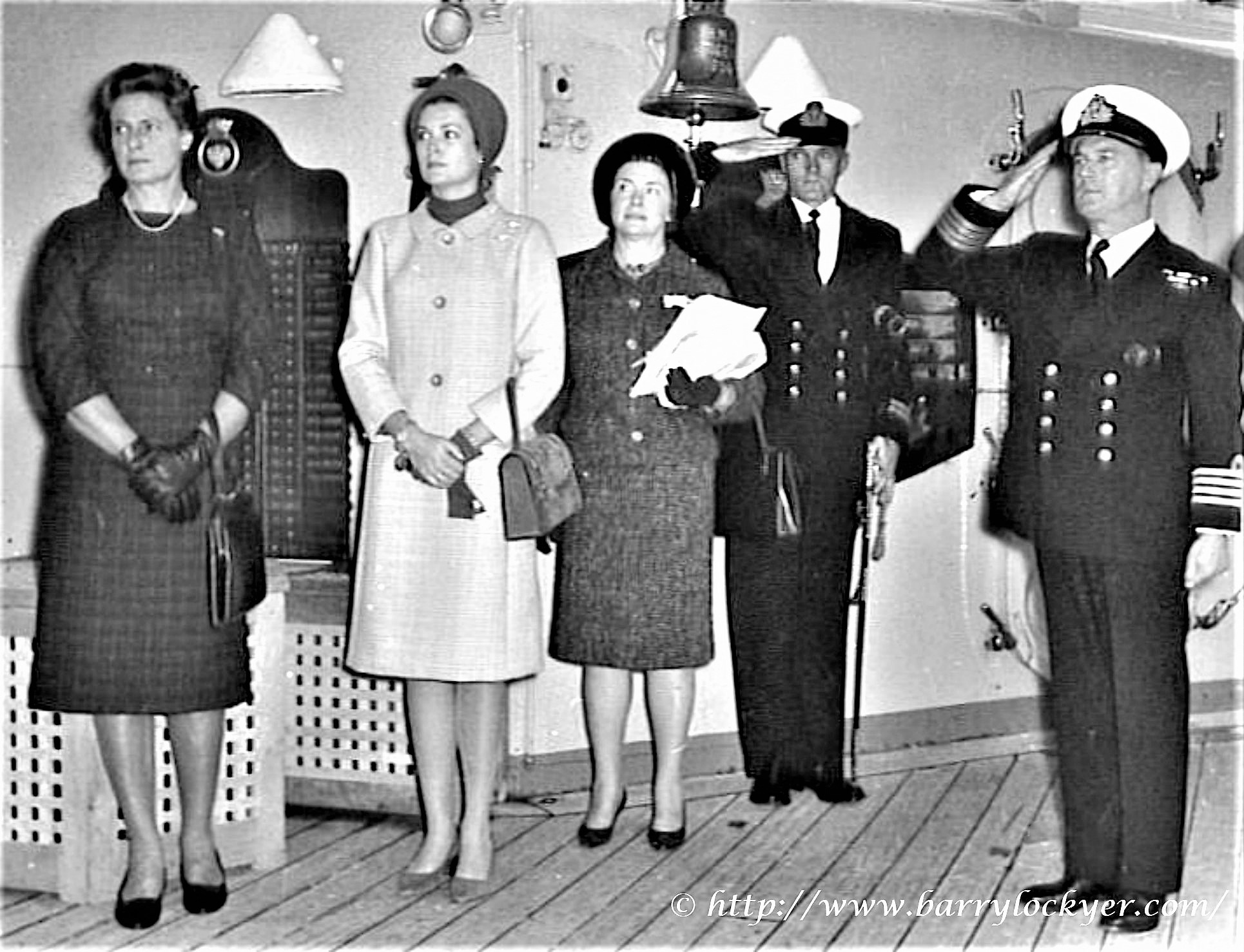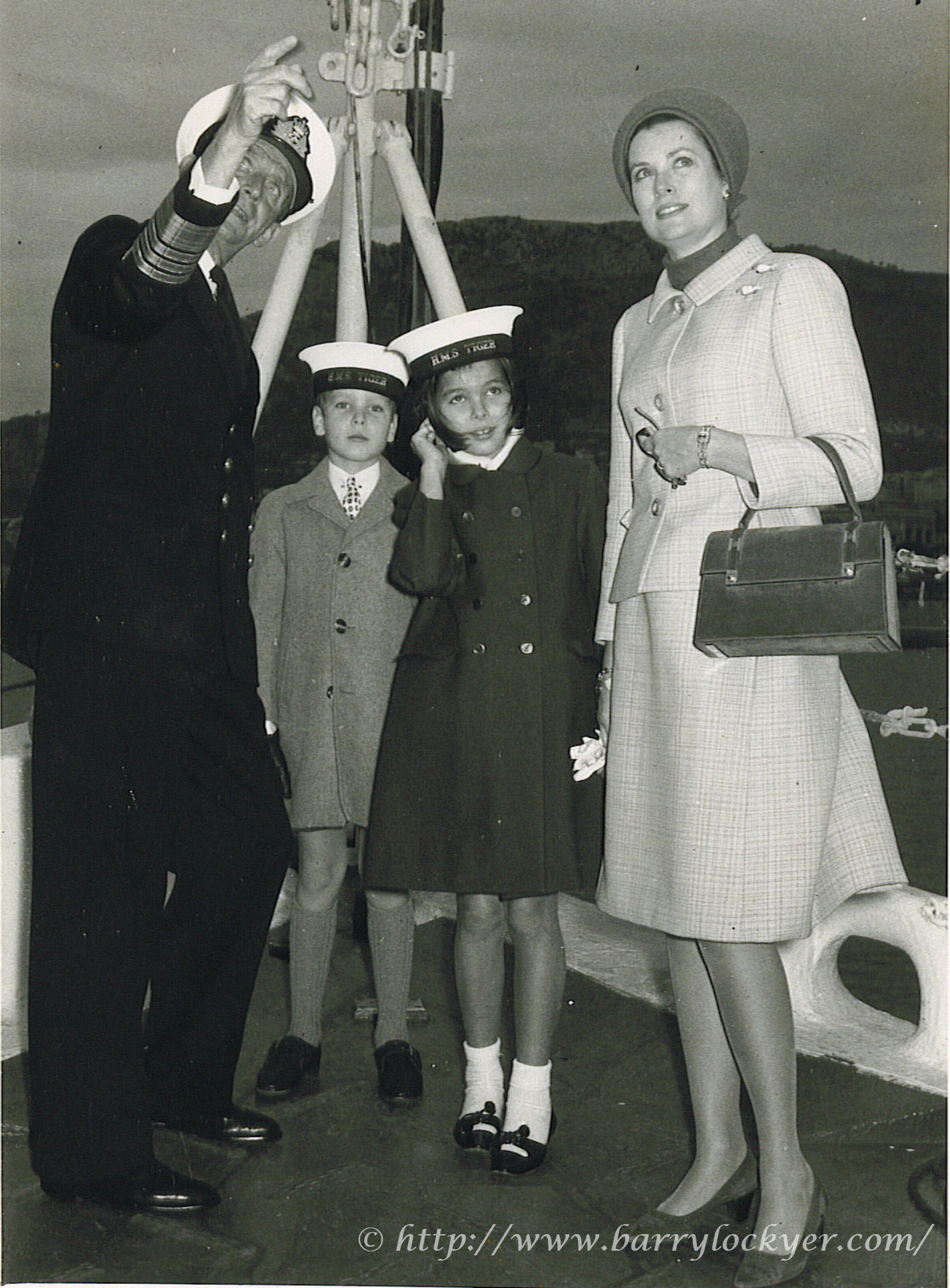 The Monagasque Royal Family visit, CinC Mediterranean Admiral Sir John Hamilton, HMS Tiger 20th November 1965.

Thursday 18th November 1965 the Tiger arrived at Monaco, realising the harbour was to shallow or to small, she anchored half a mile outside.
The USS Gearing was anchored inside the harbour, when rough seas stopped our liberty boats, we bummed a ride on the Gearings, I swapped hats with the stoker manning the engines, Mech Lynch, I still have it and turn it inside out and use it when I am painting.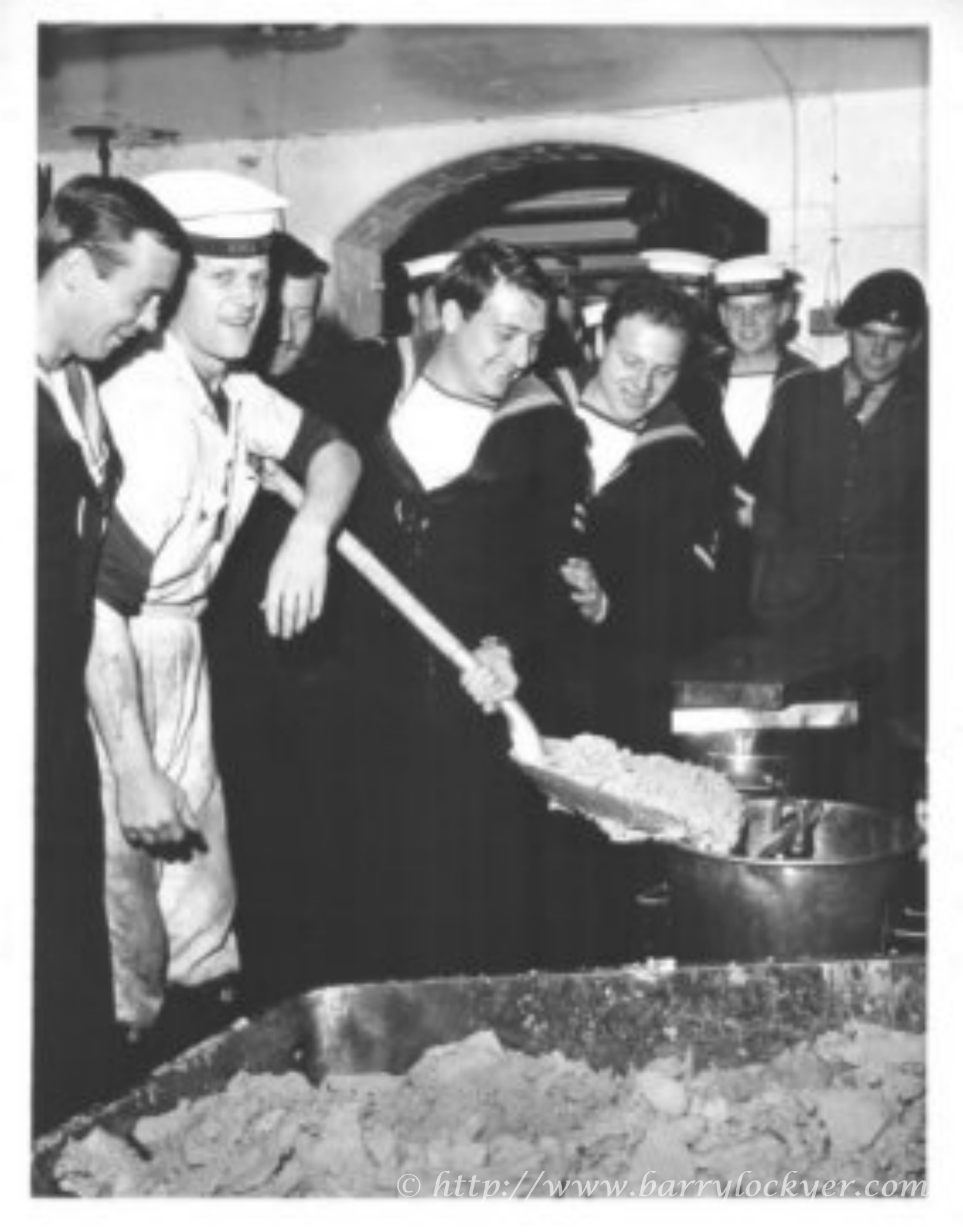 Mick Fryer and I, 1966 Middleborough Brewery shoveling hops, this photograph was in the local paper.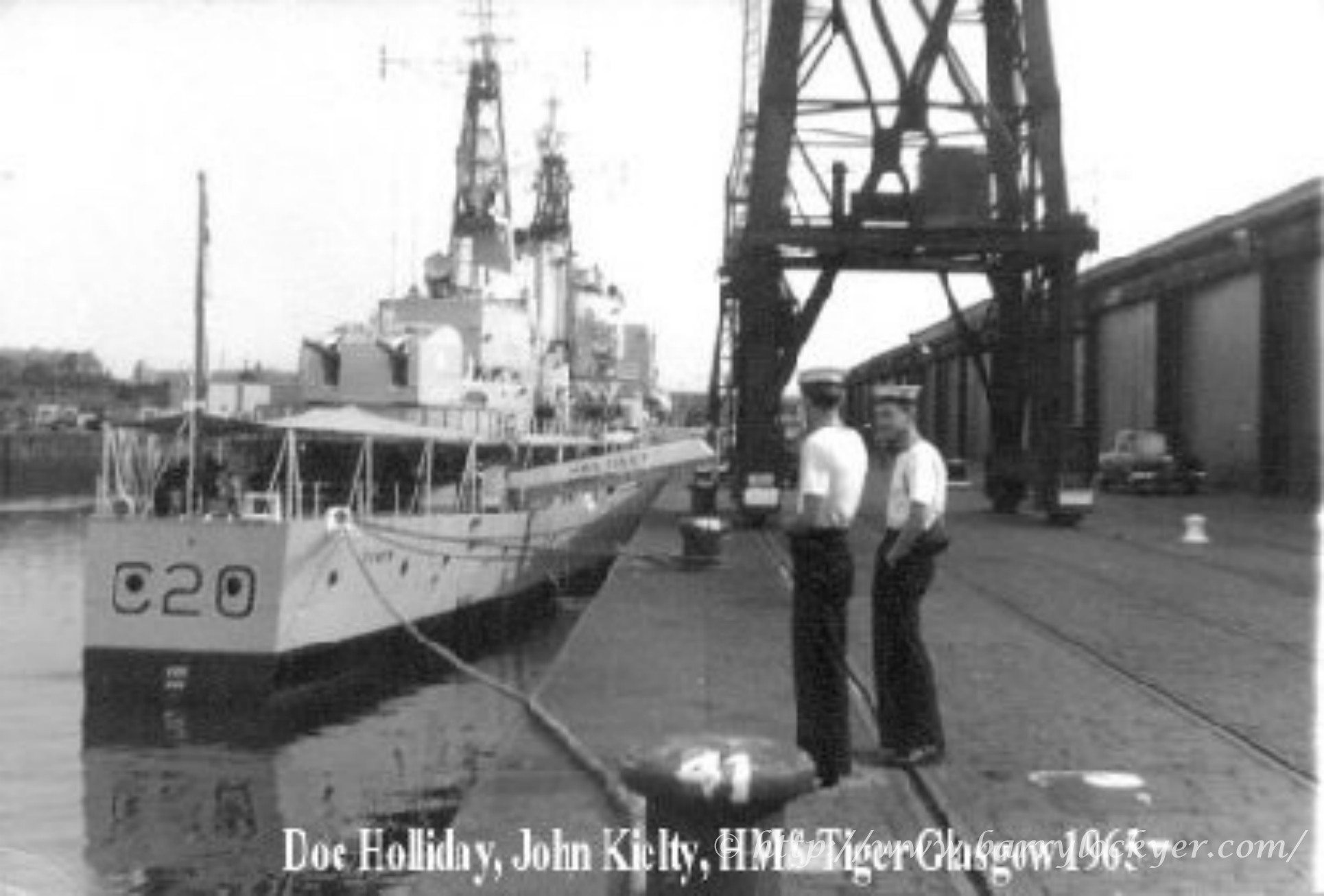 LSA (V) "Doc" Holliday and SA (S) John Kielty Glasgow 1965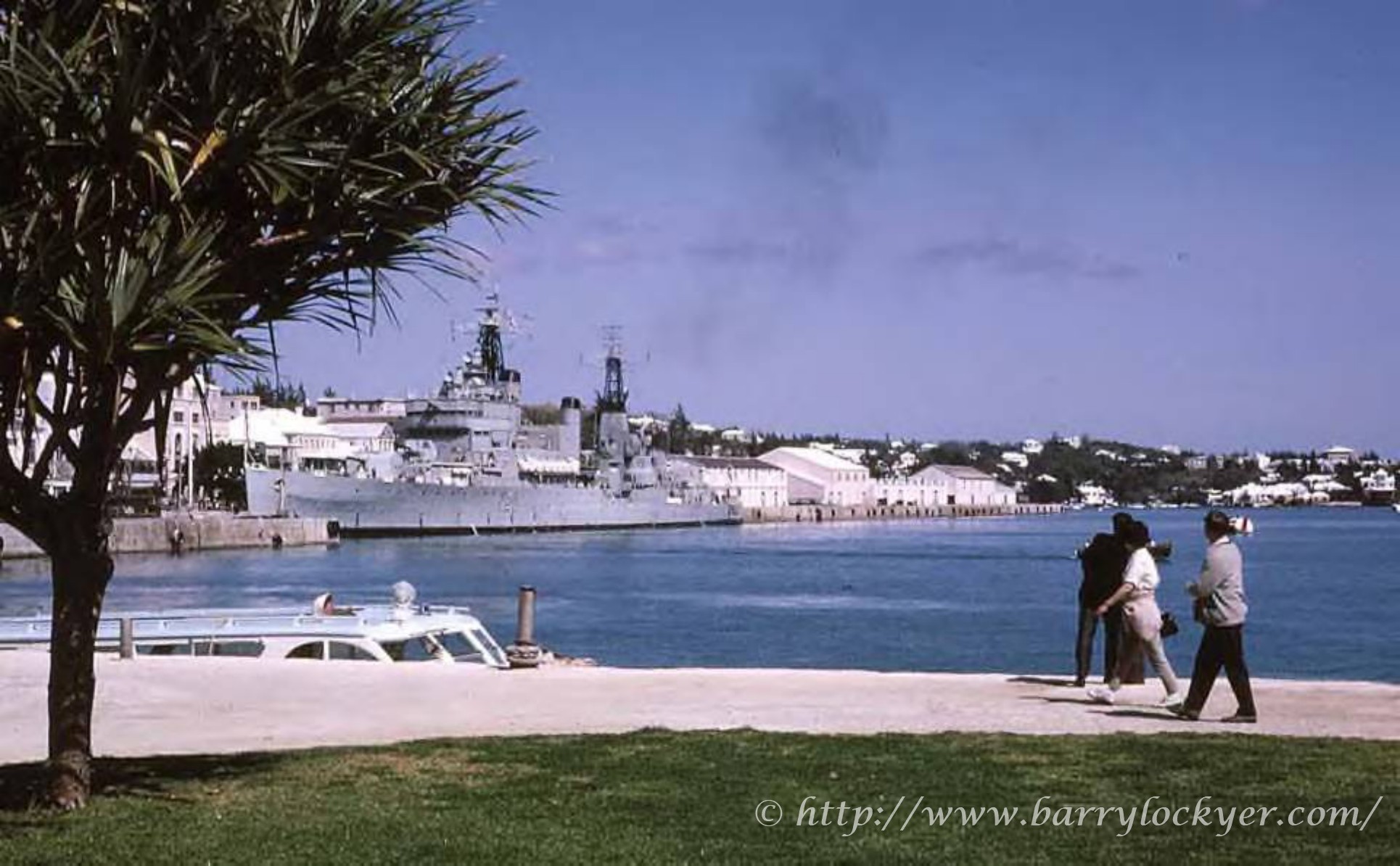 Tiger at Hamilton Bermuda 3rd March 1966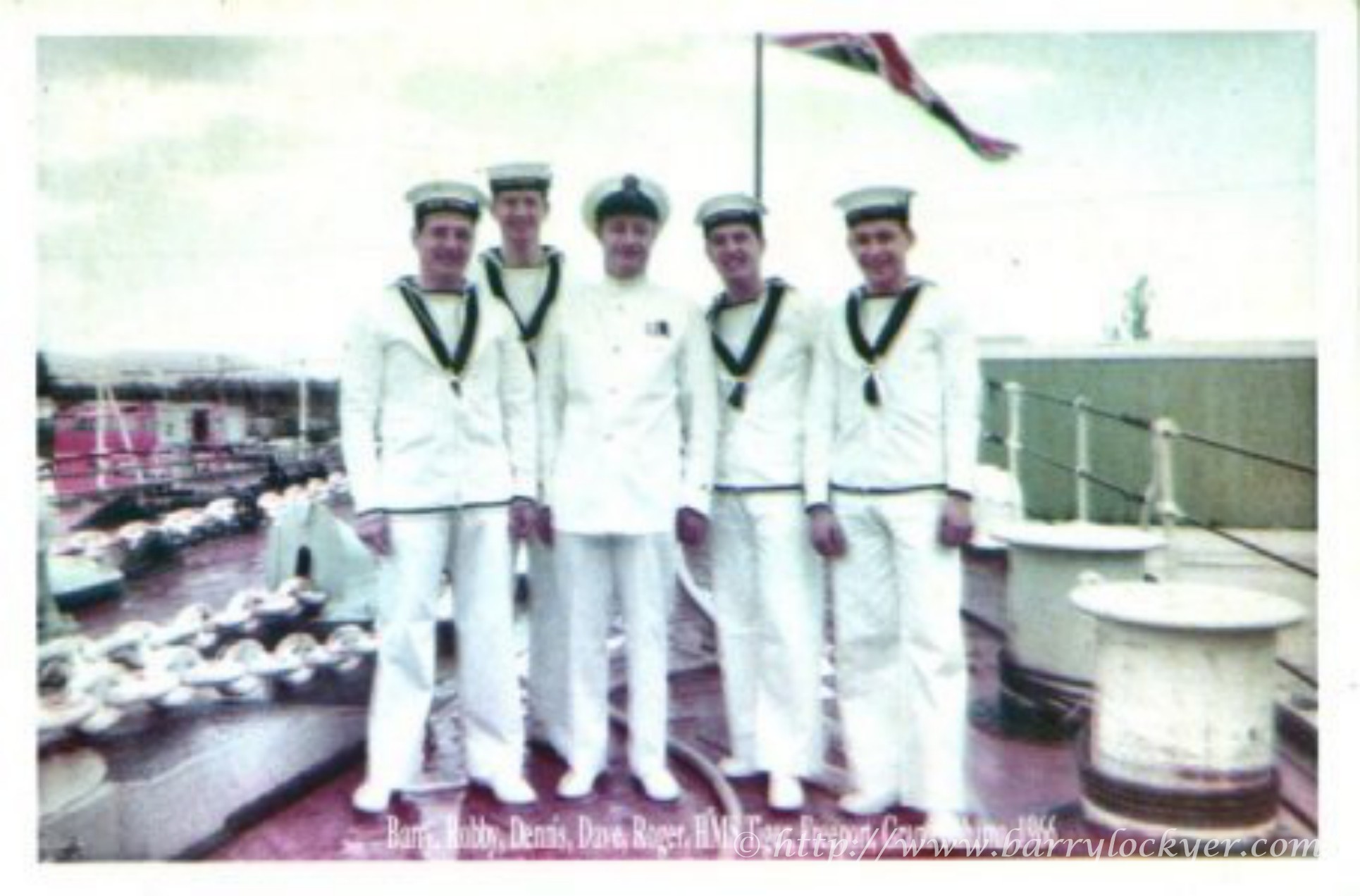 Left to Right, LSA (S) Barry Lockyer, SA (S) Robbie Robinson, CPOSA (S) Dennis Deighton, SA (S) Dave Potter, SA (S)Roger Booty,
after Divisions Freeport, Grand Bahamas, 1966.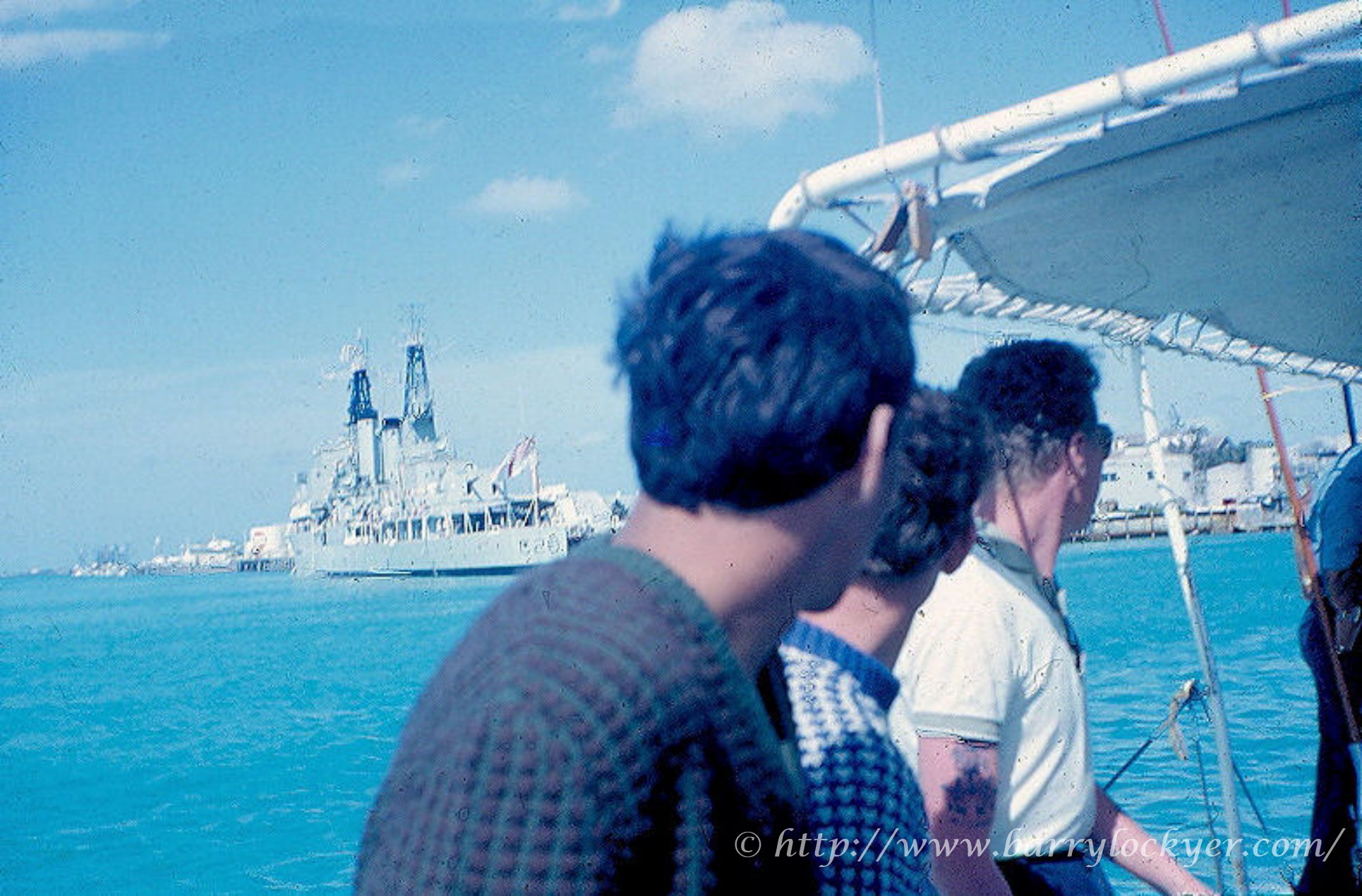 Returning from the fishing trip at Key West Florida.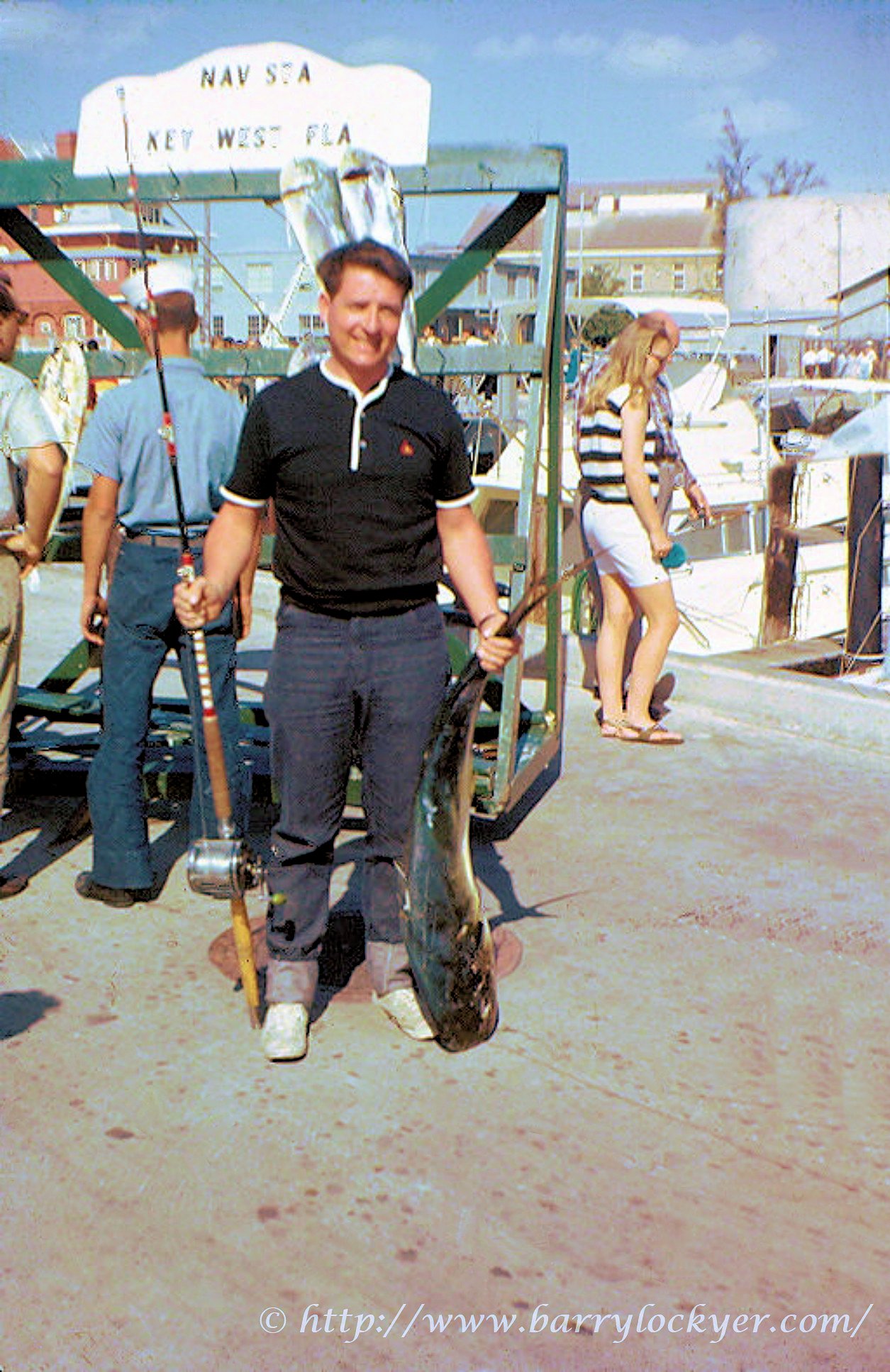 Me with a Dolphin fish, we caught so many, who knows whose I had.
I caught the shark though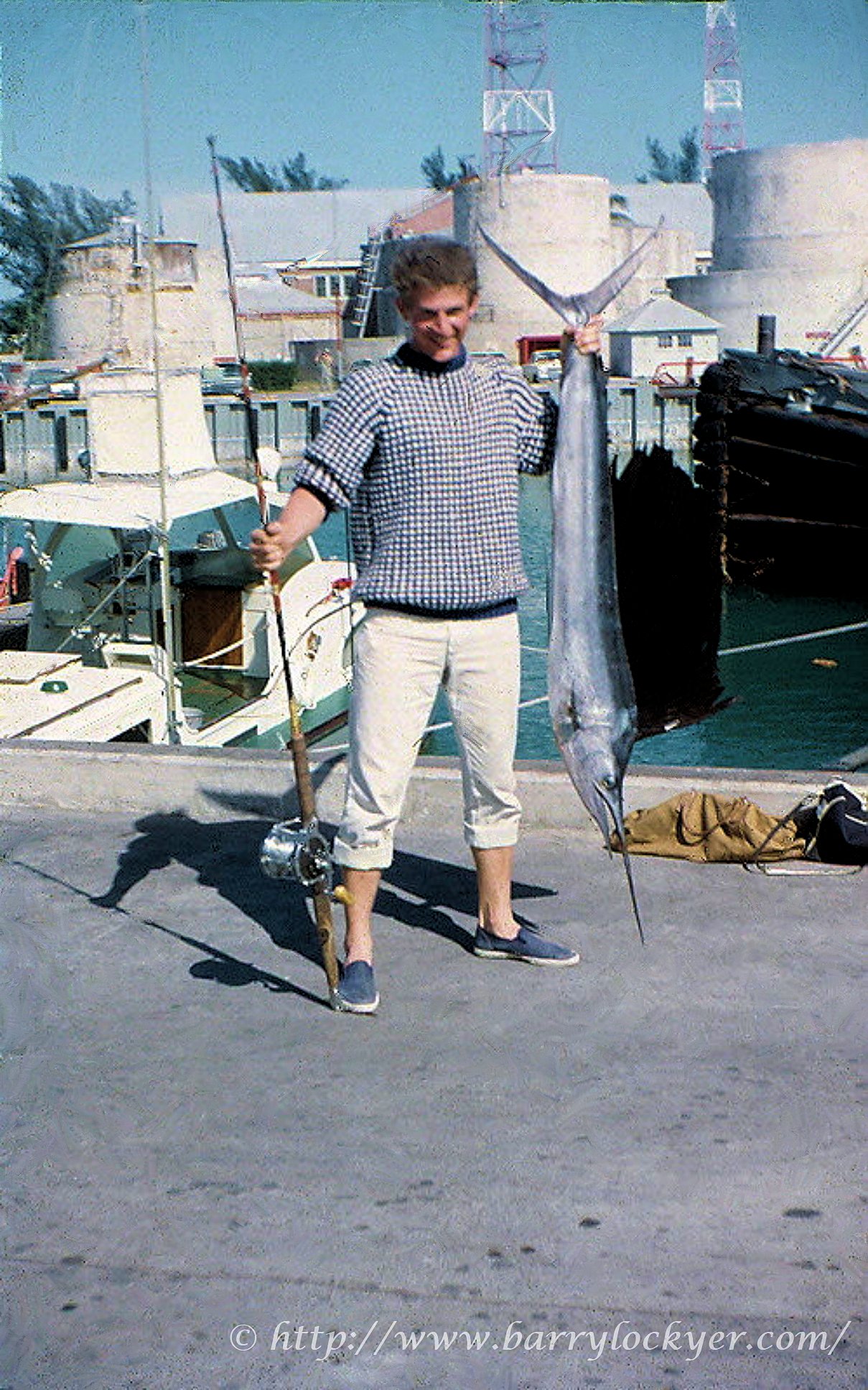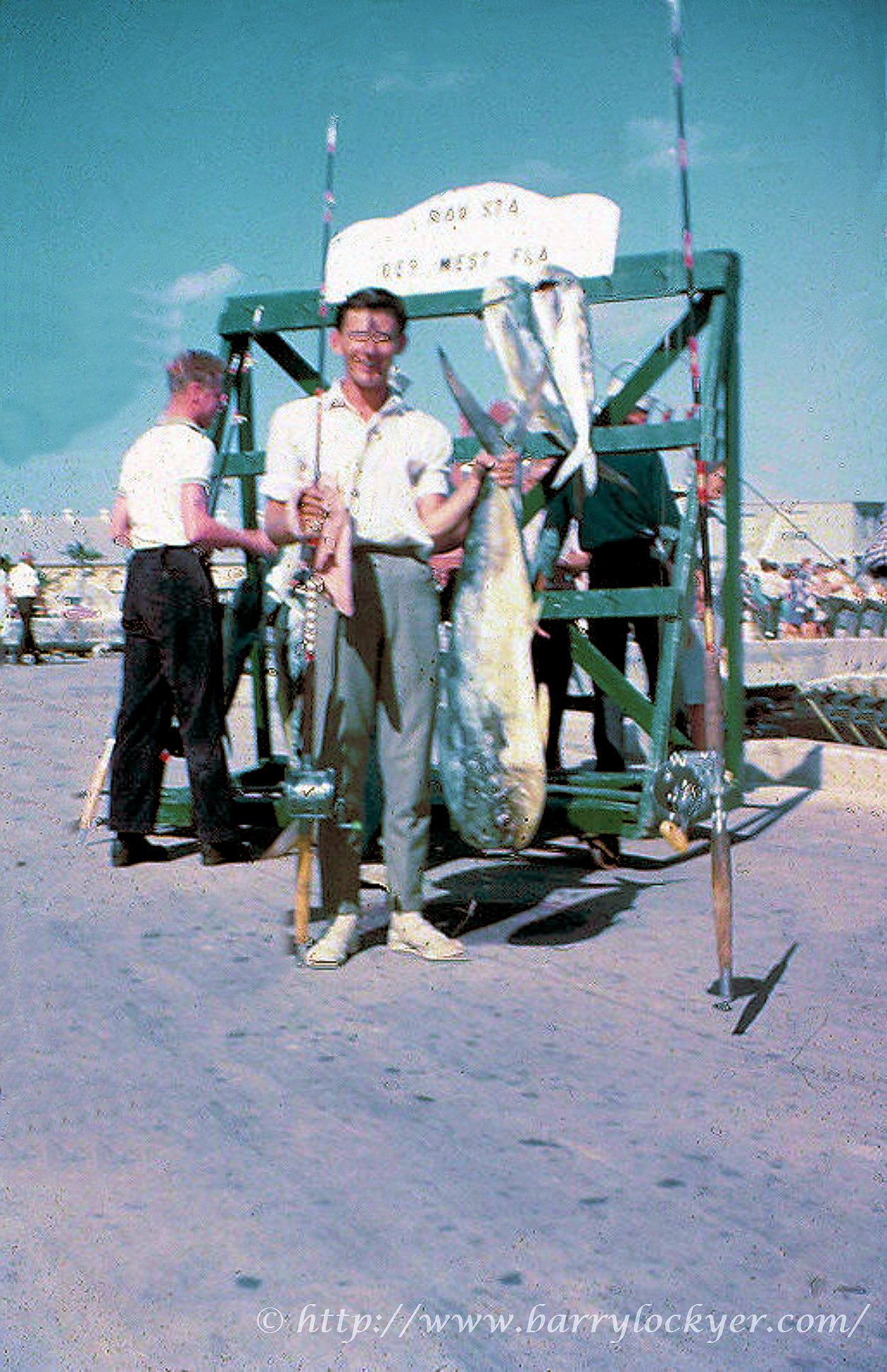 Chippy, the shipwright with his specimen Sailfish, along with Jeff Bridle with his specimen Dolphin fish, their catches were entered in the Florida Beach Annual Fishing Competition.
They each won a set of Moroccan Red Leather Bound Fishing Encyclopedias.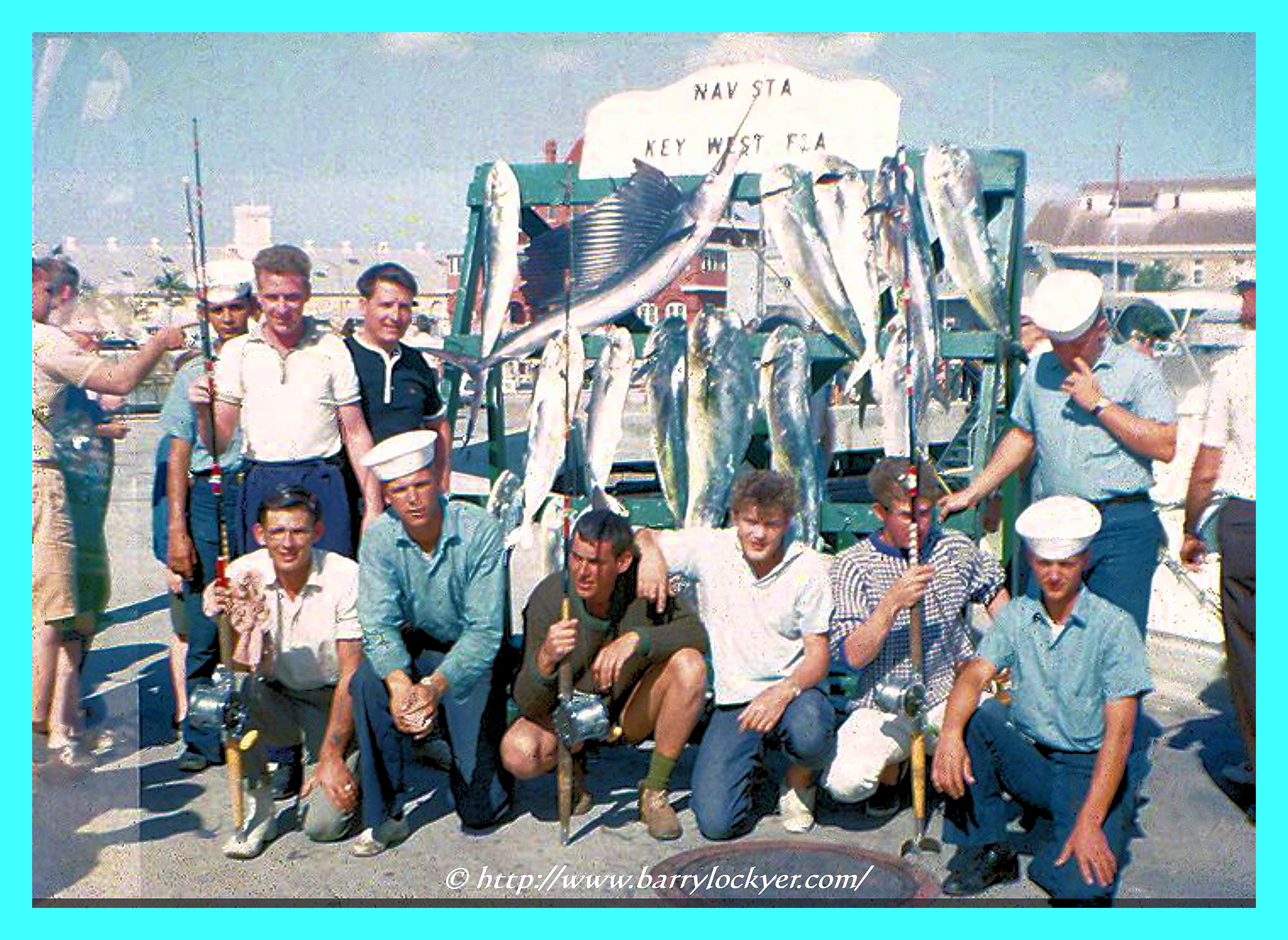 The Yankee crew in No.8's, if that's what they call the rig, All Tiger's fishermen in civvies, I am back row in the black Tee shirt. ** Chippie with his specimen Sailfish.
Deep Sea Fishing Trip from Key West Florida 1966, the Yanks did us proud, providing , the boat, bait and cokes, we supplied the beer.
I'm in the black shirt, I caught the shark, Chippy with the sailfish, Jeff Bridle bottom left holding the rod, sorry guys can't remember any more names, fifty four years and the memory is fading.
When we returned to the ship, I was exhausted, I had a shower and fell asleep on my bunk, they woke me up at ten o'clock to tell me I had missed the fish and chip supper,
Some years later, I bumped into Jeff Bridle, he was working on the Isle of Wight ferry, he told me, " he and the Chippy received a set of fishing encyclopedias, bound in red Moroccan Leather, with their names in gold lettering, for winning the Florida Beach, specimen fish competition for 1966 ".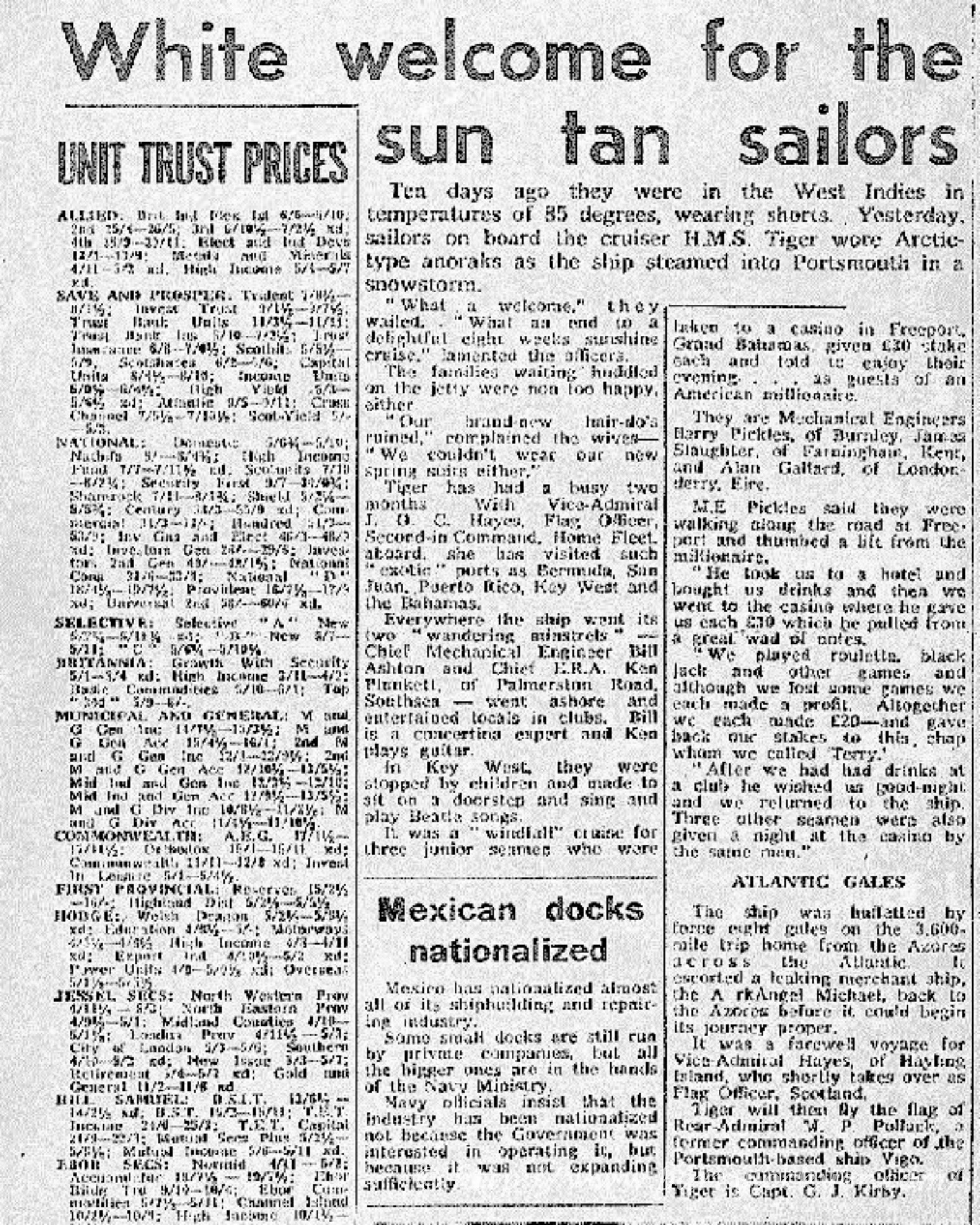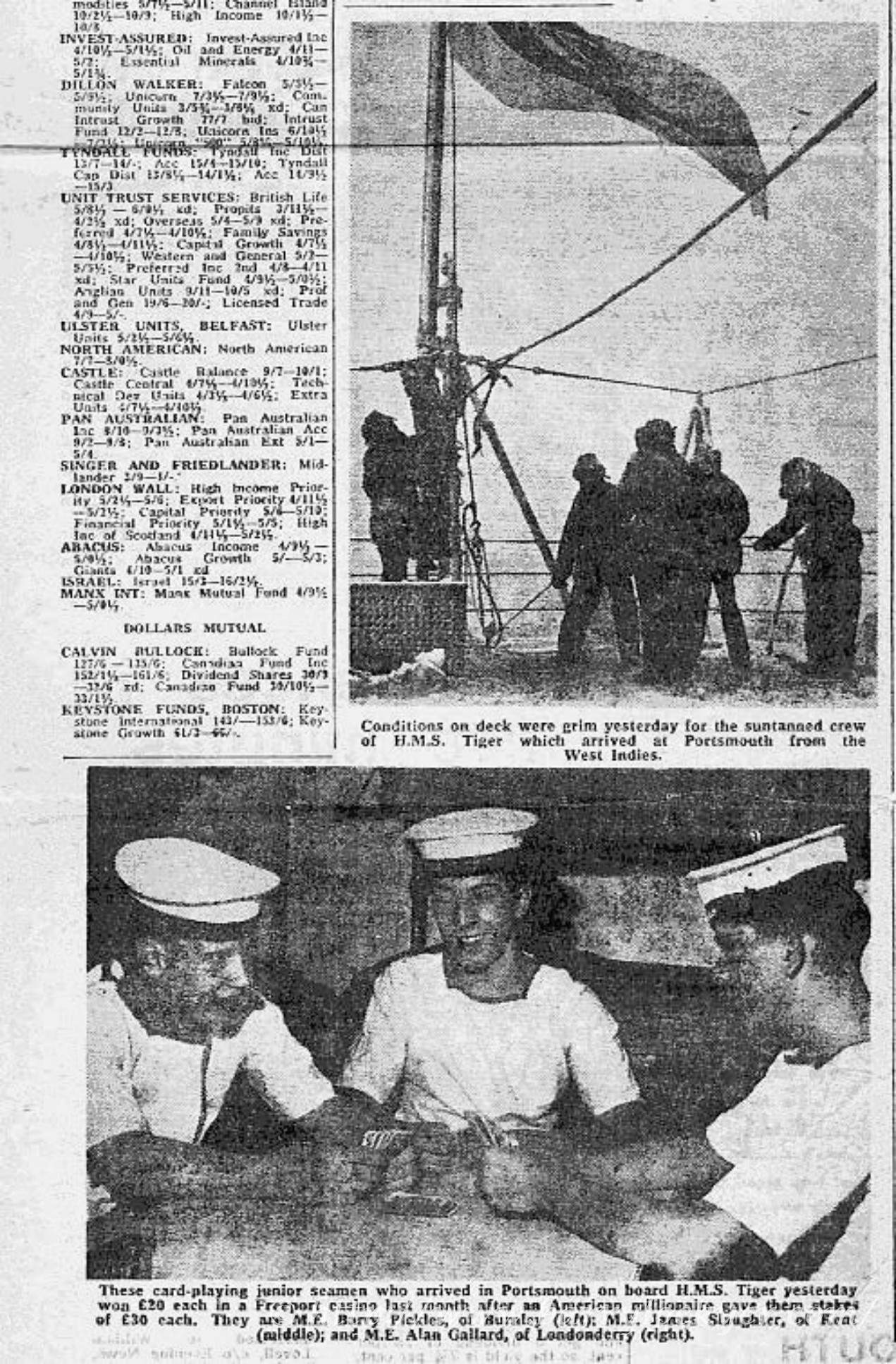 The Portsmouth Evening News articles when Tiger returned from the " Windies " 1966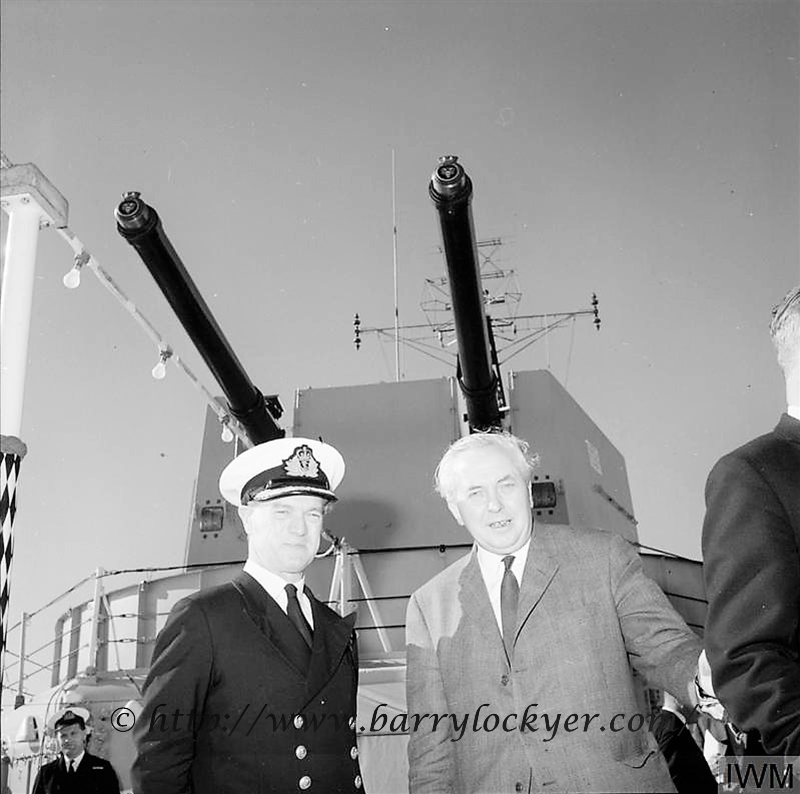 Captain of Tiger Captain G. Kirkby RN and UK Prime Minister Harold Wilson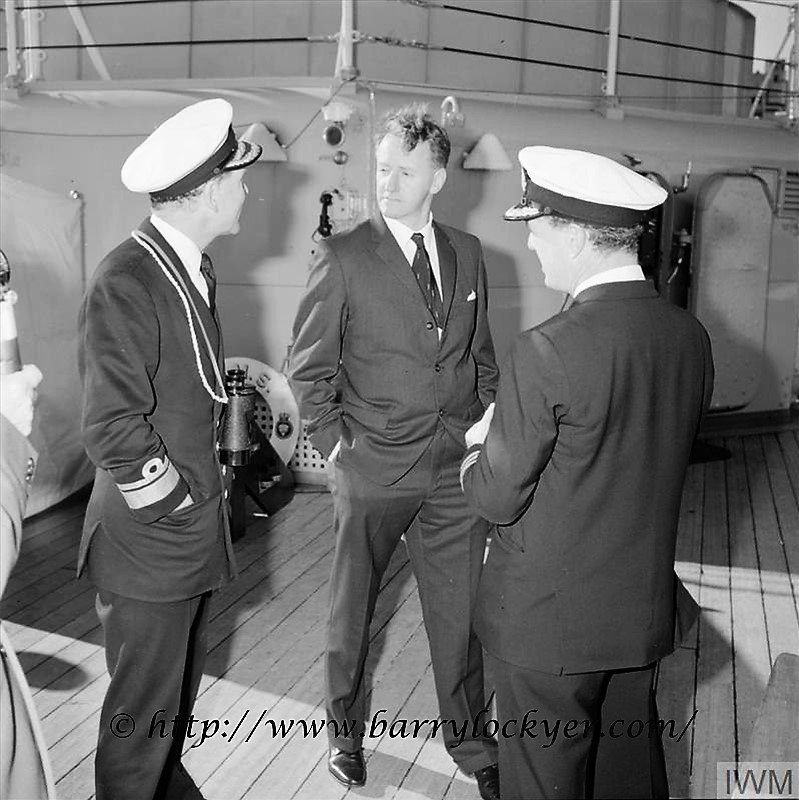 Rear Admiral Michea Pollock Second in Command Home Fleet, Ian Smith Rhodesian Premier, Captain G. Kirkby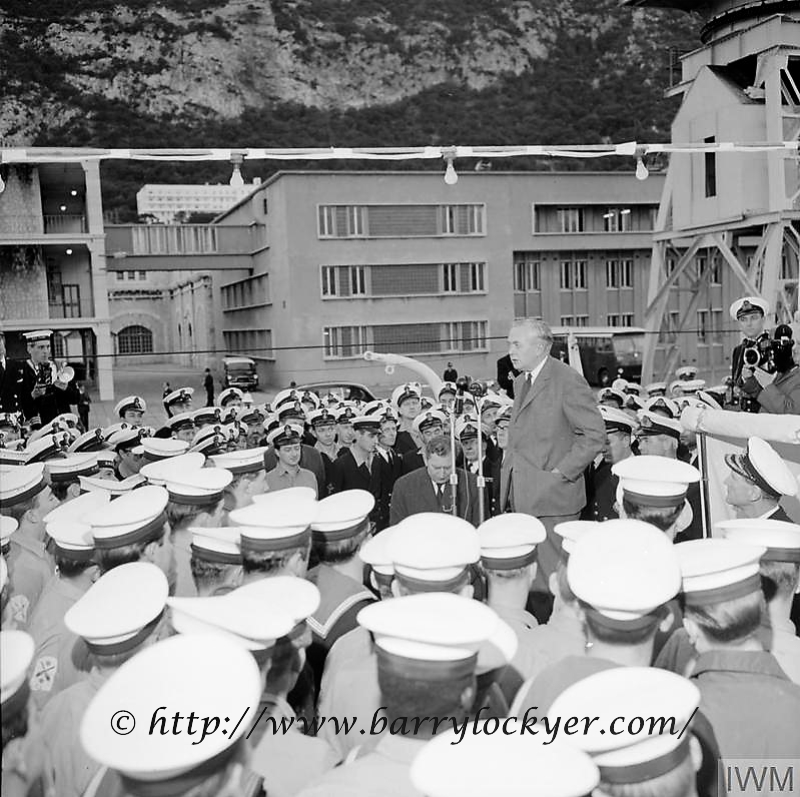 Prime Ministers Harold Wilson talks to the ship's company Gibraltar Dockyard December 1966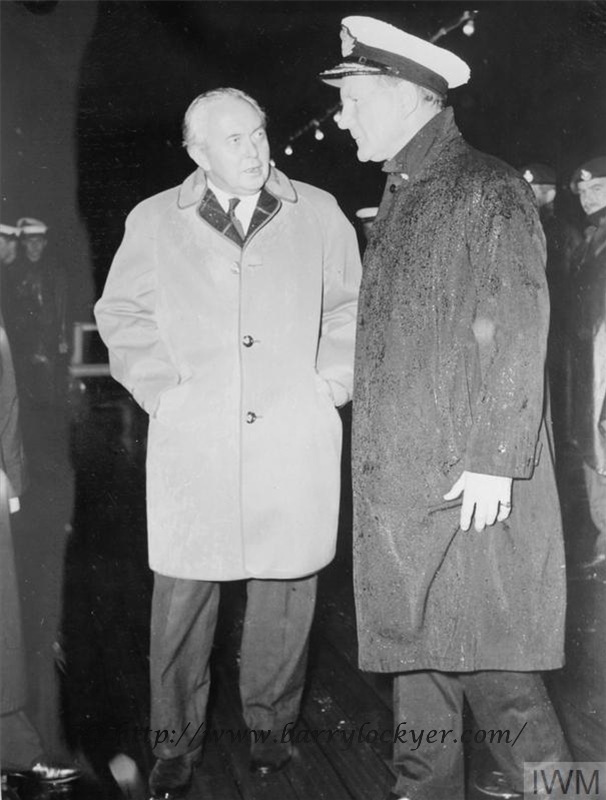 UK Prime Minister Harold Wilson, Rear Admiral Michea Pollock Second in Command Home Fleet
Photographs courtesy of Imperial War Museum UK
From 2 to 4 December 1966, she hosted talks between Prime Ministers Harold Wilson (UK) and Ian Smith of Rhodesia. The latter had unilaterally declared independence from Britain due to Britain's insistence on the removal of white minority rule. Twenty officers (including all twelve midshipmen) were put ashore at Gibraltar before the talks to "make room for the three delegations of the Prime Minister, the Governor of Rhodesia and Mr. Smith. When the Rhodesian delegation arrived, the Tiger was a few miles off shore, and the delegation was ferried out in a small craft. The Tiger then moved out to sea, but moved close to harbour when the Rhodesian delegation disembarked. On Wilson's orders, the British and Rhodesian delegations were "separated in all activities outside the conference room".

The missing model of the Tiger, made presumably by John Brown's

Does anyone have any idea where it is?
Reward offered for information.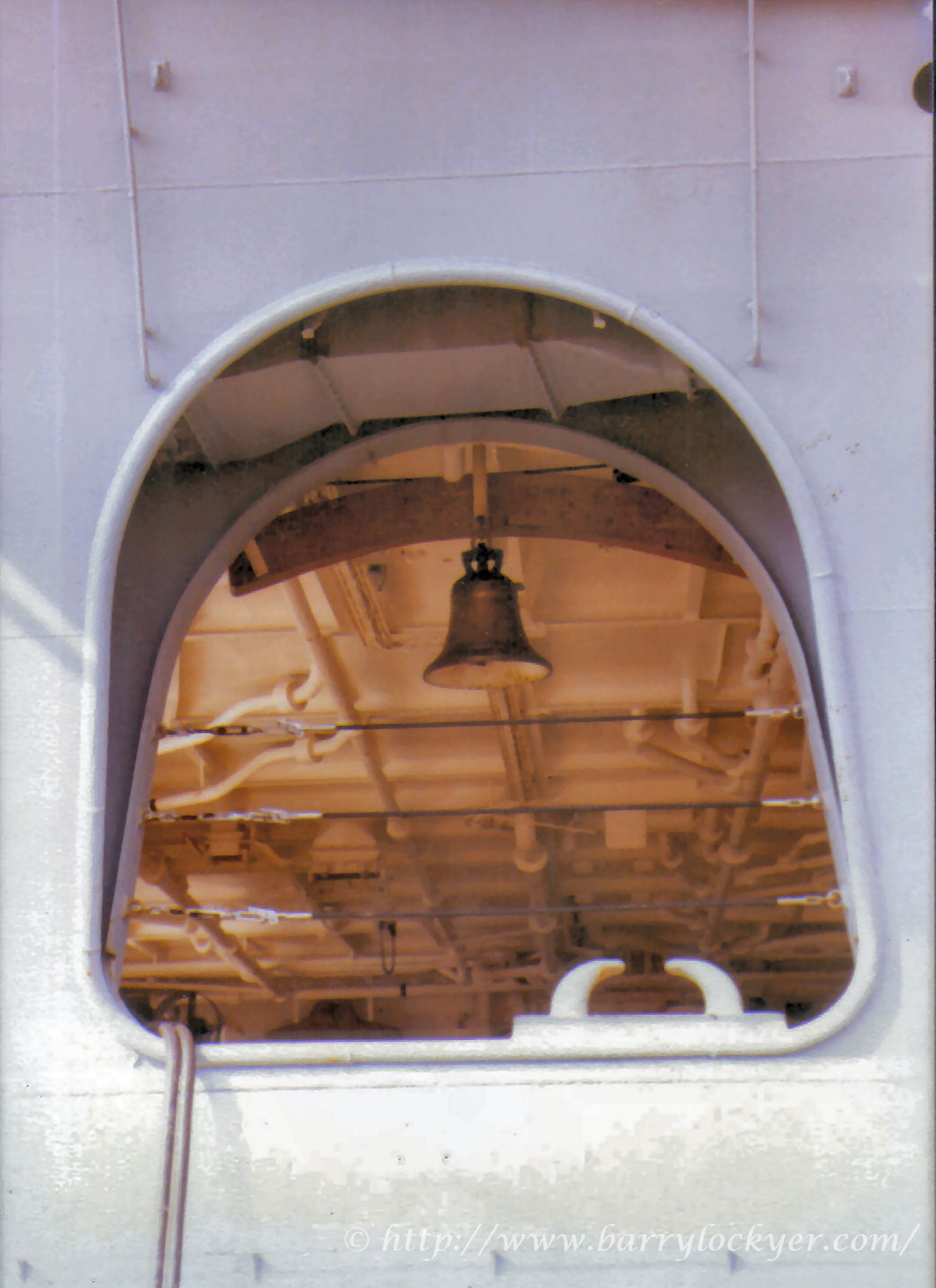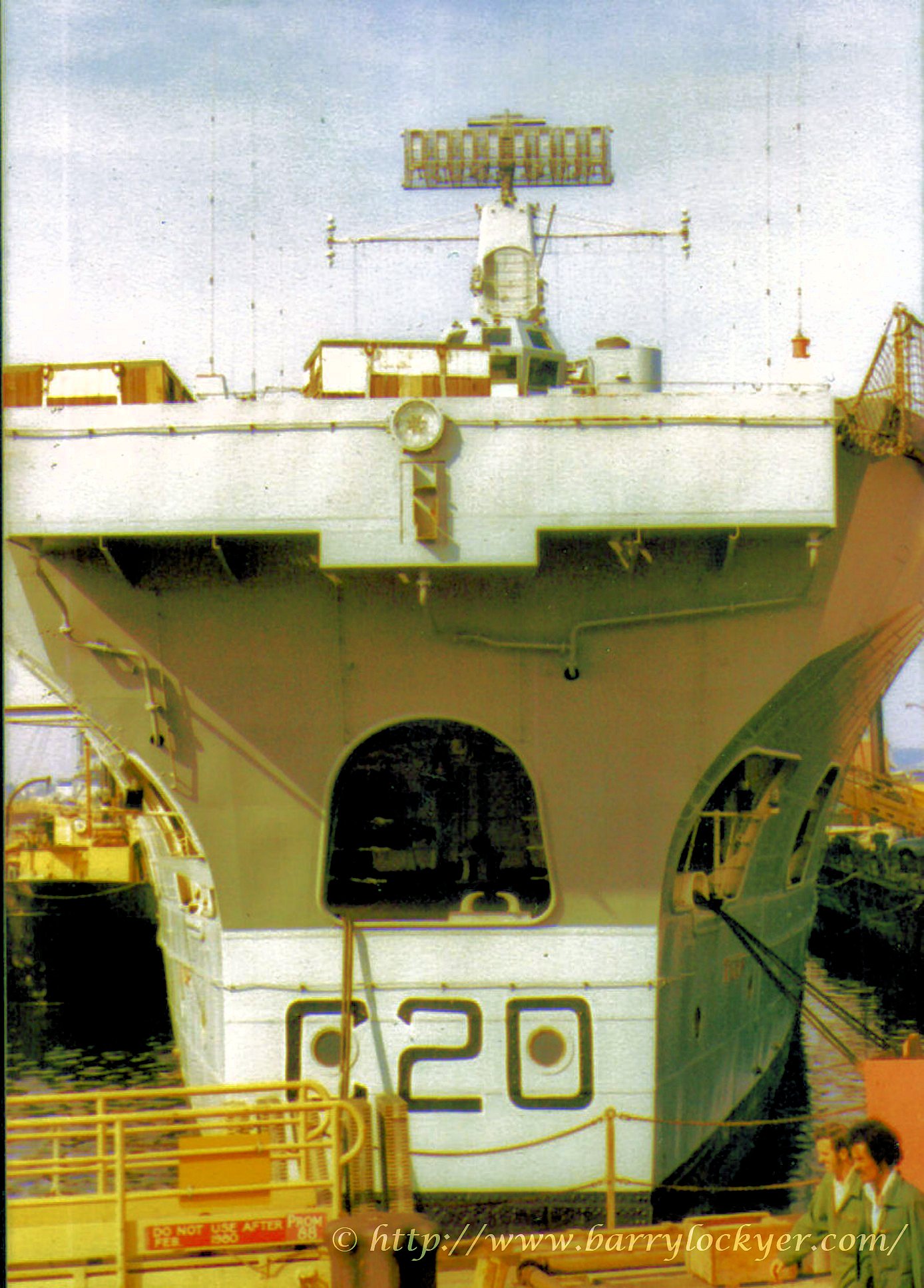 I took these two photographs in 1979, in the basin in Pompey dockyard, whilst I was doing my RNR training at HMS Victory.
The Tiger was being de-stored, awaiting scrapping.

Who nicked the Bell.?
The Bell Mystery solved.
Lieutenant John Toplis RN, ex Dental Surgeon HMS Tiger, now living in Hervey Bay, Australia, bought the bell from the MOD at scrap value, he had the right, because he had two children christened in the bell.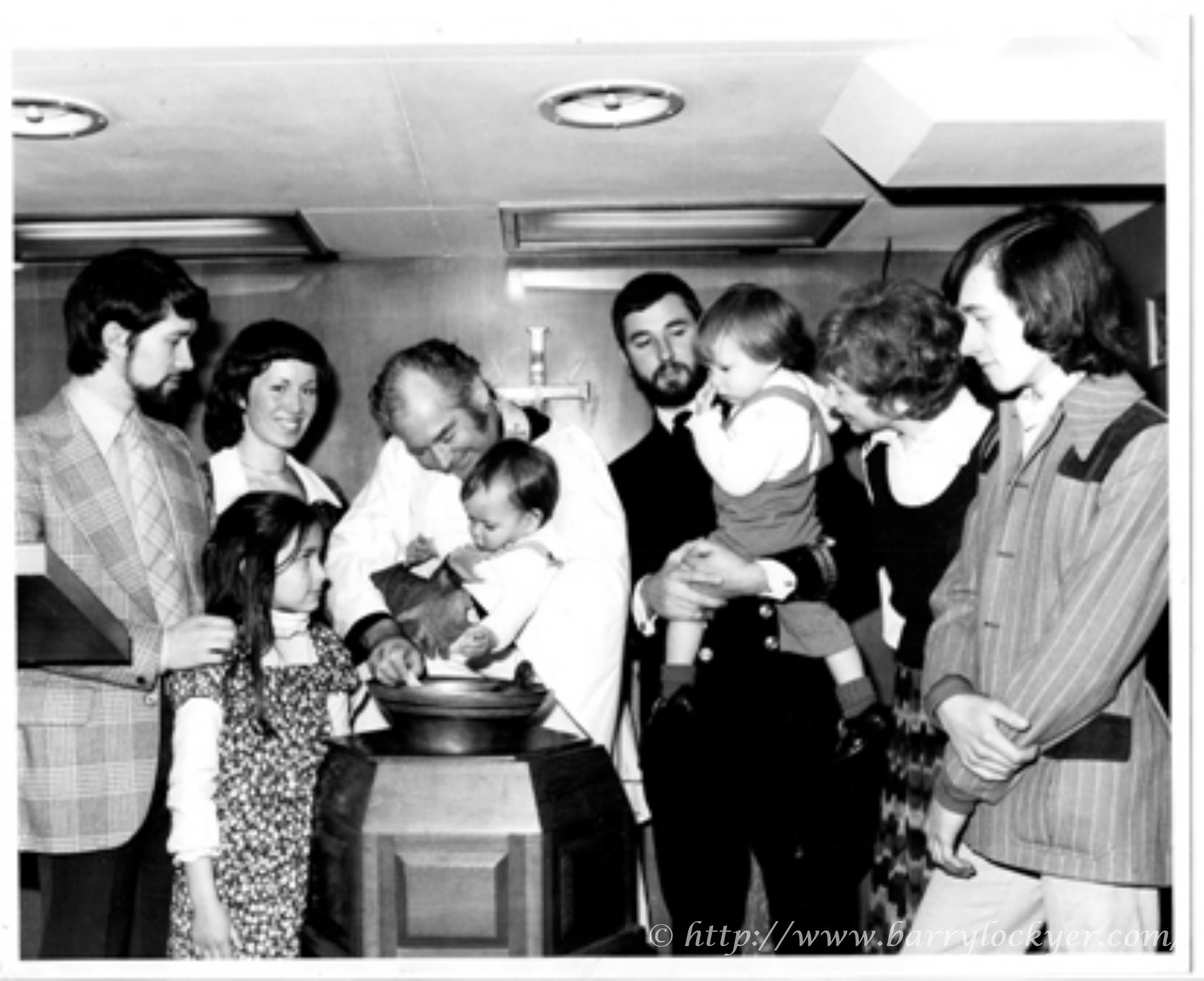 Surgeon Lt. John Toplis, christening his two sons, Mathew and Oliver using the ship's bell as a font Easter 1975.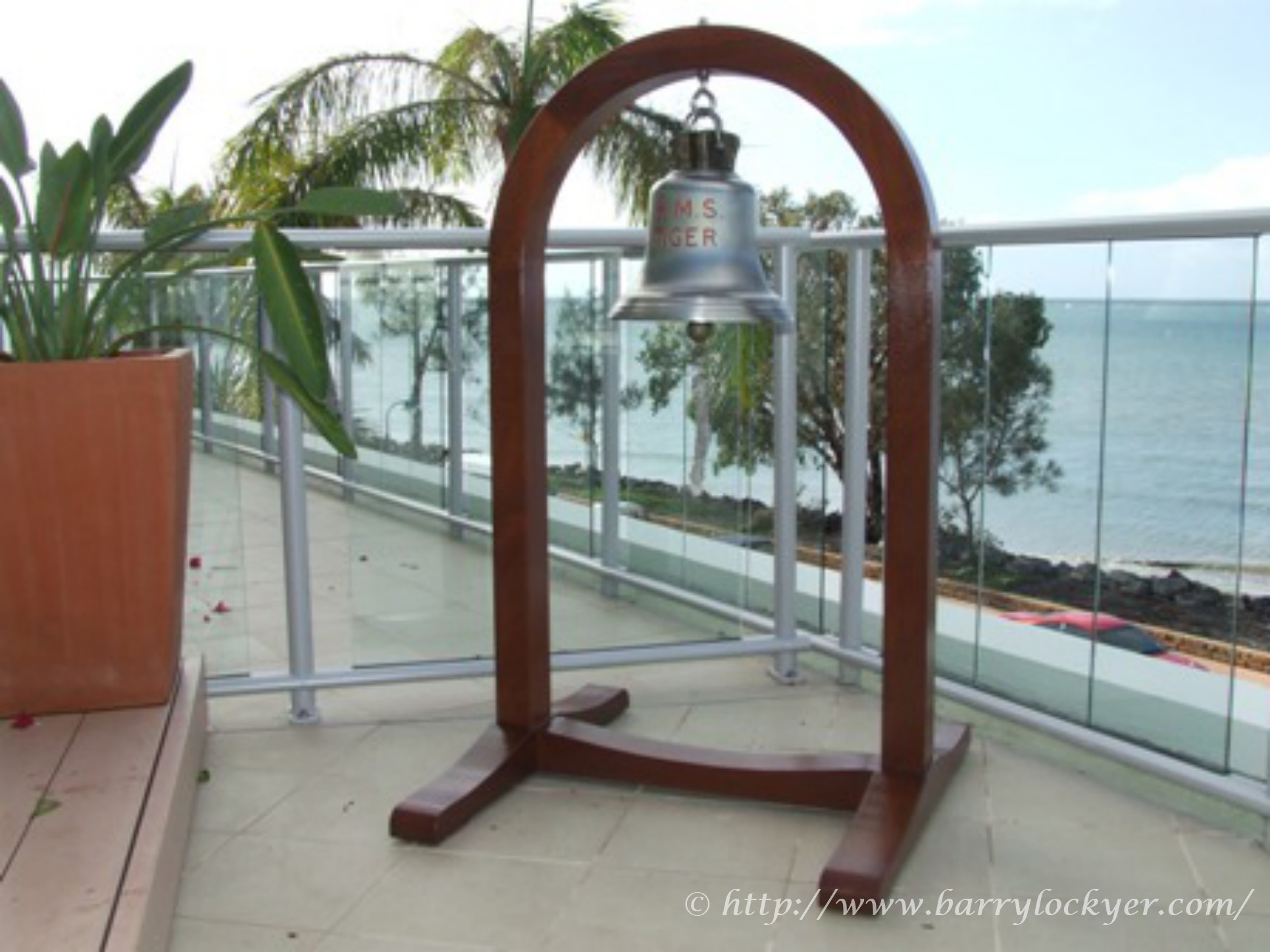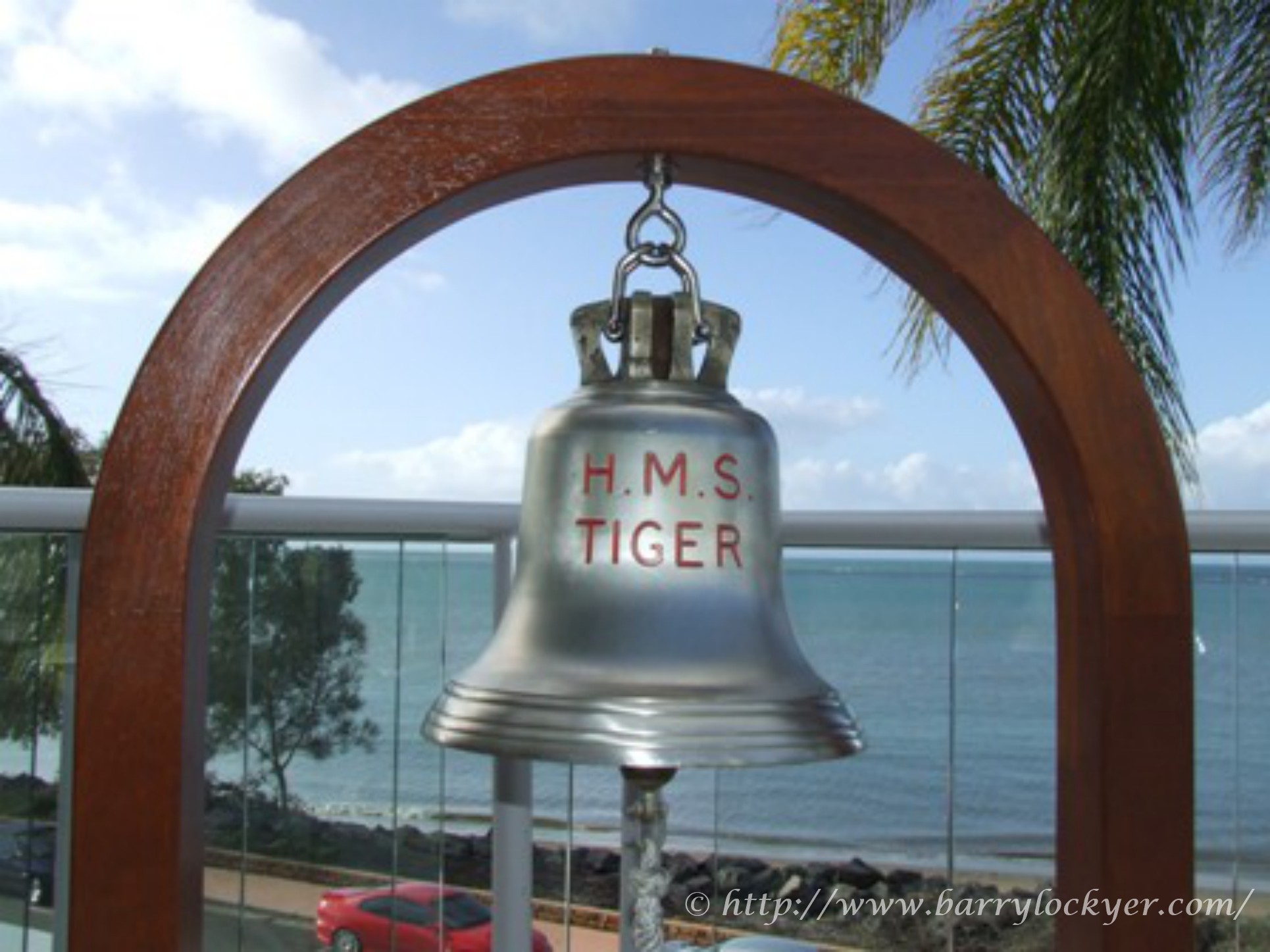 This is his letter, verbatim.
The story of how the ship's bell from HMS Tiger ended up in Hervey Bay.
HMS Tiger was a guided missile destroyer of the British Royal Navy. She was laid down in 1941 but because of other war time requirements, was not launched until 1945 and work was suspended on her in 1946. In the '50s work was resumed, but a complete redesign was undertaken and she was finally commissioned in 1959 and saw action in the Indonesian Confrontation in the early '60s and in 1966 hosted talks between the Prime Ministers of Rhodesia and Great Britain (Ian Smith and Harold Wilson) about the Rhodesian unilateral declaration of independence from the UK.
She was then placed in the reserve fleet later that year before undergoing a massive conversion to a helicopter carrier between 1968 and 1972. Without doubt it would have been cheaper to build a completely new ship rather than carry out the conversions of Tiger and her sister ship HMS Blake. The third ship of the class, HMS Lion was scrapped. HMS Belfast was a similar class ship and is now a floating museum by Tower Bridge in London.
The major part of the conversion was to remove two 6 inch and four 3 inch guns from the stern and replace them with a landing deck and hanger facility for 4 Sea King or Wessex helicopters which had an anti submarine and commando carrying role. She also carried two Seacat missile launchers.
The conversion transformed a very elegant and well proportioned ship to a very boxy, ugly vessel.
I joined the Royal Navy in 1972 for a 5 year Short Service Commission and in 1973 was appointed to Tiger as the Dental Officer (as well as being Wardroom Social Secretary, Tobacco Officer, Golf Club Captain, Hockey Captain, Cricket Captain and quiz compiler for the ships TV station). I was also the Second Surgeon and Anaesthetist at Action Stations ! Fortunately for all, my services were never required in a "real" Action.
In 1975 whilst the ship was alongside in Portsmouth for Easter, my two sons, along with a couple of other children, were christened in the ship's Chapel using the upturned bell as the font. Their names were then engraved inside the bell along with all the other children who had been christened using the bell over several years. I left Tiger later that year and left the Navy in 1977.
Tiger was placed in the reserve fleet in 1979 and subsequently towed to Spain and scrapped in 1986.
In 1986 I had an Orthodontic Practice in Bristol and my secretary's brother who was still in the Navy, alerted me to the fact that Tiger had been scrapped and that in line with Naval tradition, bids were invited for the bell. Any child who had been christened in the bell had a claim, and I had had 2 done !
So, I put in my letter of claim and waited. And waited. And waited. I had heard nothing after several months and so thought that I must have missed out.
I used to treat children from a fairly wide area and one day I found I was treating the daughter of someone who came from Bath, about 20kms from Bristol. Whilst chatting to him about what work he did, I discovered he worked for the Ministry of Defence which had a huge presence in Bath. I enquired as to what area he dealt with and he said the disposal of surplus Naval property. This was beginning to get interesting ! Delving a little further, I asked what, in particular did he deal with. "Ships equipment and fittings" he said. "Bells by any chance ?", I said. 'Oh yes", he replied.
This was too good to be true.
I then told him about my bid for Tiger's bell and he said he would look into it. The next time his daughter came to see me, he told me that 6 bids had been received; 2 from former CO's, 2 from Sea Scout units and two from those who had been Christened in the bell, but my bid stood a good chance as I had 2 children done.
A week later, the bell arrived on my doorstep.
I paid the scrap value for it (about 200 pounds I think) and it required a lot of polishing to get it looking as it should do. 53 names are engraved inside.
I had a metal mounting made by the father of another patient and for many years the bell hung proudly in various homes in the UK and in Sydney. When I moved to Hervey Bay in October 2006, the bell remained in storage as it was too heavy (it weighs over 20 kilos) to mount on the rather flimsy walls of an apartment, but then I met a Scottish carpenter called Allan McPhail. He had worked on restorations in Scottish stately homes and castles before migrating to Australia, and he was keen for a challenge.
I made a rough sketch of what I wanted, and he said "Leave it to me".
About 2 months later he rang to say he had made a couple of mock ups in plywood of different styles and would I go and have look. They were both fantastic, even in plywood ! I chose one and he then said he would research the best wood and stains etc. and get on with it. Another 2 months passed and he then rang to say it was ready.
We just managed to get it through the door and mounted the bell and looked in amazement. Besides the suspending bolt, no screws were used, only mortise and other joints. The wood is Western Australian Kwila which will stand up to the rigours of beach side living and now the bell is displayed beautifully and has been known to be tolled when the grog flows too freely. A fine example of Royal Naval history now resides in Hervey Bay.

List of inscribed names, inside the bell, verbatim, from John Toplis.
Names of children and dates Christened in HMS Tiger's bell.
DAVID KEITH WILSON 31/10/76
NATALIE TINA VIRDEN 24/9/72
PHILIP GRAHAM MEREDITH 10/8/75
MICHAEL SAUNDERS 24/7/77
LEE ROBERT JACKSON 6/6/76
SARAH LOUISE ATKINS 30/5/76
VICTORIA ANNE SNAPE 22/4/73
VICTORIA CLAIRE NEWNES 21/4/74
CLARE MICHELLE WALKER 30/3/75
SUZANNAH CLARE WILLIS 23/3/75
MATTHEW JAMES IAN TOPLIS 23/3/75
OLIVER PATRICK JOEL TOPLIS 23/3/75
DAVID HUGH MATHIAS 23/3/75
RICHARD PHILIP TAYLOR 4/3/73
CHRISTIN THERESE HEATH 25/2/73
PHILLIPA SARAH MACKAY 25/2/73
ANDREW RONALD GEE 20/1/74
CLAIRE FREESTON 10/10/76
JULIET LOUISE CRAIG 8/10/72
DANIEL PETER DWYER 21/5/78
SUSAN EMILY PERKINS 14/5/78
CHRISTINA HELEN ZOE BUTT 7/5/78
GILES GLANVILLE COOKE 23/4/78
HAZEL ELAINE COSSER 4/9/77
PAUL RICHARD COSSER 4/9/77
REBECCA BATTERSBY-HILL 4/9/77
BENJAMIN JAMES SNEDDON 31/10/76
SONIA JANE LONGSTAFF 31/10/76
RICHARD EDWARD SLAUGHTER 19/9/76
ALISDAIR EDWARD WEBB 19/9/76
CLARE ELIZABETH MUNDAY 29/8/76
SAMANTHA HELEN BOULTON 30/3/74
CAROLINE ELIZABETH PETTIT 27/1/74
DALE TYRONE MANNERS 3/8/73
JONATHON RALPH ST.JOHN AINSLIE 23/3/73
WILLIAM RICHARD HOBDAY 3/9/72
LYN R THOMS 14/5/78
MARTIN WILLIAMS 25/7/76
SUSAN JACKSON 6/6/76
ROBERT GILES BIRD 2/7/72
ANITA DOEY 22/12/72
COLETTE LOWERY 14/1/73
NICOLA MARTIN 13/1/74
HELEN MARY CROSS 19/1/74
DAVID PHILIP WARMER 25/2/73
TINA MARY WARMER 20/1/74
JULIA CHRISTINE PETTIT 27/1/74
JUDITH HELEN TERRY 27/1/74
GLEN WILLIAM AITKEN 30/3/74
PETER DAVID MARSHALL 30/3/74
JEREMY EDWARD BYE 10/8/75
LIZA ELLEN NICHOLSON 10/8/75
SARAH ANN FARMERY 10/8/75

The Tigers Final Journey
R.I.P.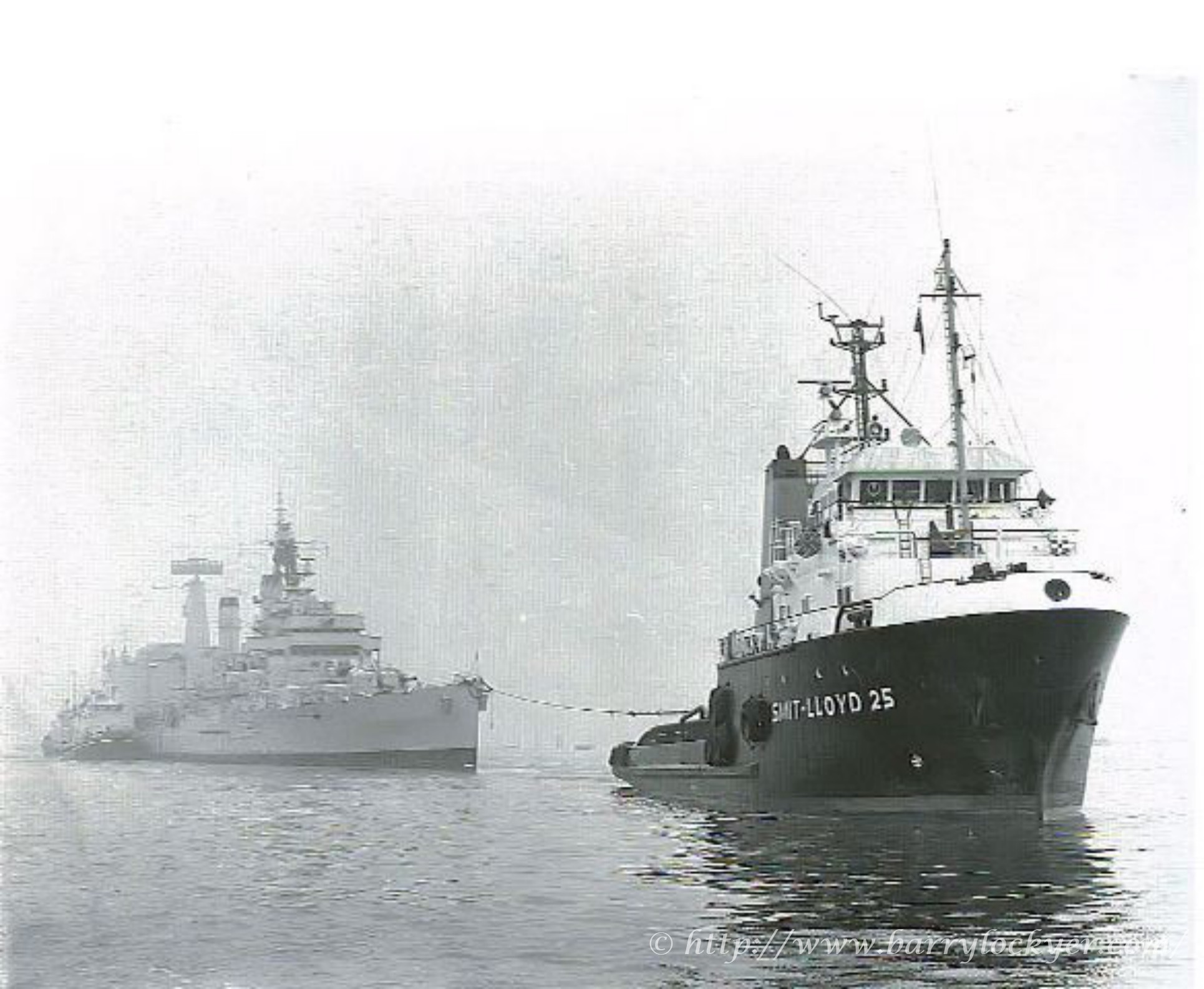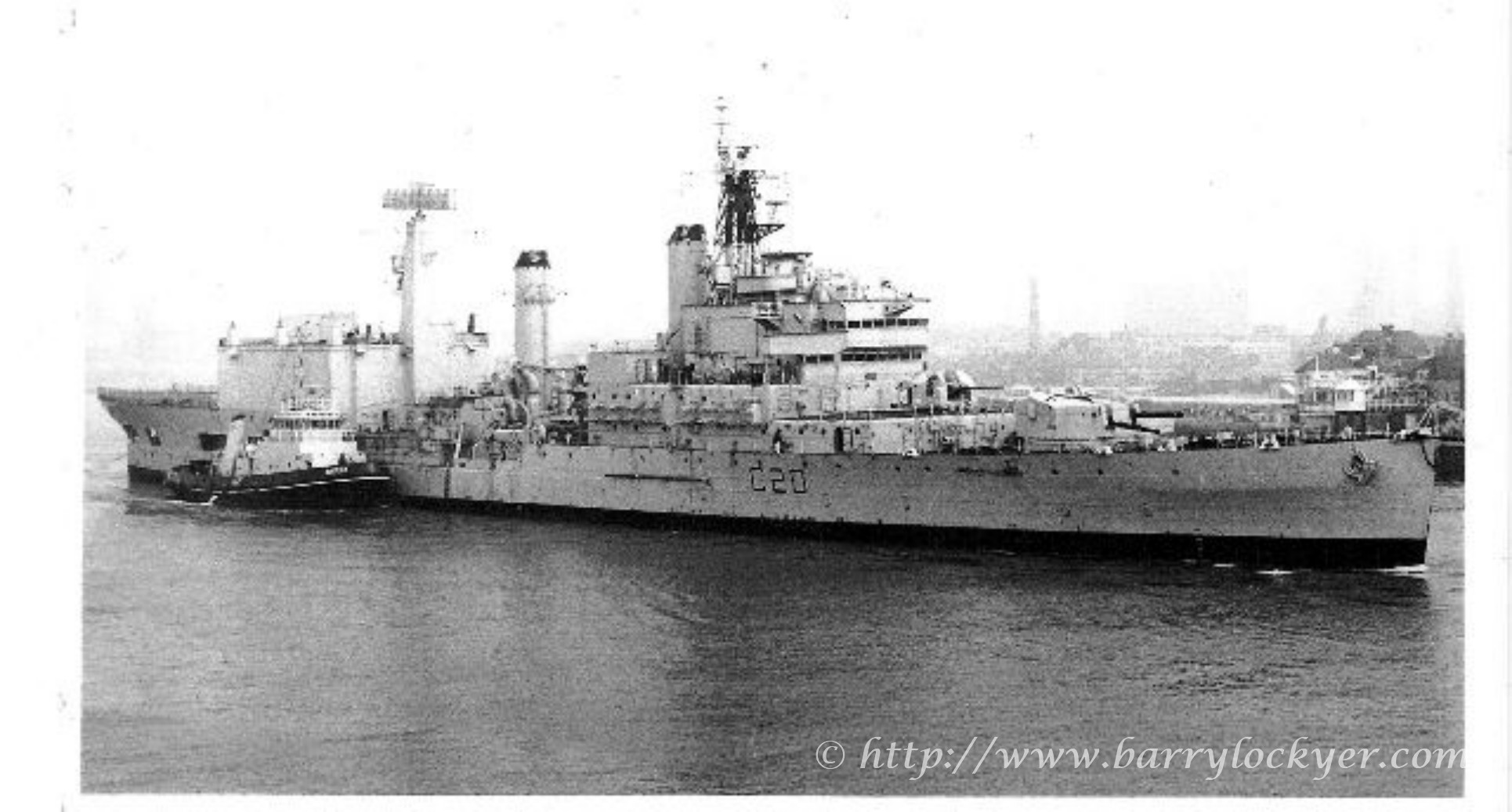 The last journey.
Tiger being towed by Smit-Lloyd25 to the shipbreakers Desquaces Valera Spain. 29th September 1986