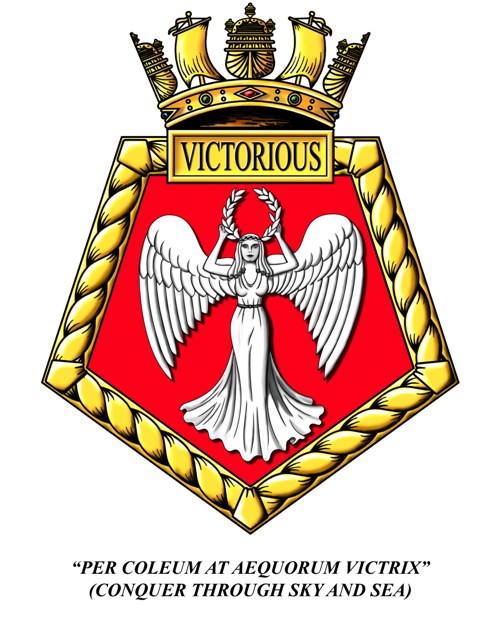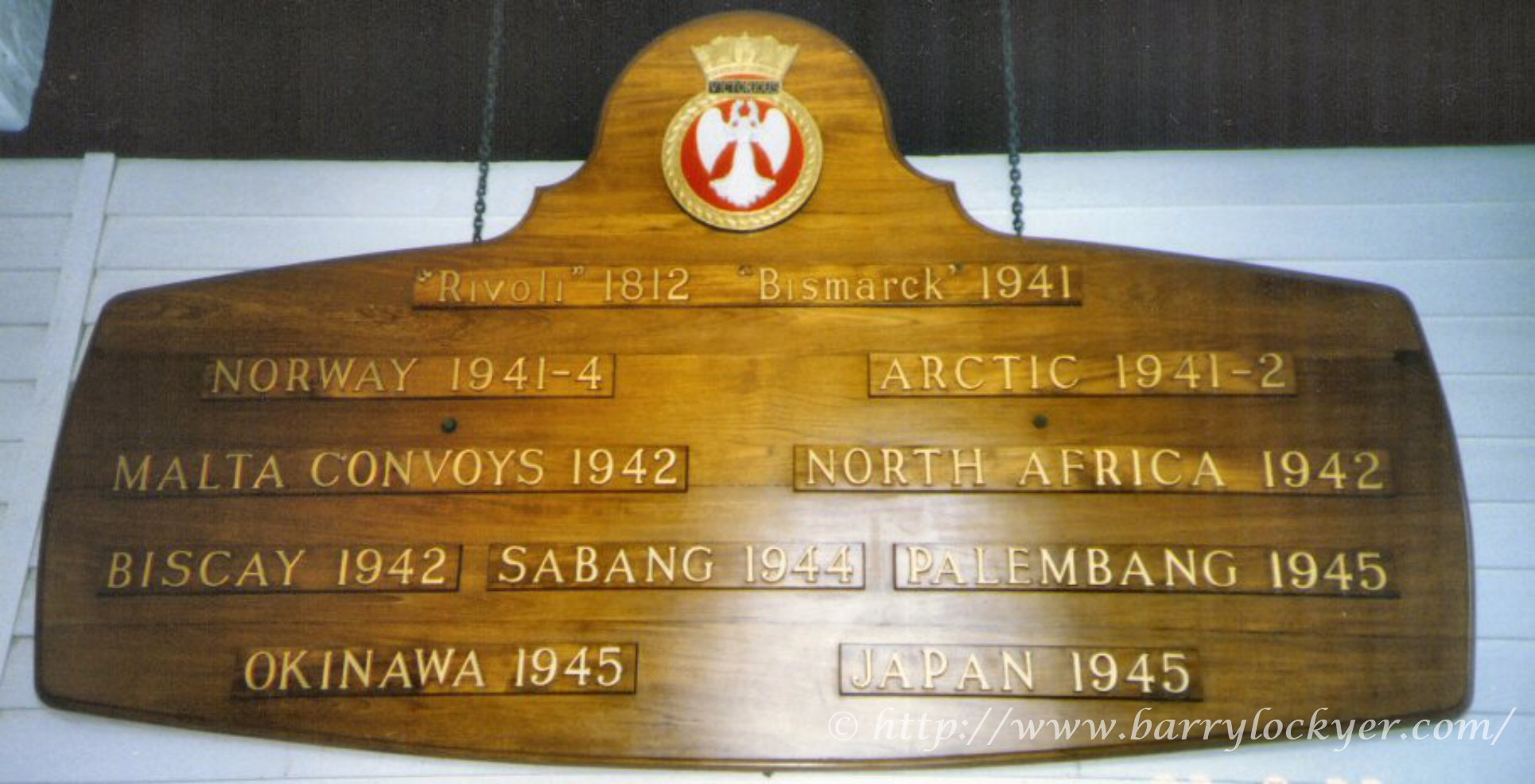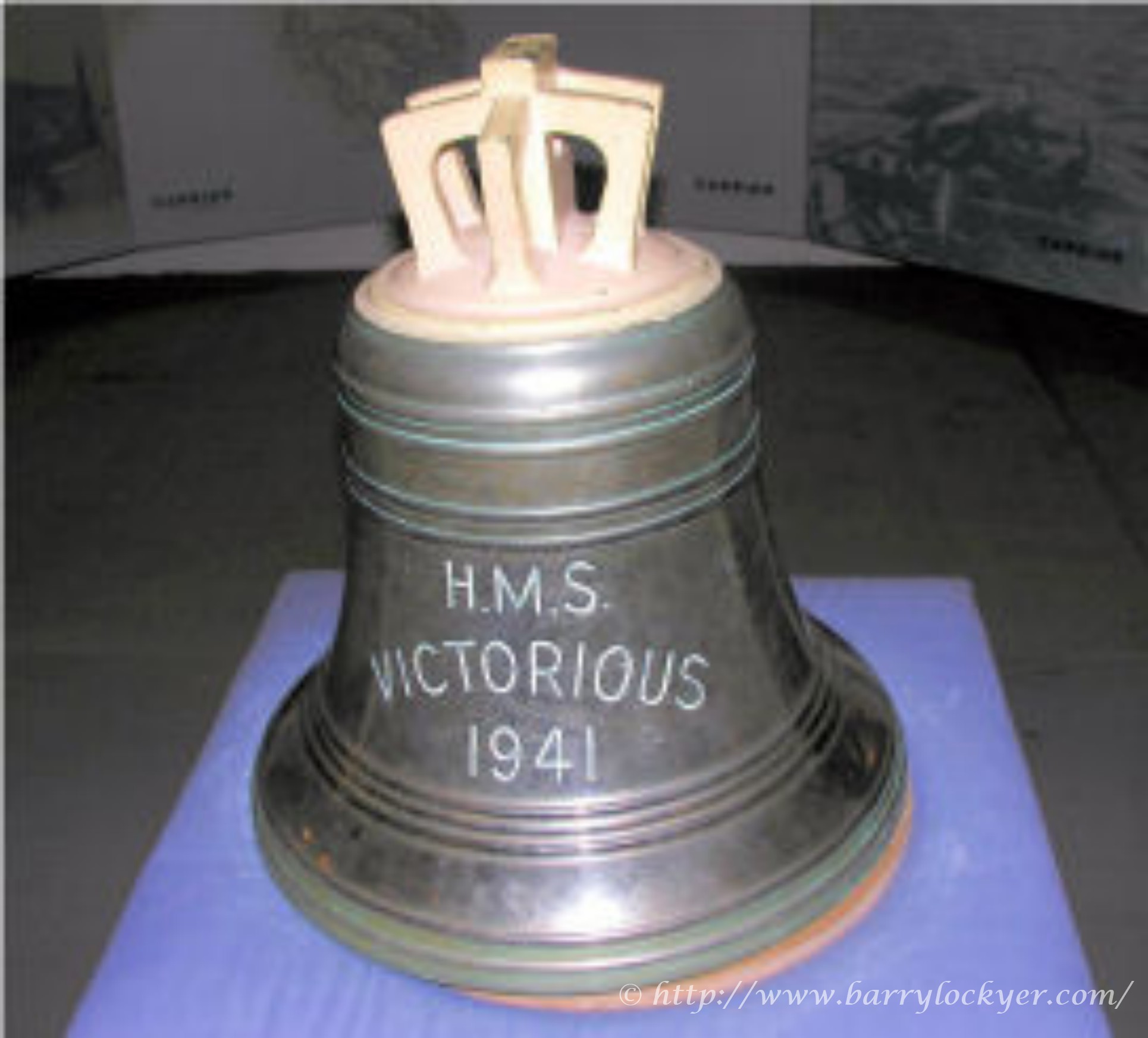 This Battle Honours plaque hangs in the RN Museum in Pompey (Portsmouth) Dockyard
HMS Victorious ship's bell (photo courtesy of Dave Evans.), in the Fleet Air Arm Museum Yeovilton
HMS Victorious ( R38 ) Aircraft Carrier.
http://www.fleetairarmarchive.net/Ships/Victorious.html
http://en.wikipedia.org/wiki/HMS_Victorious_(R38)
Navy News January 1958
http://content.yudu.com/Library/A2d22f/195801NavyNewsJan58/resources/index.htm?referrerUrl=

A History (courtesy of MOD)
The name Victorious has a long and distinguished history in the Royal Navy.

The first Victorious was launched at Blackwall on the 26th April 1785.
A third rate two decker of 74 guns she was one of the class that formed the backbone of the ascendant British Fleet.
She saw action in the capture of Cape Town in 1795 before spending the vast majority of her career in the East Indies where she served as the British Flagship.
She was condemned in Gibraltar on her journey home in 1803 and subsequently broken up in Lisbon.

The second Victorious was another third rate 74 gun ship, launched at Bucklers Hard in Portsmouth on the 20th October 1808 at a cost of £41, 798.
Dispatched to the Baltic Squadron she saw action in the bombardment of Flushing in 1809 before being moved to the Mediterranean.
It was here, under the command of Captain Talbot, that she earned her first Battle Honour defeating the far larger French ship Rivoli, killing nearly half of her 810 strong crew.
The Victorious then operated for a couple of years in the West Indies before returning to Portsmouth on 1st September 1814 to spend the rest of her career on harbour service before being broken up in 1861.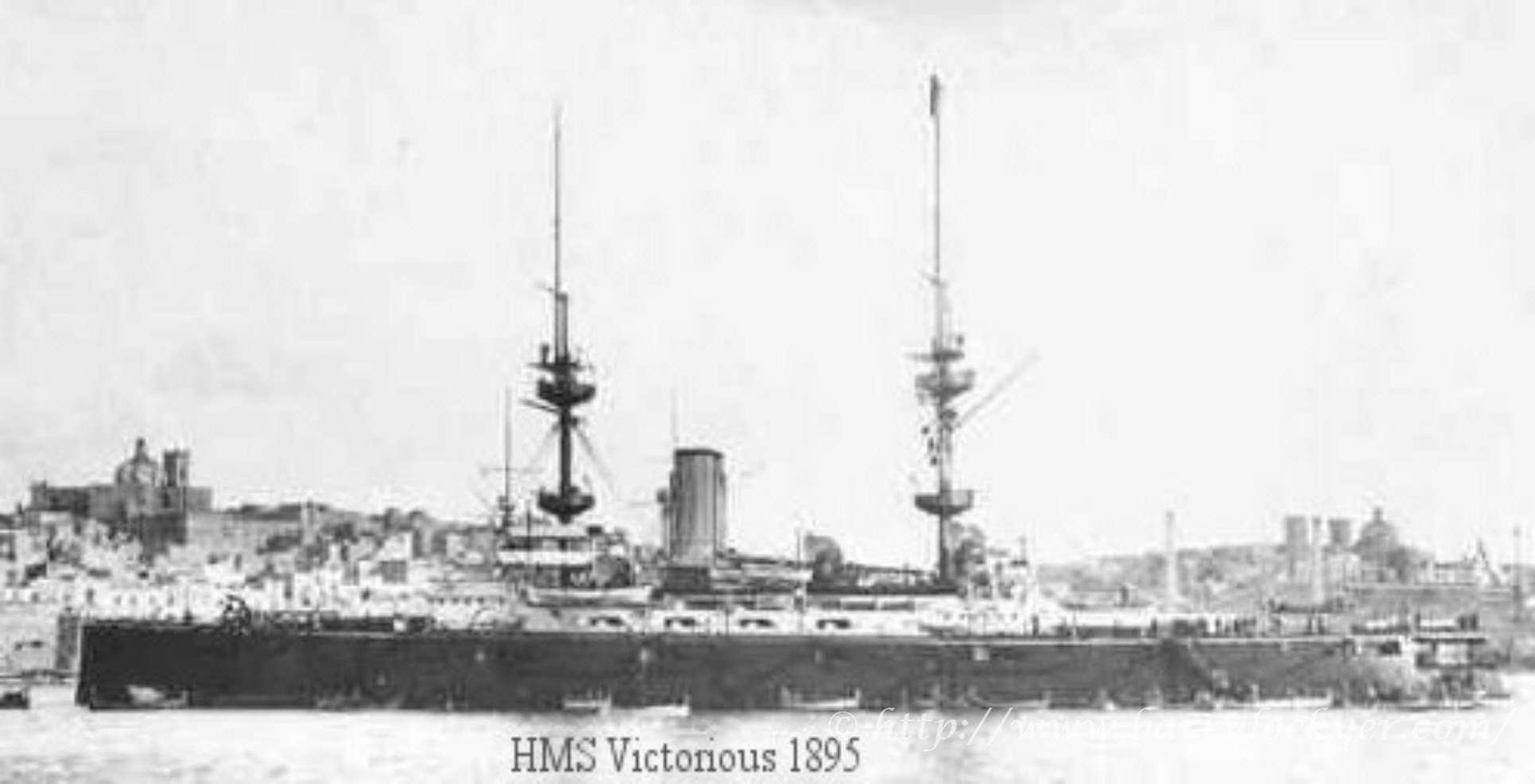 The third Victorious was a 15,000 ton Majestic Class 1st Class Pre-Dreadnought battleship armed with four 12-inch guns, launched in Chatham in October 1895.
With a designated speed of 17 knots, She managed to attain a speed of 18.7 knots.
She spent World War I defending the Humber.
She served many fairly uneventful years in both the Mediterranean and Channel Fleets before taking up a permanent mooring at Scapa Flow as a dockyard repair ship.
She was sold in 1922 and broken up in April 1923.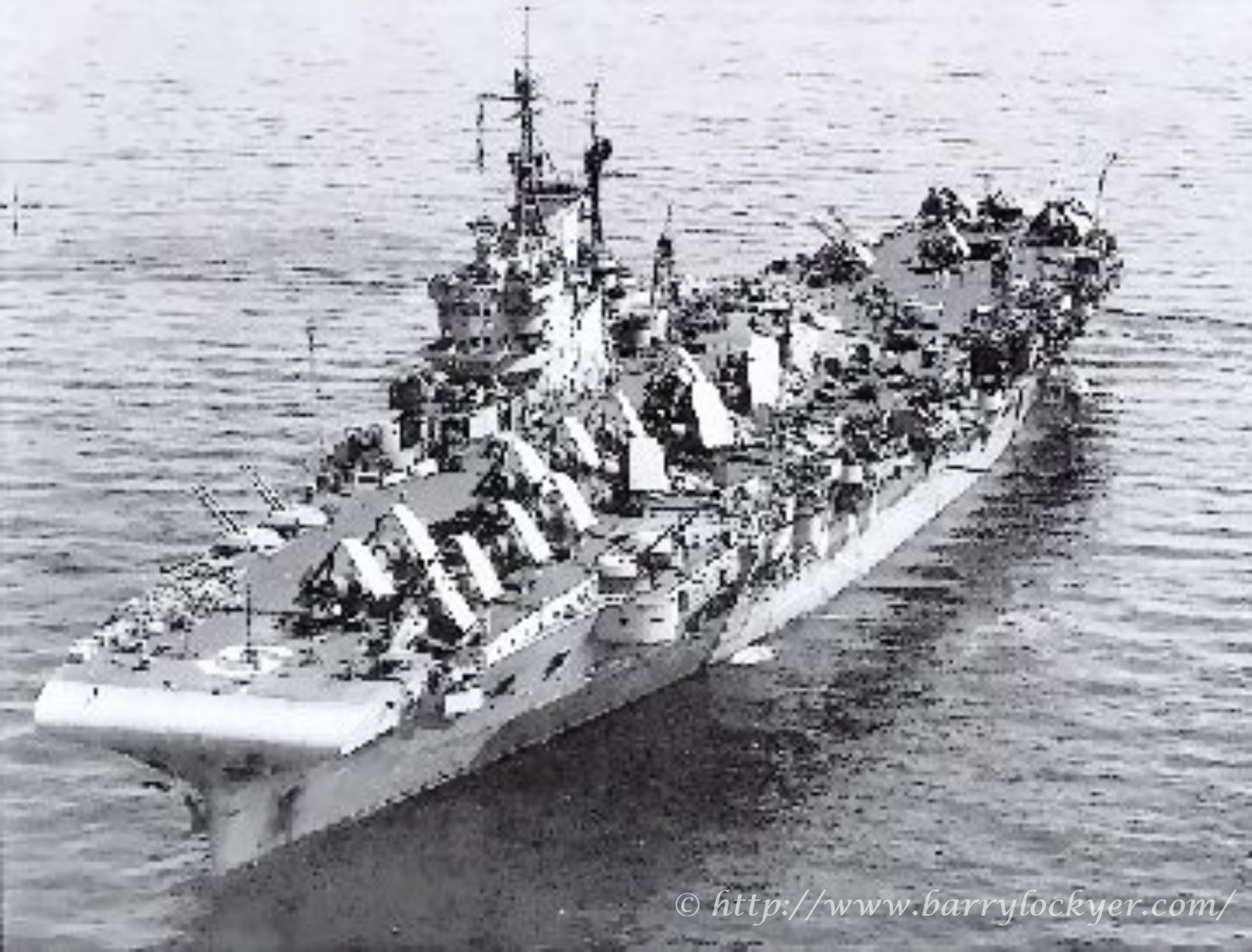 The fourth Victorious was the third ship in the Illustrious Class of 23,000 ton armoured Fleet carriers.
She had a distinguished career throughout the Second World War with operations ranging from the Atlantic and Arctic Oceans to the Far East.
In 1941, just one week after she had been commissioned, she was taking part in convoys to Malta.
It was Swordfish from her flight deck which dealt the blows that crippled the Bismarck. She then went on to spend the winter of 1941-42 covering the Northern Russian convoys.
Q. Why did the Royal Navy lend the United States an aircraft carrier during World War Two? (Anon)
In late 1942, following the loss of USS Hornet and damage to USS Enterprise in the battle of Santa Cruz, the US Navy had only one fleet carrier, USS Saratoga, for service in the Pacific.
In response to an American plea for carrier reinforcement, HMS Victorious was withdrawn from the Home Fleet and sent to the United States for a refit to suit her to the conditions of war in the Pacific: amongst other, more warlike, modifications, she was also fitted with an ice cream maker and Coca Cola machines.
By May 1943 she was ready to join USS Saratoga on operations in the Pacific, and with the American carrier, provided cover to the fleet assembled for the invasion of New Georgia in the Solomon Islands.
For the purposes of security, signals generally referred to HMS Victorious as "USS Robin" while she was serving alongside the Americans, but she was fairly universally known to them as 'the Limey flat top'.
I came across these very interesting sites about our old ship, and thought you might be interested in reading them.
Some really good Imperial War Museum photographs
http://www.armouredcarriers.com/uss-robin-hms-victorious/
http://www.armouredcarriers.com/hms-victorious-kamikaze/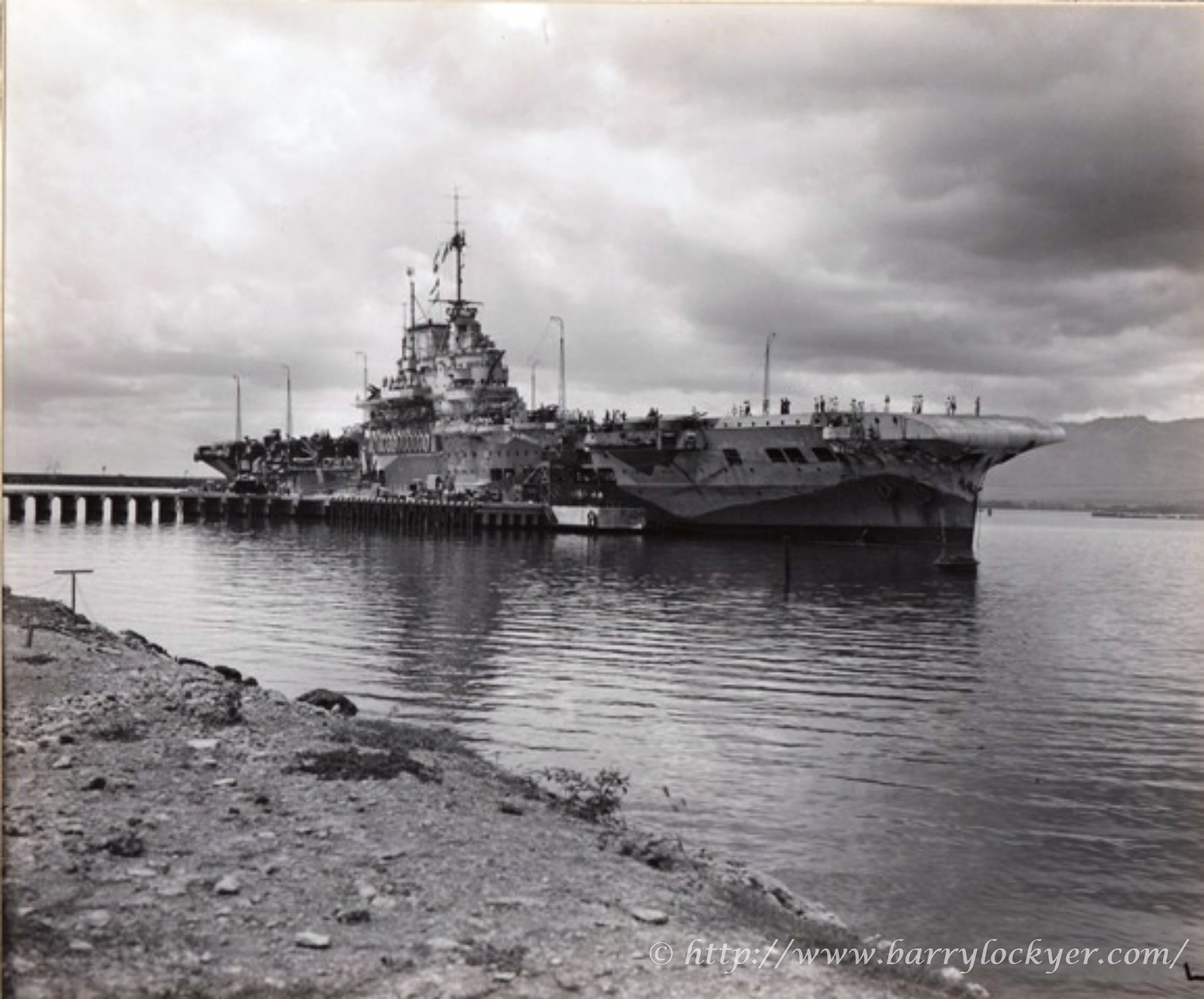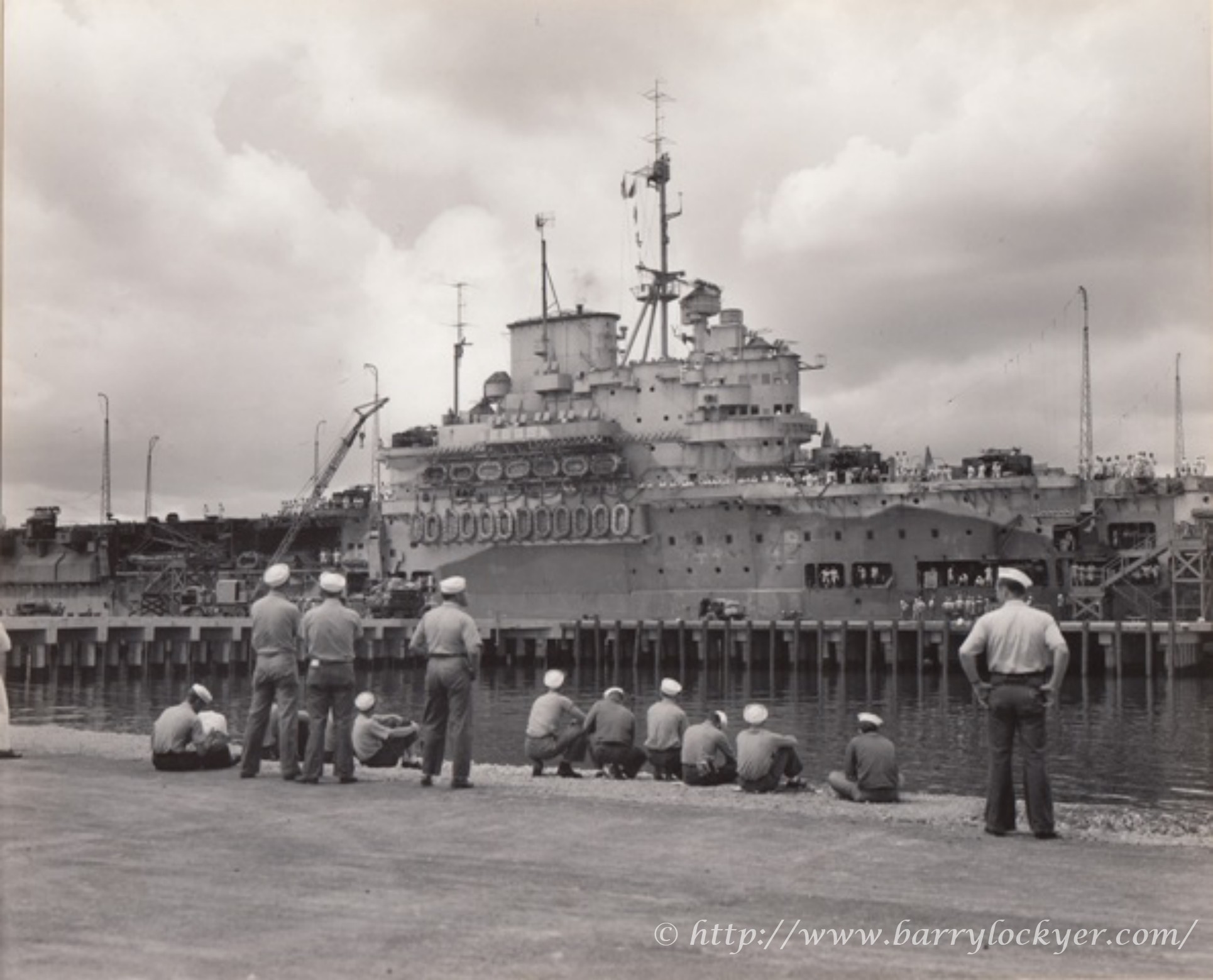 Victorious AKA USS Robin, alongside Ford Island Pearl Harbour 4th March 1943, photo courtesy of Dick.
By July 1943, the first of the new American "Essex" and "Independence" classes of aircraft carriers were entering service, and HMS Victorious returned to the war against Germany, although in 1944 she went back to the Pacific with the British Pacific Fleet for the final operations of the War.
In June 1944 she was re-deployed to join the Eastern Fleet, supporting American landings at Padang, Okinawa and Saishimo Gunto during which time she survived concerted kamikaze attacks thanks to her specially armoured flight deck.
Victorious was taken over by the Portsmouth Dockyard in July 1950 for major modernisation, this was prolonged to include the latest devices and equipment, this was, at the time, the largest task ever undertaken by a Royal Dockyard.
During the seven years of refit, the ship was completely rebuilt from the hanger deck.
Victorious was 775', fully angled 8¾°, which was 4 feet higher than it's predecessor.
Two parallel track 145 feet steam catapults and two mirror deck landing sights.
Two hydro-pneumatic high speed lifts, providing twice as much lift area than the previously installed lifts.
Larger boilers provided steam for the catapults as well as motive power for the ship.
The main electric generating capacity was increased from 2,400 Kilowatts to 4,200 Kilowatts.
The radar fitted in Victorious was the best ship-borne air defence radar system in the world at that time.
H.M.S. Victorious, commissioned 14th January 1958 as the latest carrier for the Royal Navy and sailed from Portsmouth for preliminary Sea Trials on 3rd February - a glorious day.
Heeling trials were carried out at Spithead during the second week of February 1958, see photo below.
Two helicopters of 701C Flight embarked for ship's flight duties collecting mail and trials visitors from Lee, Hurn, and Abbotsinch the latter RNAS gave us excellent service during our sea trials in the Clyde.
En route to the Clyde we did astern RAS exercises with H.M.S. Contest.
February 28th Lt.Cdr. Lamb joined our circuit in Lyme Bay from R.N.A.S. Ford to carry out the first fixed wing bolters, touch and go's.
A mess deck fire ended her service on the 13th March 1968, by decree of Prime Minister, Harold Wilson, sorry Maggie.
She was broken up in Faslane in July 1969.

The present day HMS Victorious, the fifth to bear the name and continue to uphold those traditions and standards in today's modern Navy.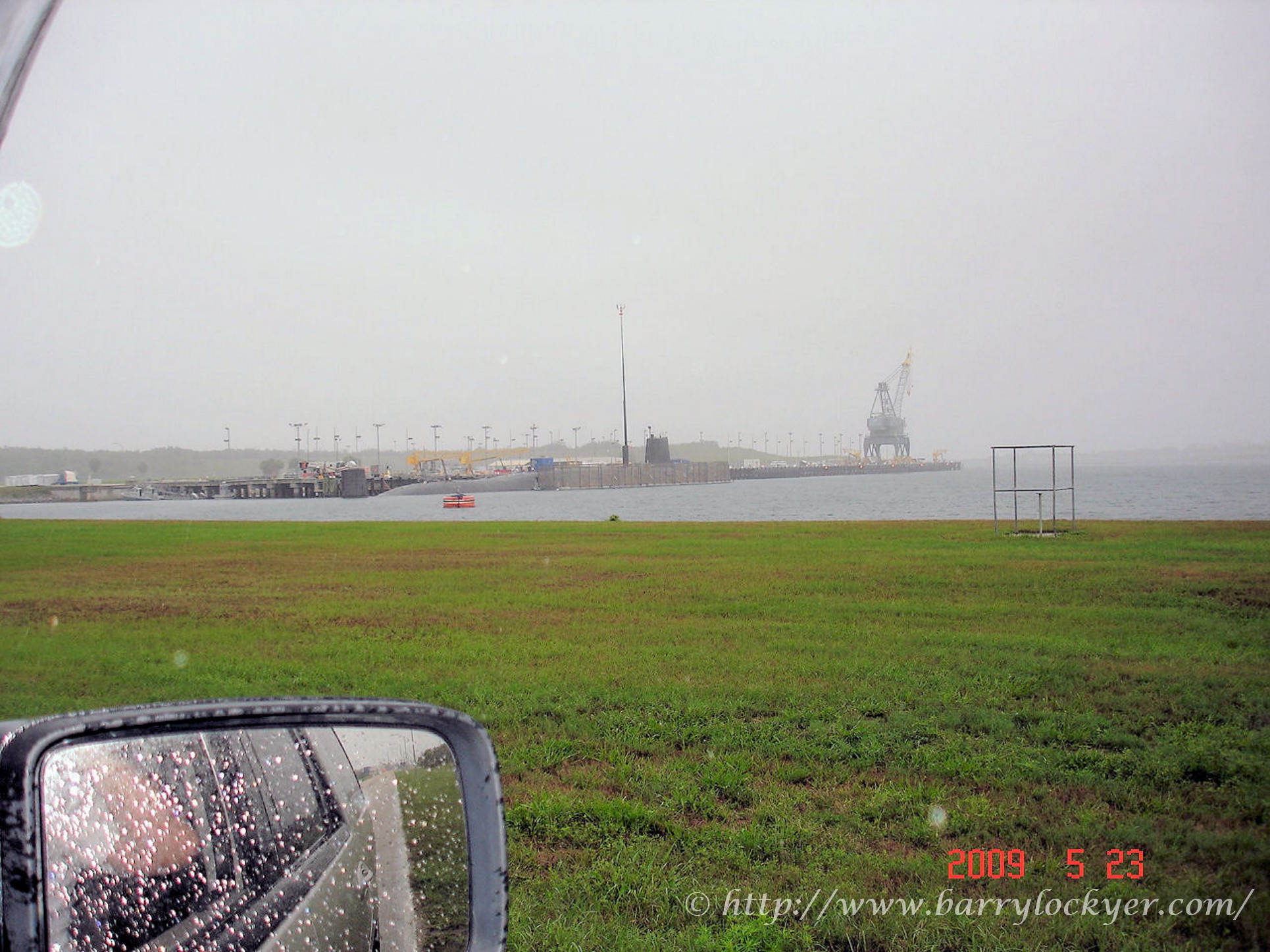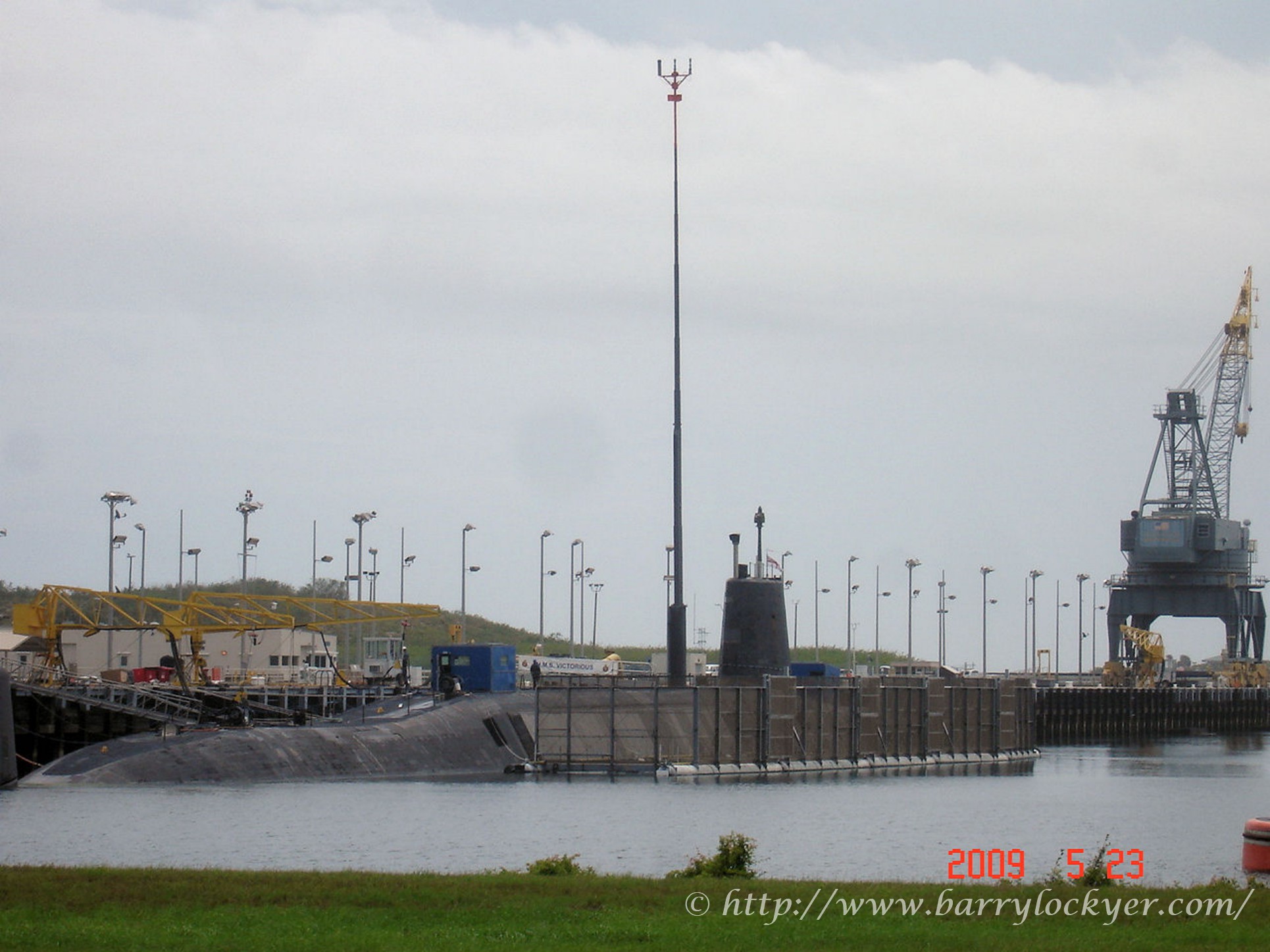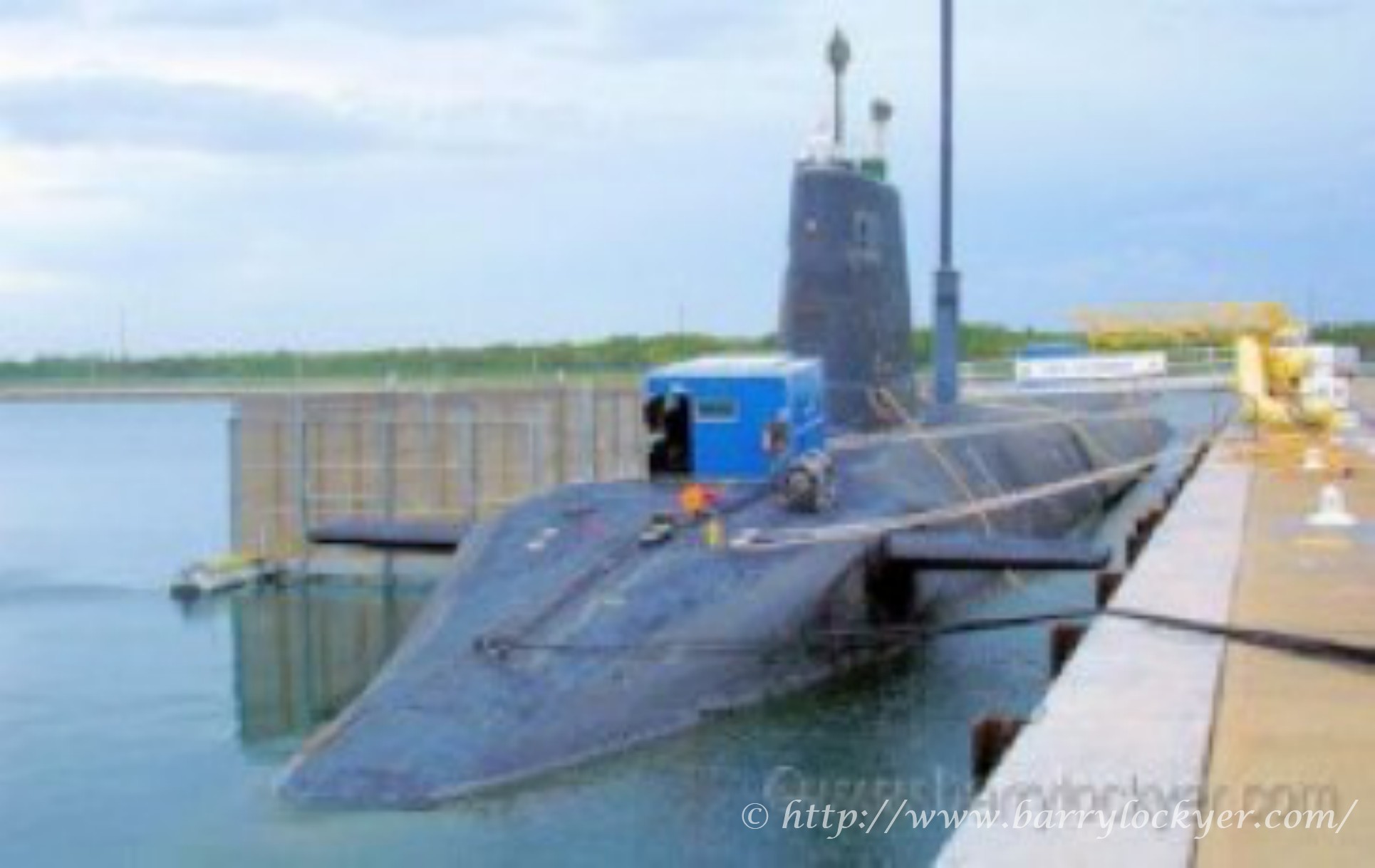 Her Majesty's Submarine. H.M.S. Victorious
alongside Port Canaveral Florida 23rd May 2009
http://royalnavy.mod.uk/static/pages/4718.html

HMS Victorious is the second of the Royal Navy's Vanguard Class SSBNs.
She is part of the United Kingdom's strategic nuclear deterrent.
Capable of circumnavigating the globe without surfacing she is not only a warship of terrifying firepower but also home and workplace to her 146 man crew.
HMS Victorious has the capacity to carry 16 Trident missiles and is fitted with four 21 inch torpedo tubes and carries the Tigerfish and Spearfish torpedoes.
HMS Victorious is equipped with the BAE Systems Type 2054 composite sonar system.
HMS Victorious's towed sonar array is the Type 2046 which provides passive search capability and operates at very low frequency. The Type 2043 is the hull mounted active and passive mode search sonar and the Type 2082 sonar provides passive intercept and ranging capability. The submarine is fitted with the CK51 search periscope and the CH91 attack periscope developed by Pilkington Optronics. These periscopes include TV camera and thermal imager as well as optical channel. All above water sensors are combined into self-protection masts in the submarine's fin. The submarine's navigation radar is the Type 1007 I-band radar supplied by Kelvin Hughes. The Victorious submarine' s main nuclear powered propulsion system is based on the Rolls-Royce PWR 2. The other main items of machinery are two GEC turbines, and a single shaft with a pump jet propulsion. There are two Paxman diesel alternators, and two turbo generators from WH Allen. The propulsion system provides a maximum submerged speed of 25 knots. The second generation reactor, PWR 2, was developed specifically for the Vanguard Class Trident submarines.
The keel was laid down by Secretary of State for Defence, George Younger, December 3rd 1987.
Rolled out September 29th 1993.
Commissioned January 7th 1995
Victorious was named by Lady Newman.
She appeared in a BBC One documentary 'Defence of the Realm'.
In February 1999 Victorious visited the French Naval Port of Brest, which marked a strengthening of ties between the two navies.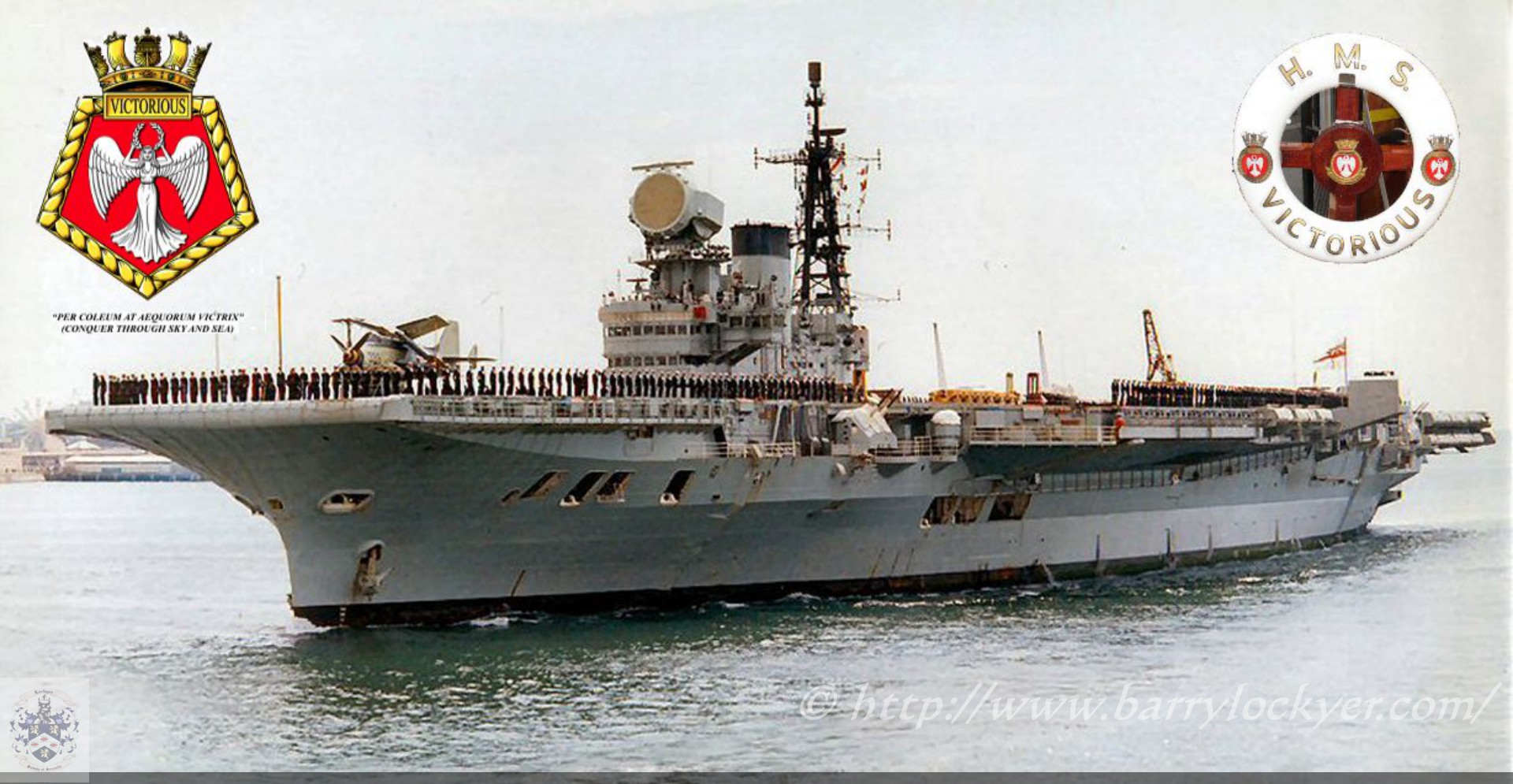 This is the photograph that Facebook HMS Victorious(R38) pirated from this web site.
They cut off the bottom with my Copyright, I know it is mine because I added the ship's crest and the lifebouy, the lifebouy came from the Victorious S29 when she visited Port Canaveral and Sharon and I along with Barry Snee and his wife Judy visited, when I contacted the moderator, they did not respond, they made the site by invitation only to block further contact.c
https://www.facebook.com/groups/HMS.Victorious.R38
Leaving Portsmouth, the old girl needs a paint job.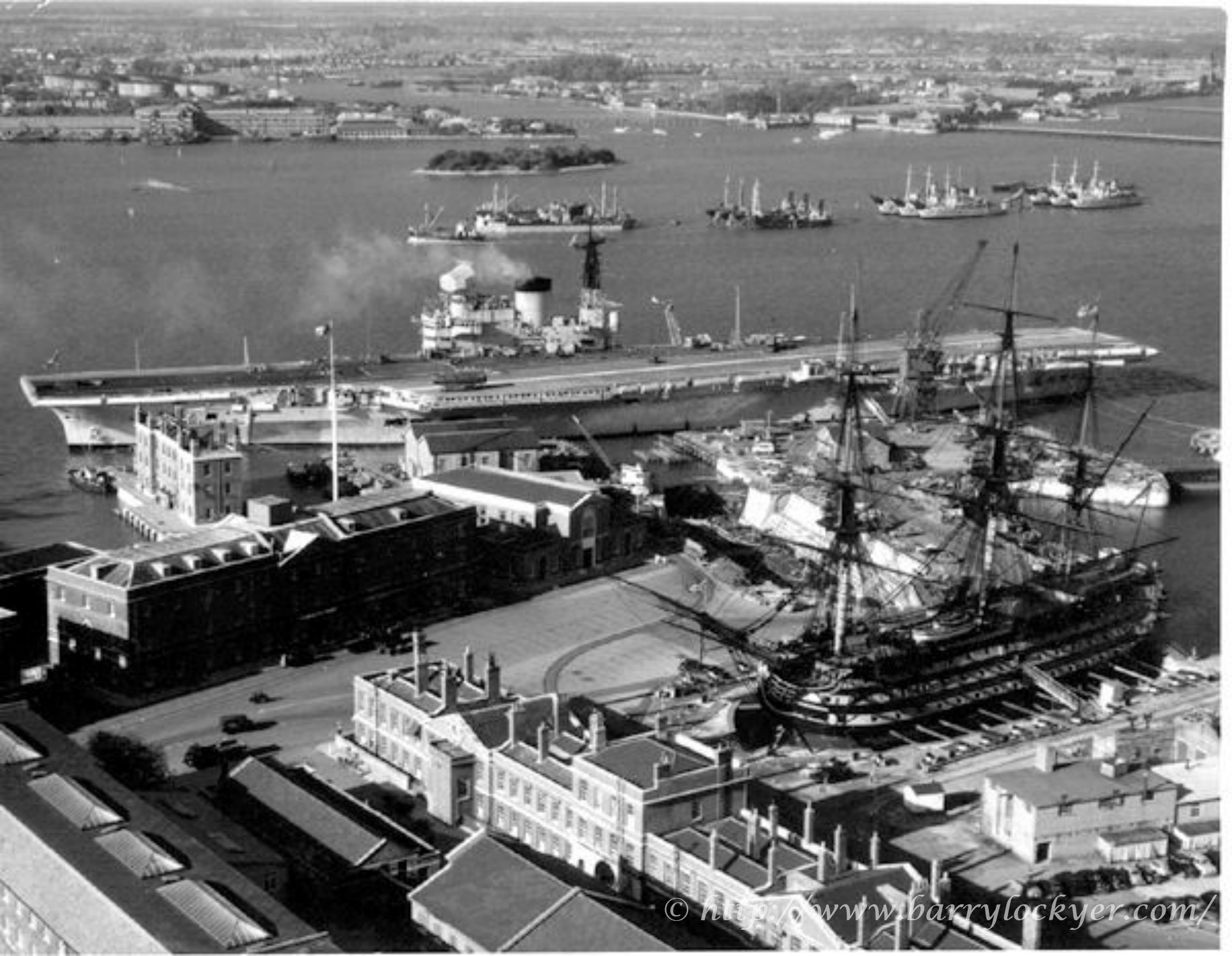 Vic at South Railway Jetty courtesy Mike Durkan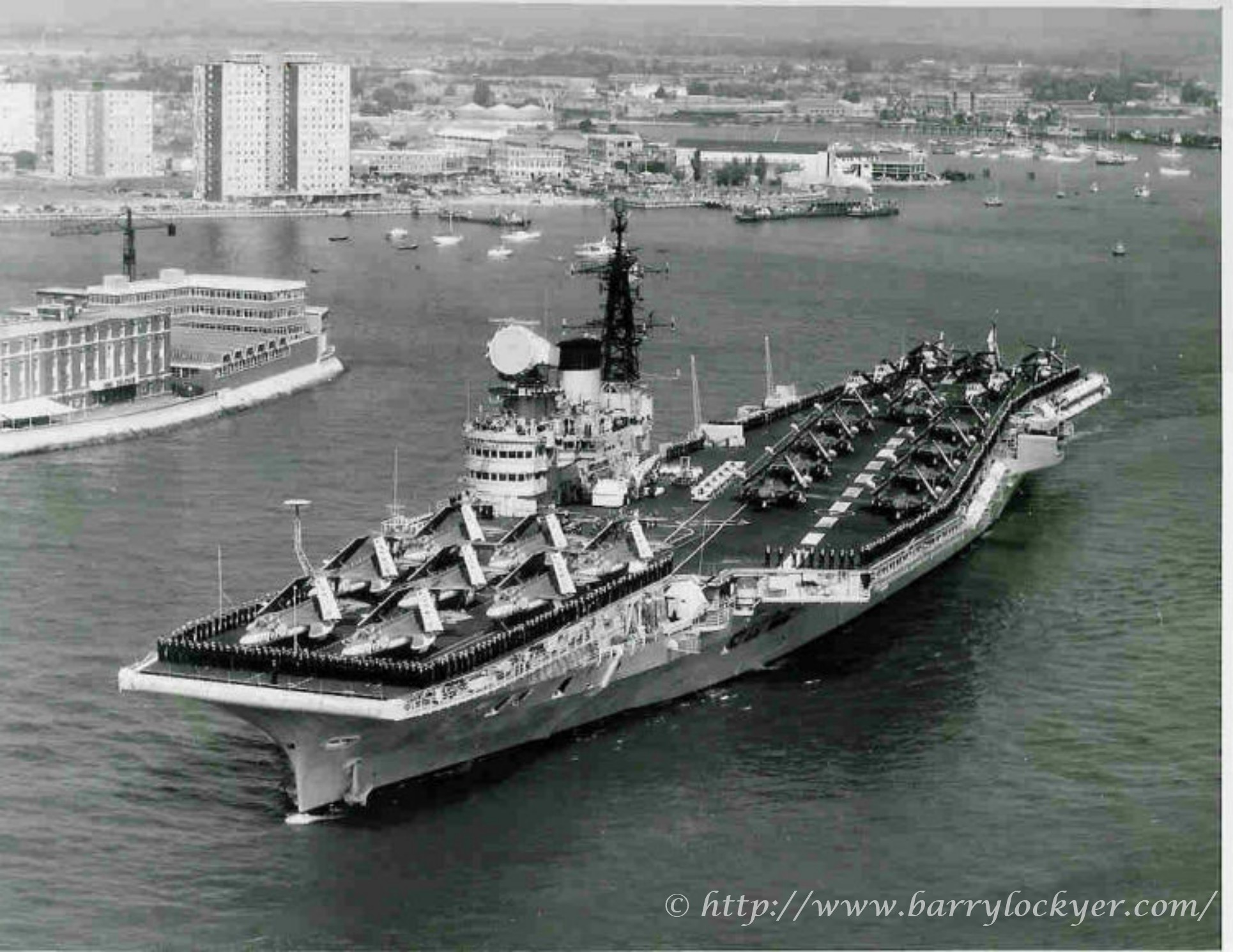 Vic Leaving Pompey with full complement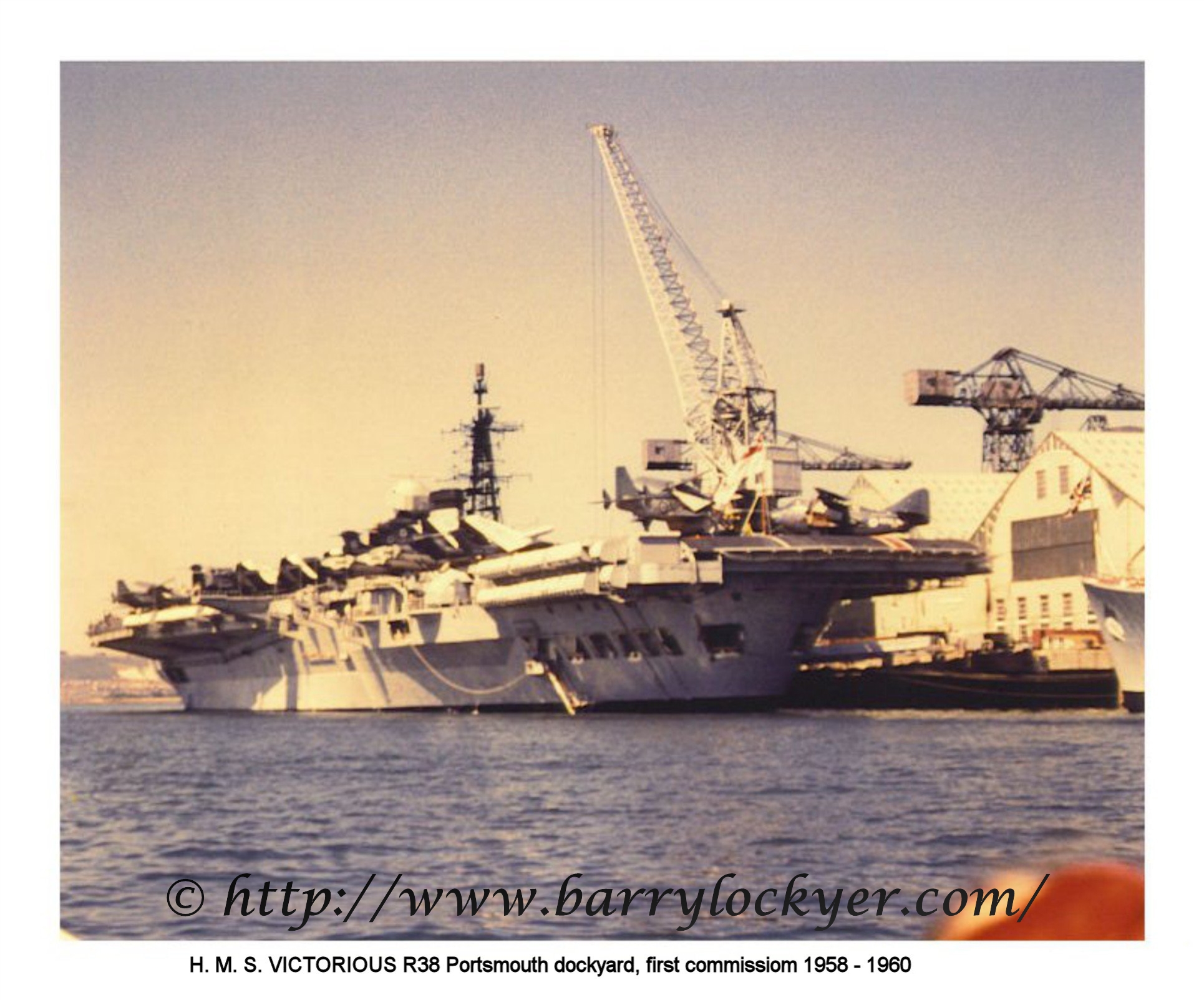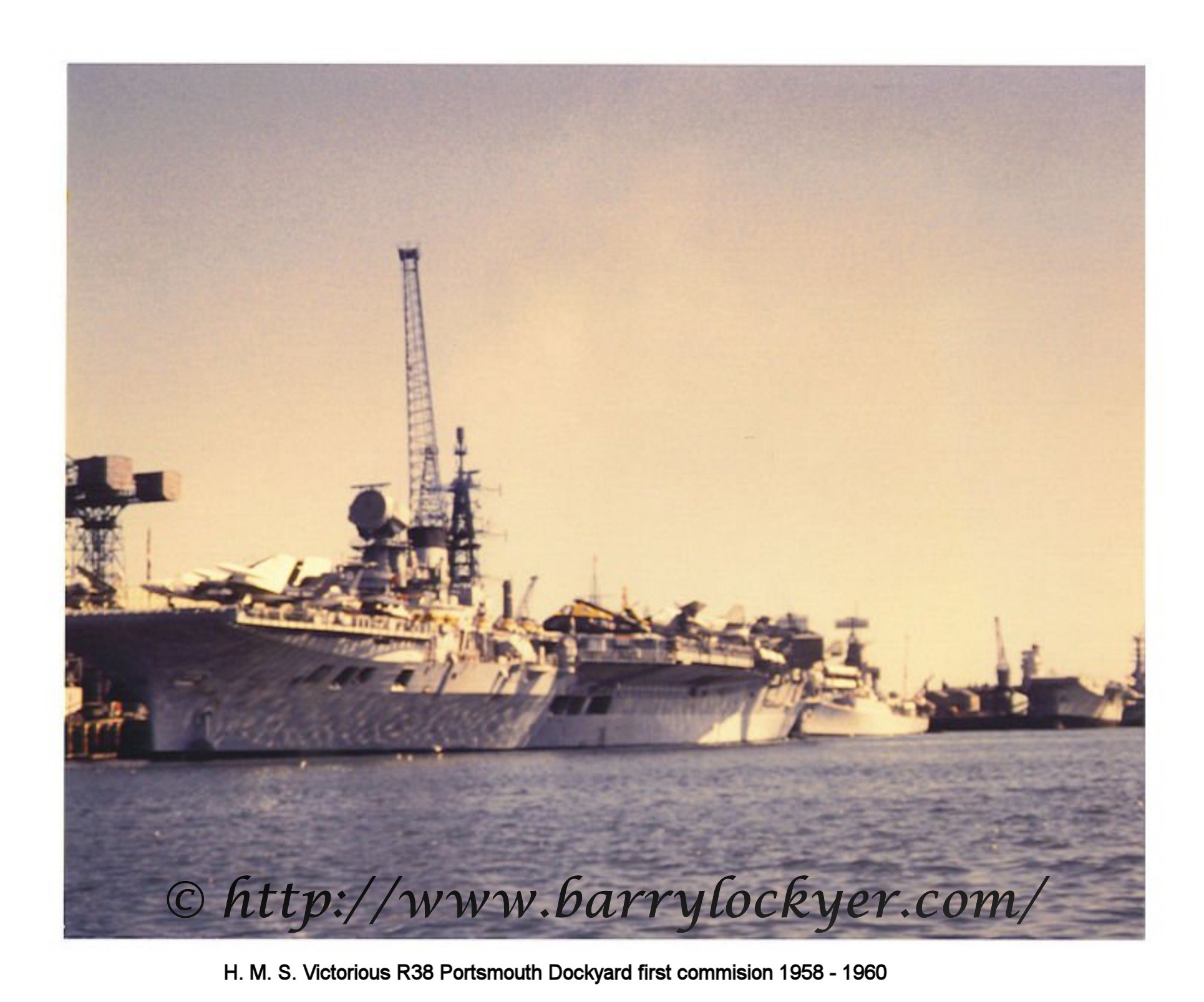 I took these two pictures, whilst sailing a Pusser's whaler 1958 or 1959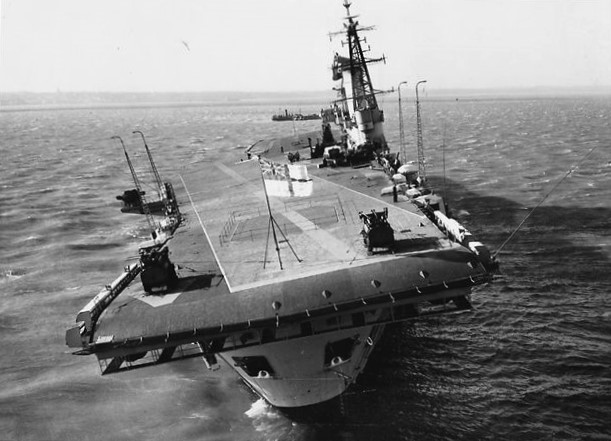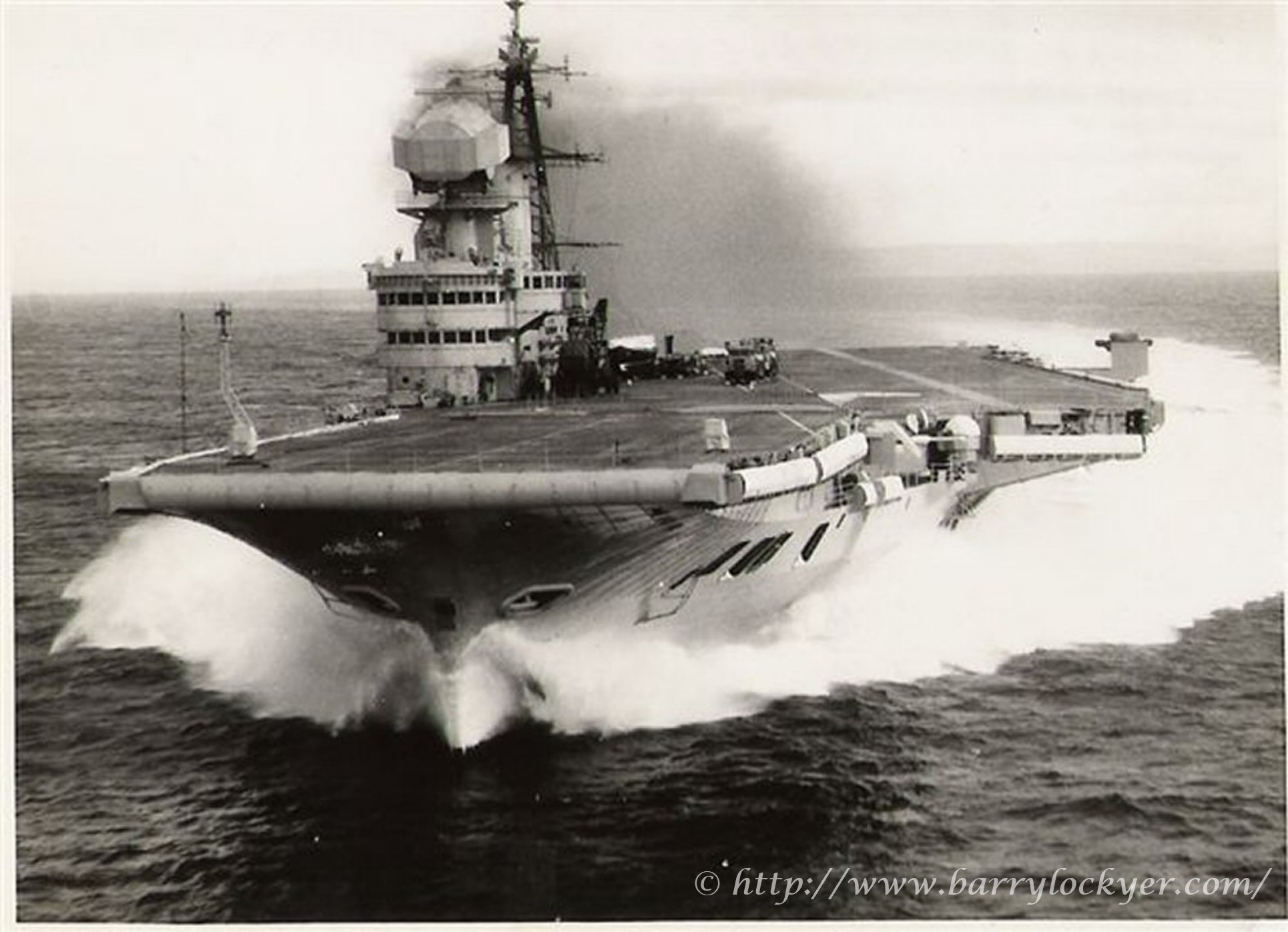 Heeling trials at Spithead second week of February 1958. Doing the measured mile of the Isle of Aran March 1958.
Photographs courtesy of Ship's photographer, sold onboard for six old pence each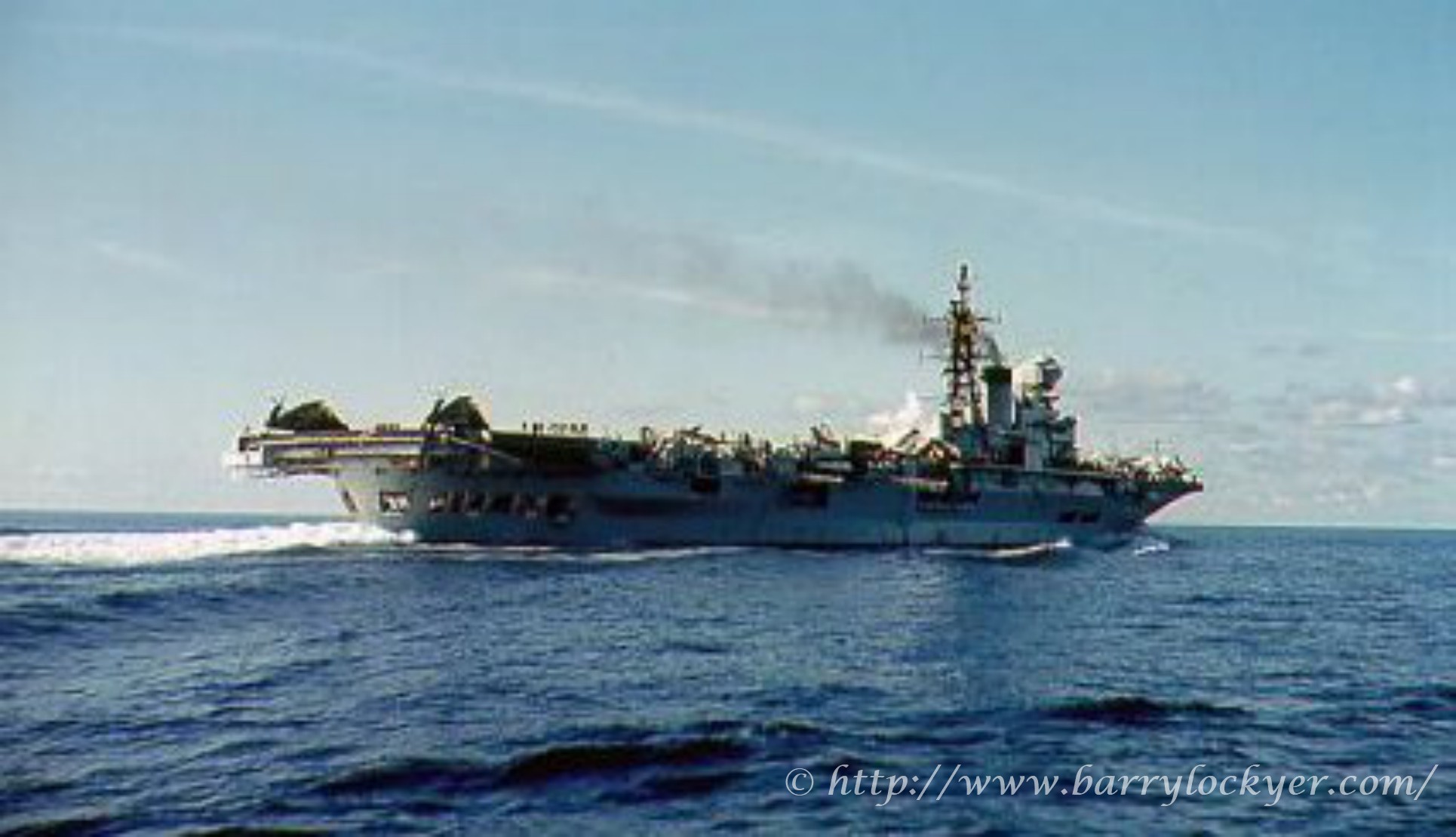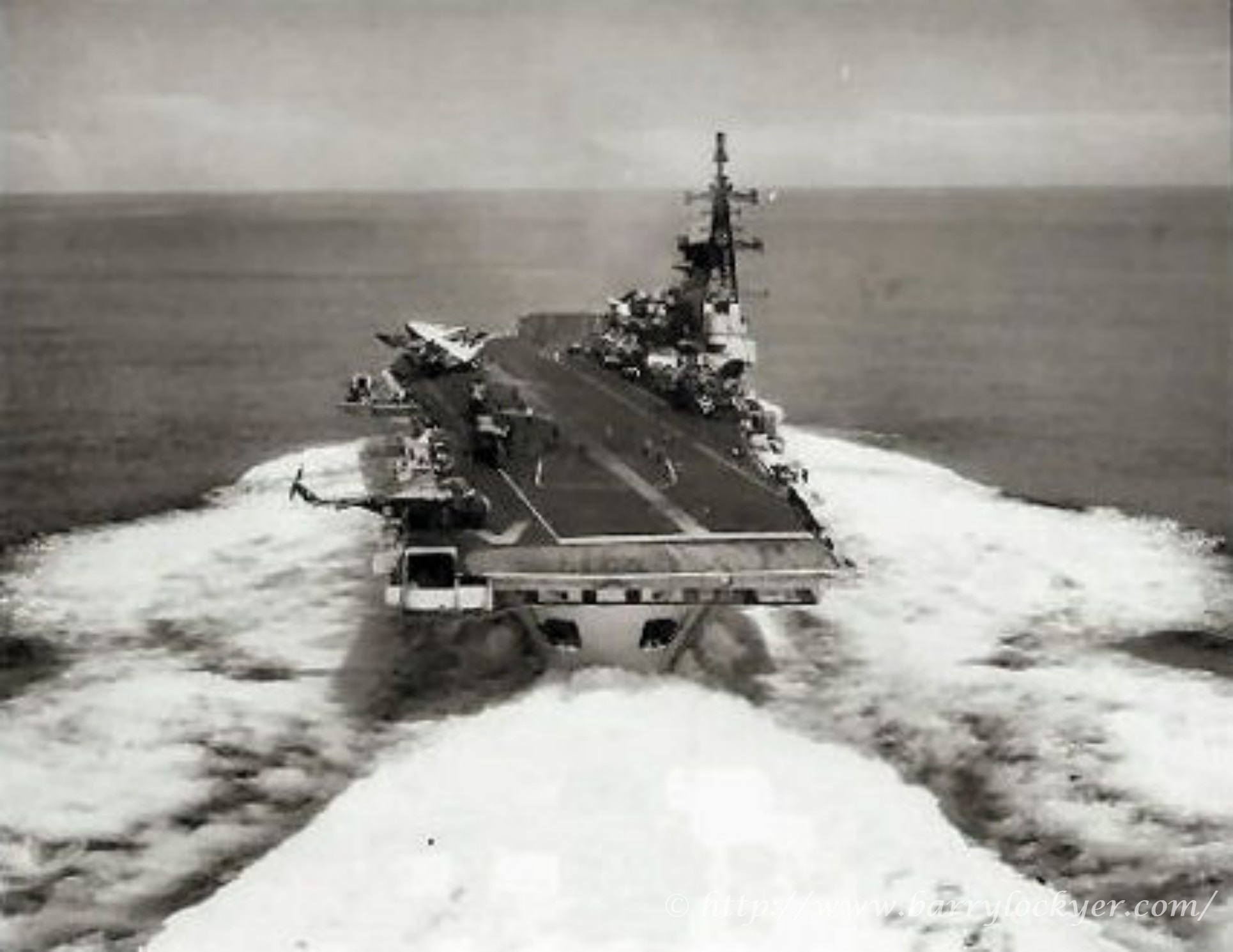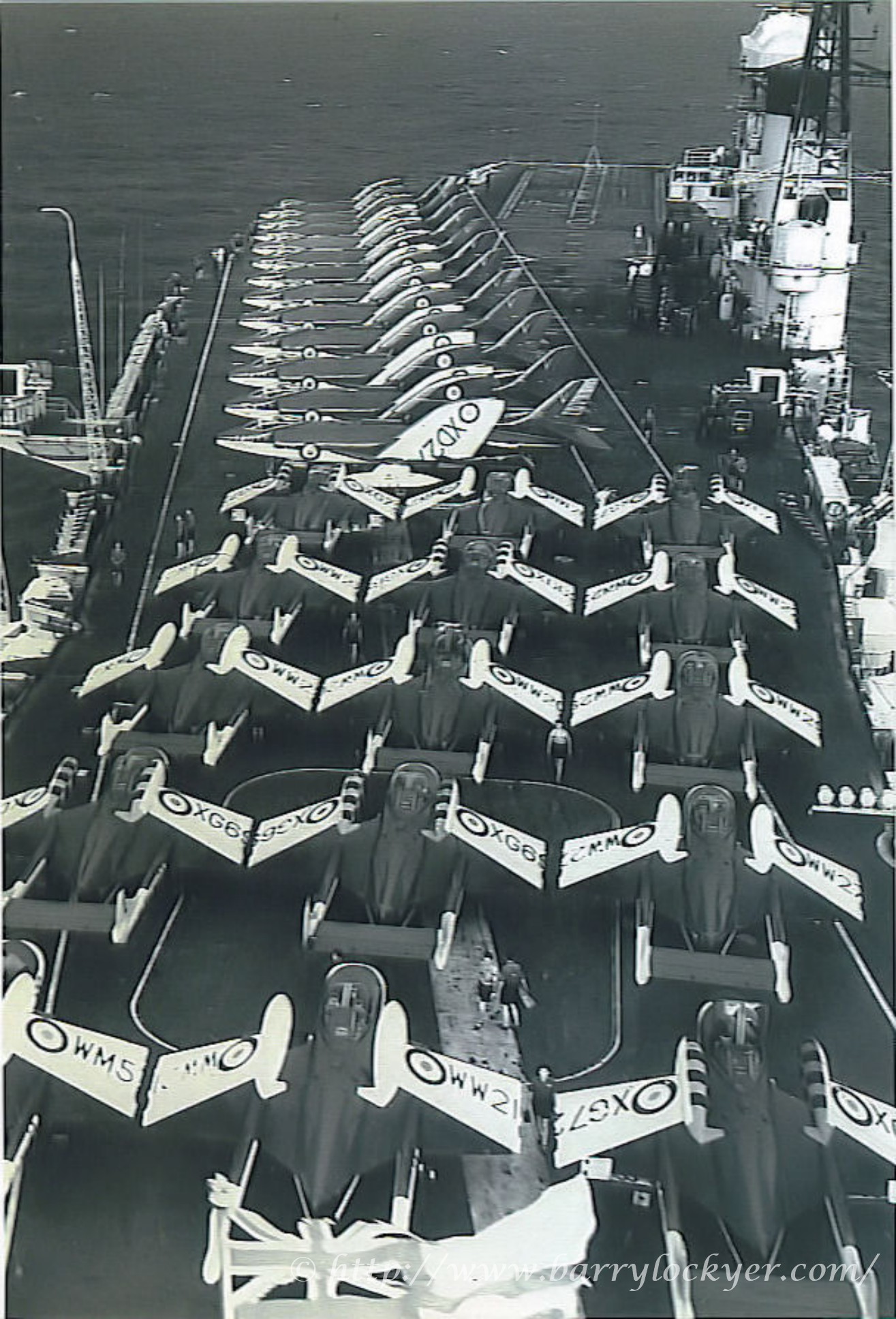 She was even pretty from the arse end.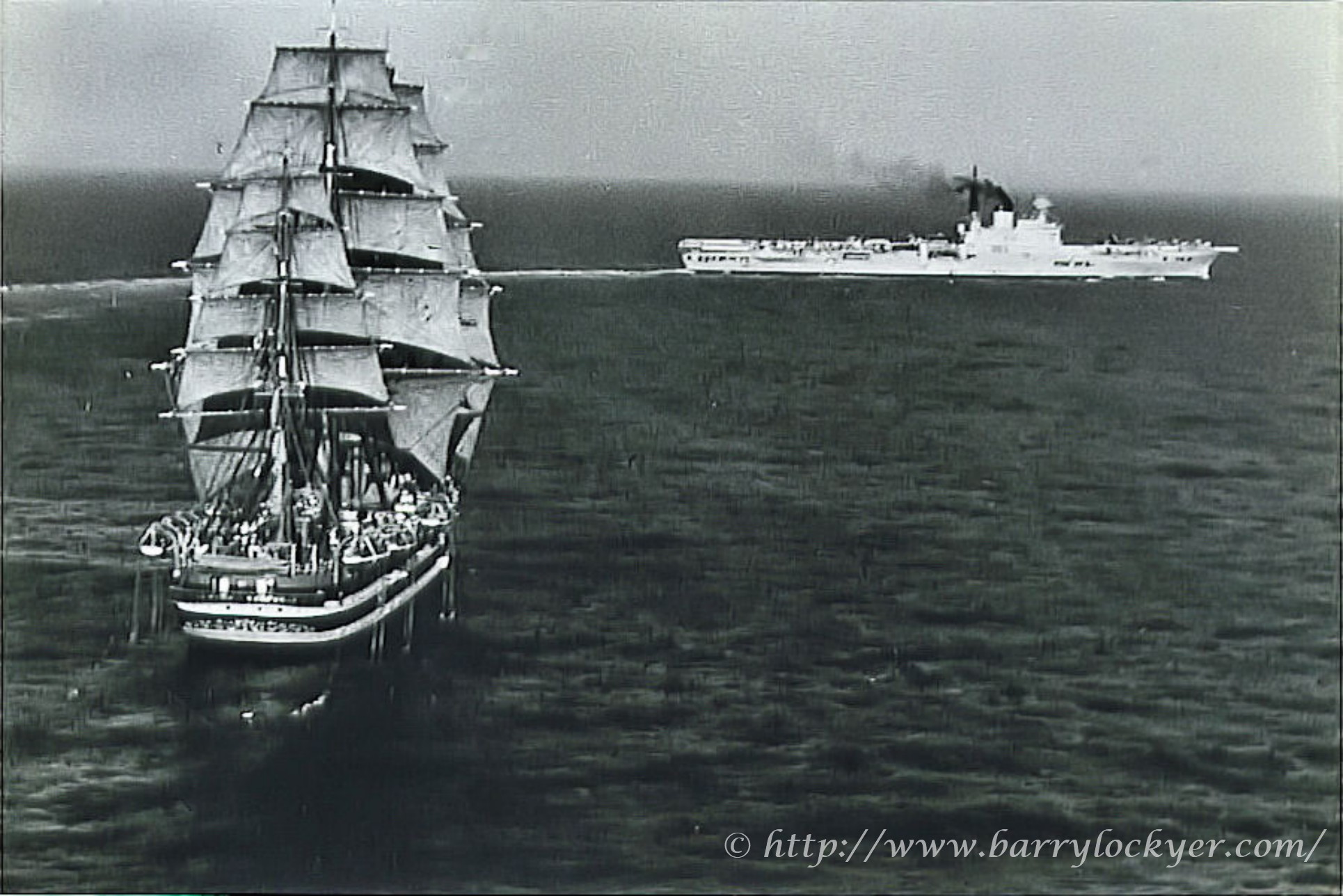 There we were, steaming through the Bay of Biscay, flat calm, what did we find,? a full rigged sailing ship totally becalmed, The Amerigo Vespucci.

(a)
(b)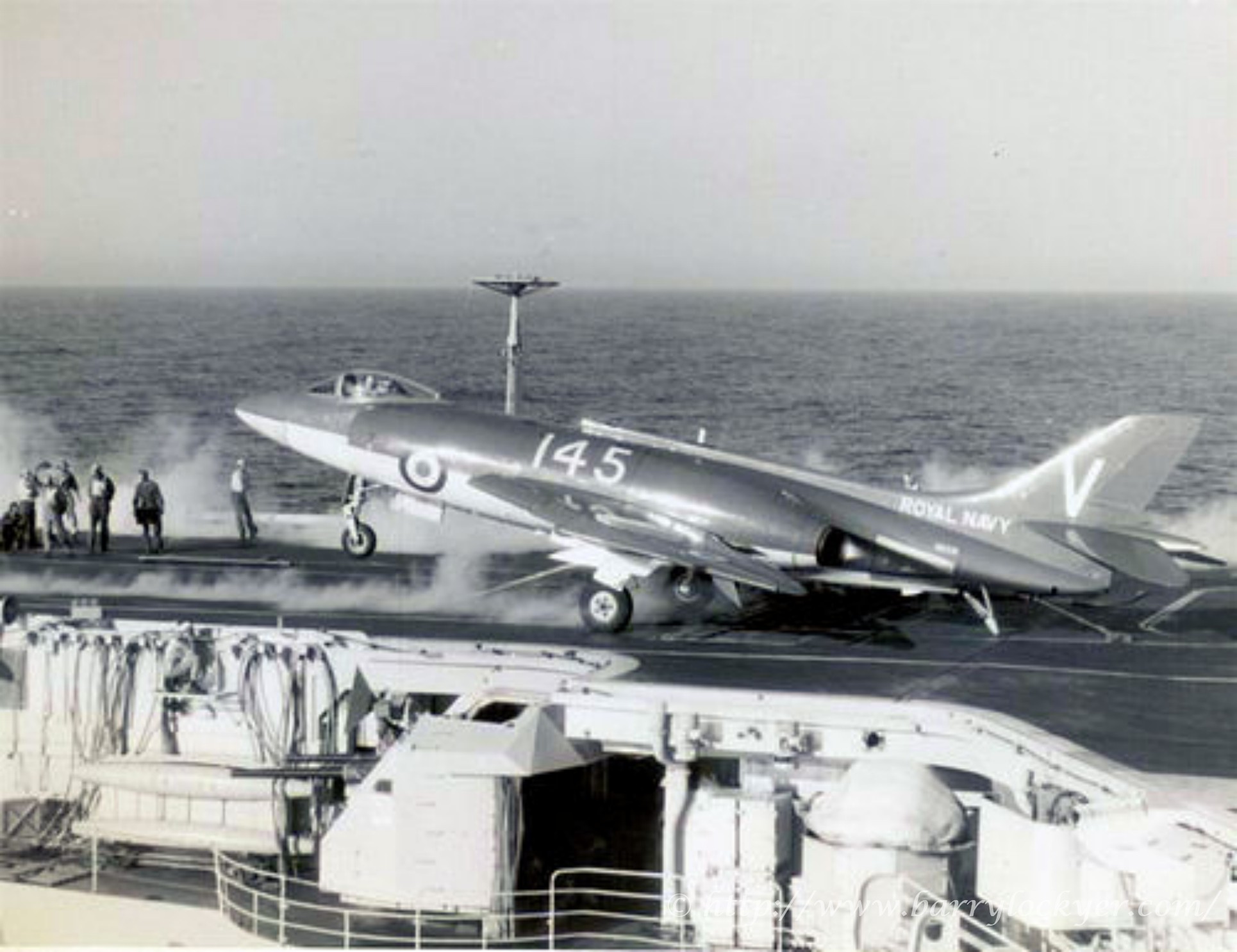 Preparing to launch a Sea Vixen (a) from the starboard catapult and a Scimitar (b) from the Port Catapult.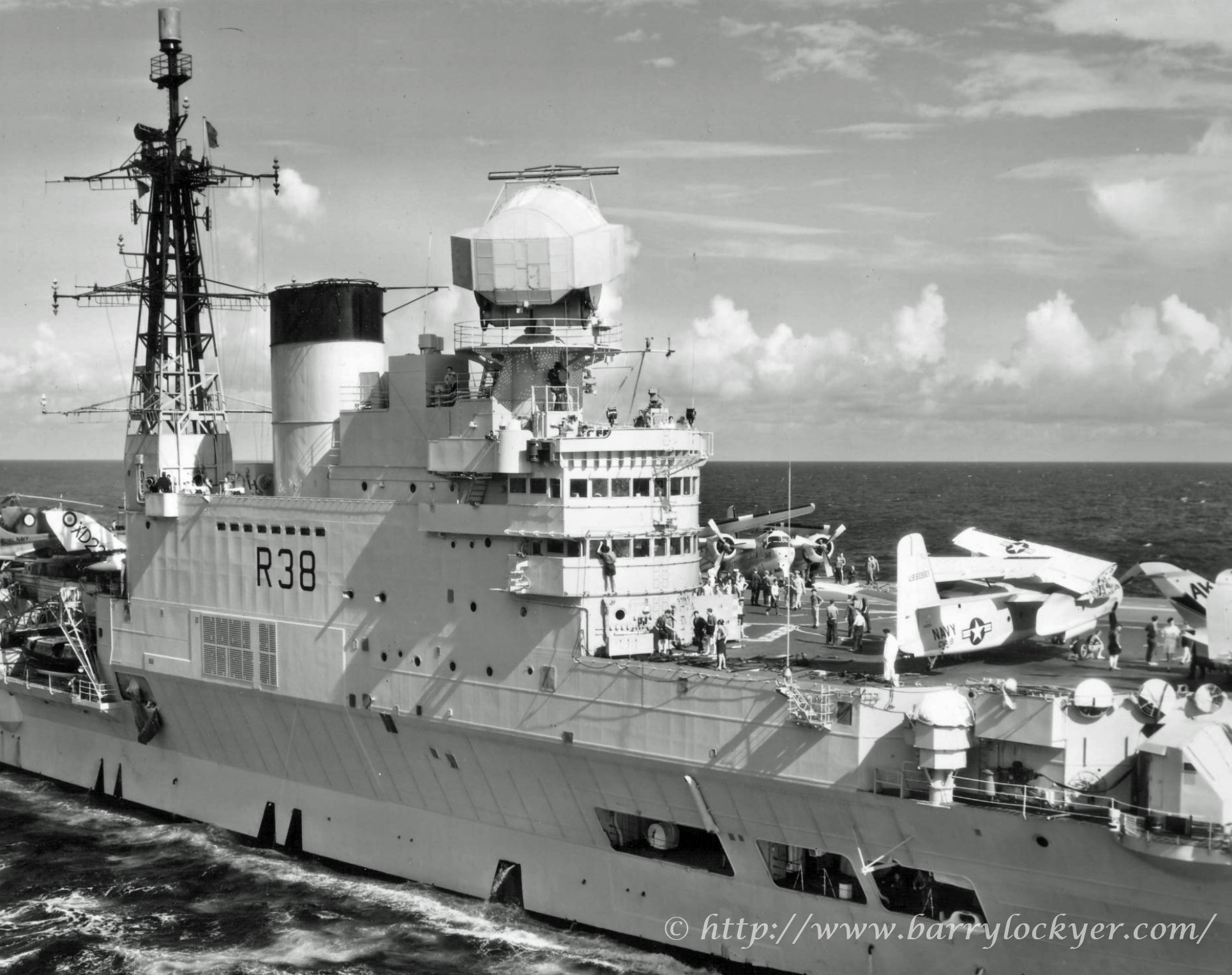 Excellent shot of Victorious taken by the American Navy from USS Essex during cross operating in the Mediterannean 1958.
The coincidence is I play Golf with Dick Lowe and Gerry Martin in Dunnellon Florida, Gerry was on the Essex with Dick, Dick was the Chief of the Flight Deck onboard Essex, part of the cross operating team, his best memory was drinking Pussers Rum at Tot time.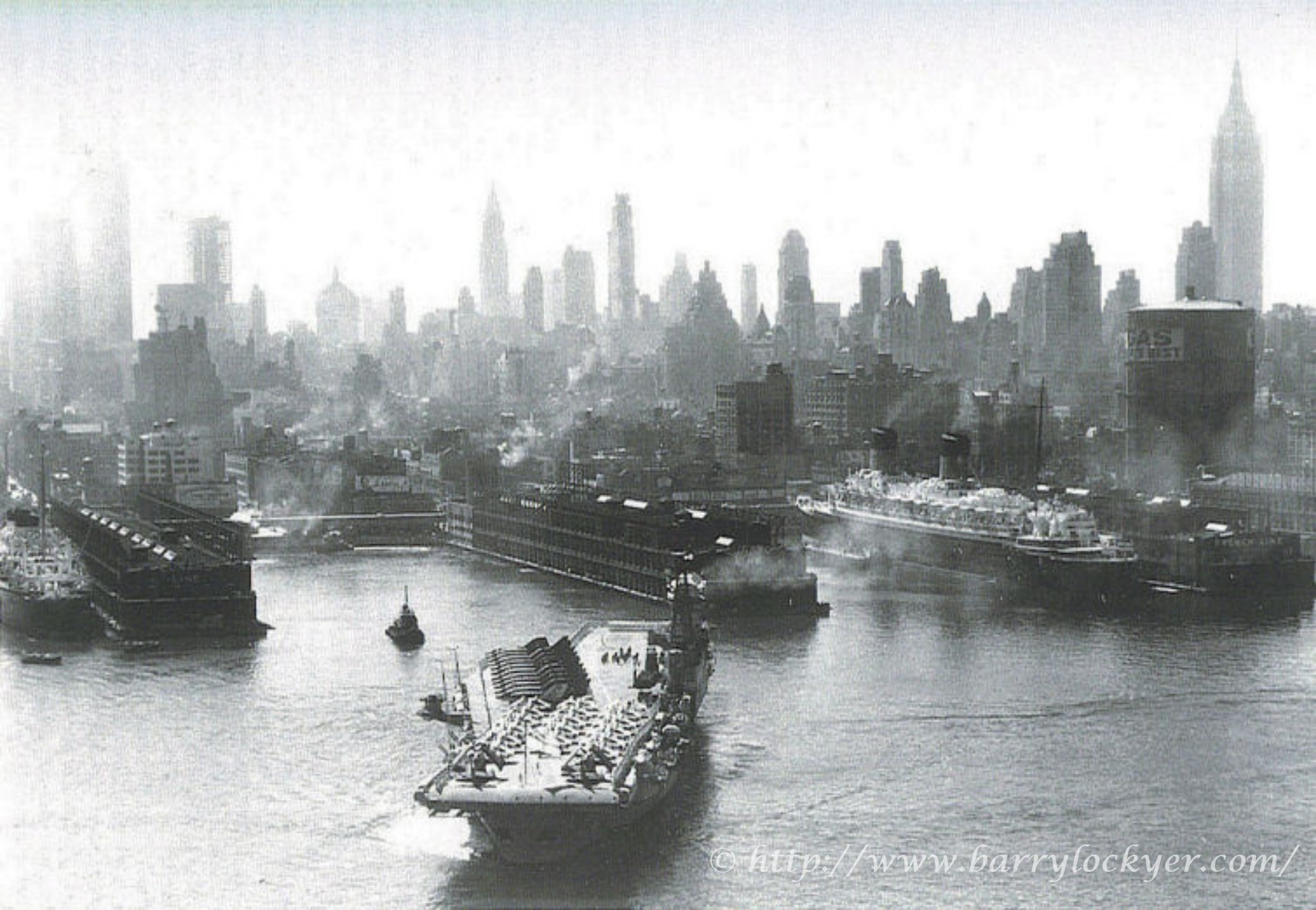 Vic coming alongside in New York and the SS Libertie 30th July 1959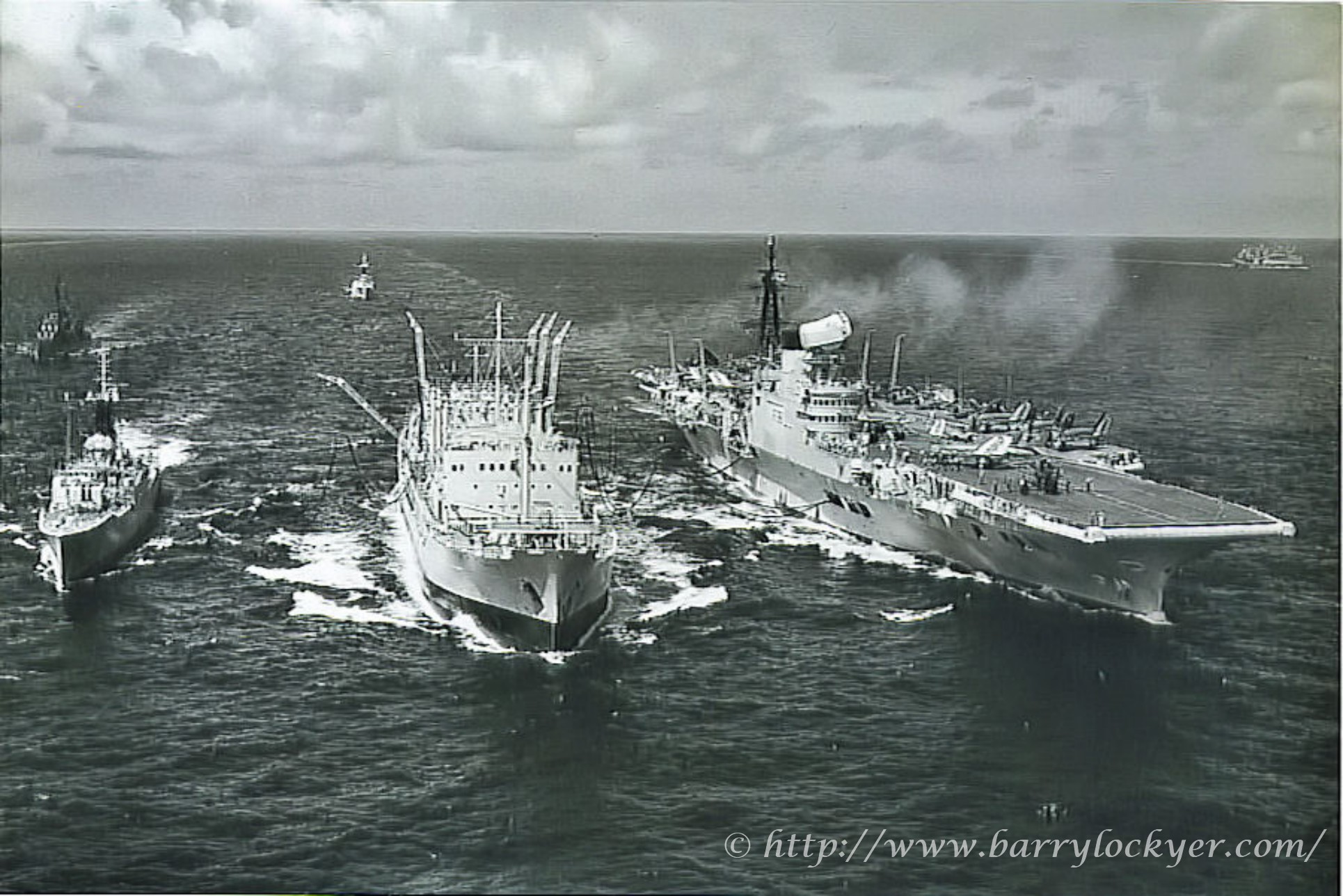 Tidereach_A96 RFA Replenishment at Sea (RAS) Victorious R38, aircraft ranged on its deck, and the frigate HMS Tenby F85 during a lull in the NATO exercise RIPTIDE. The frigate HMS Scarrborough F63 waits astern of Tidereach A96 RFA to be refuelled. RIPTIDE a combined British and American exercise, took place off the east coast of America. During her stay in United States Victorious R38 demonstrated her see over the horizon radar, mirror landing sight and steam catapults to the United States Navy and visited Norfolk, Virginia and Boston.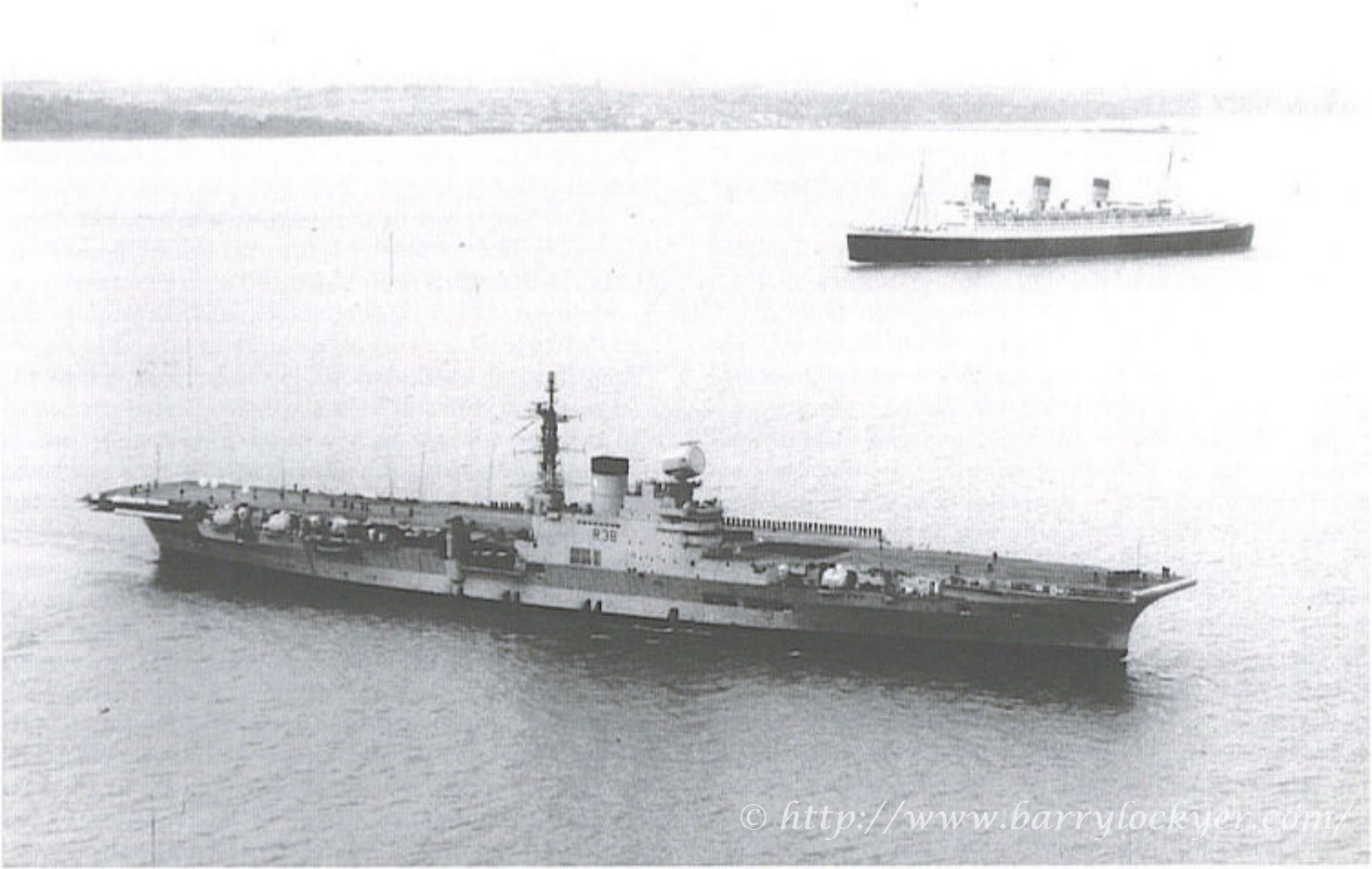 Vic entering Portsmouth harbour at the end of the first commission 26th February 1960, Queen Mary sailing from Southampton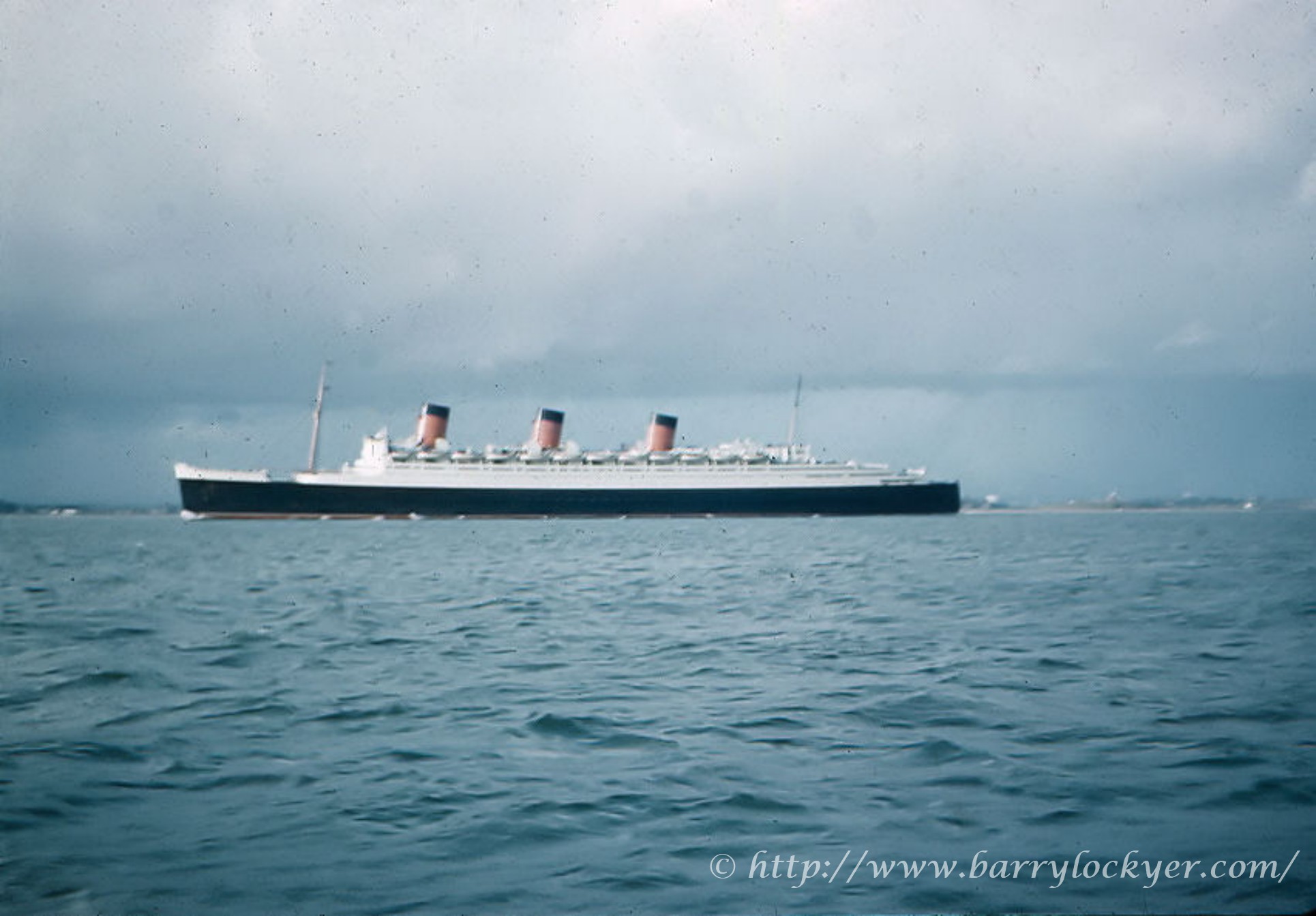 And my version, scanned from a slide taken in 1958 when we were anchored at Spithead.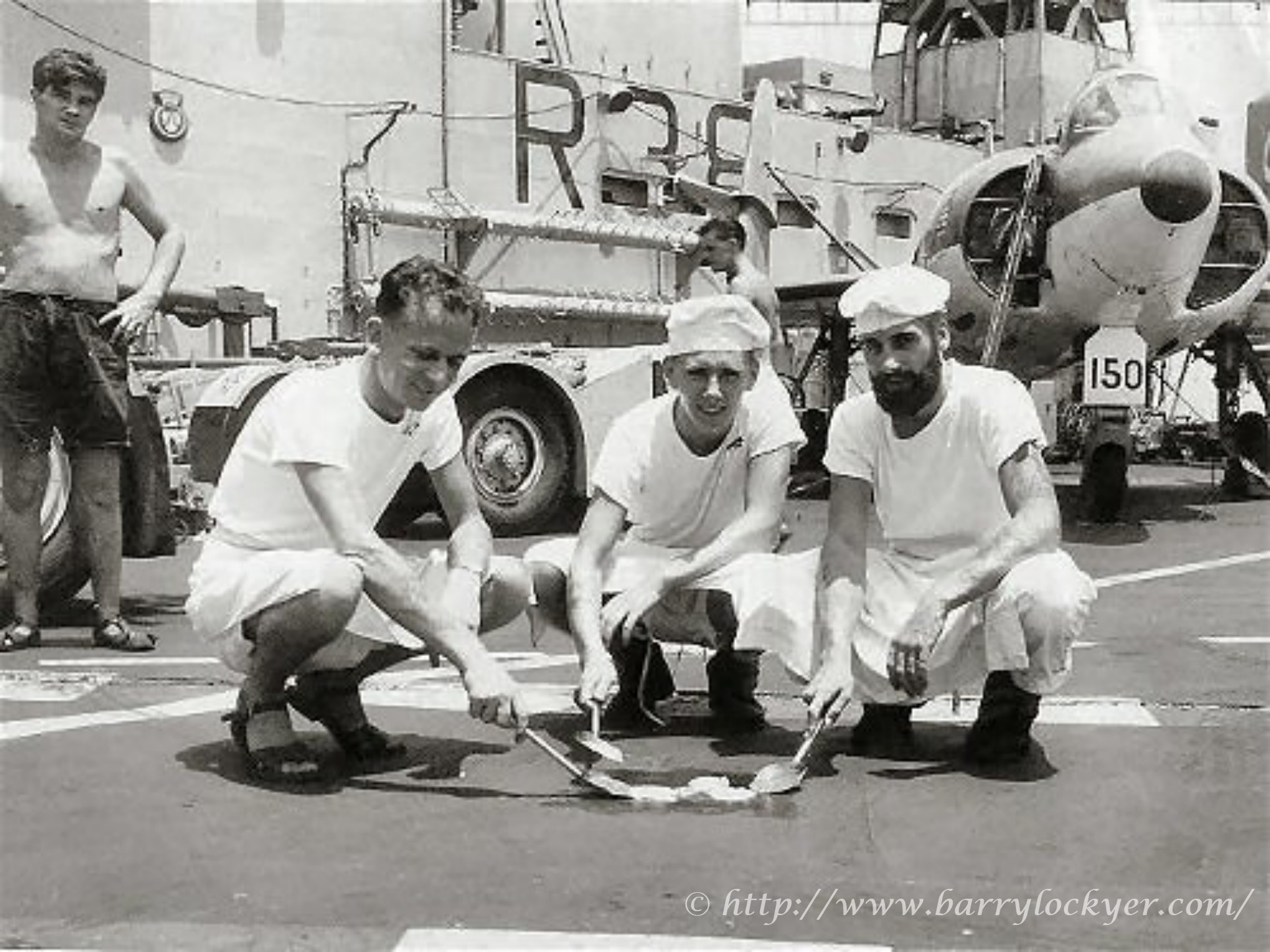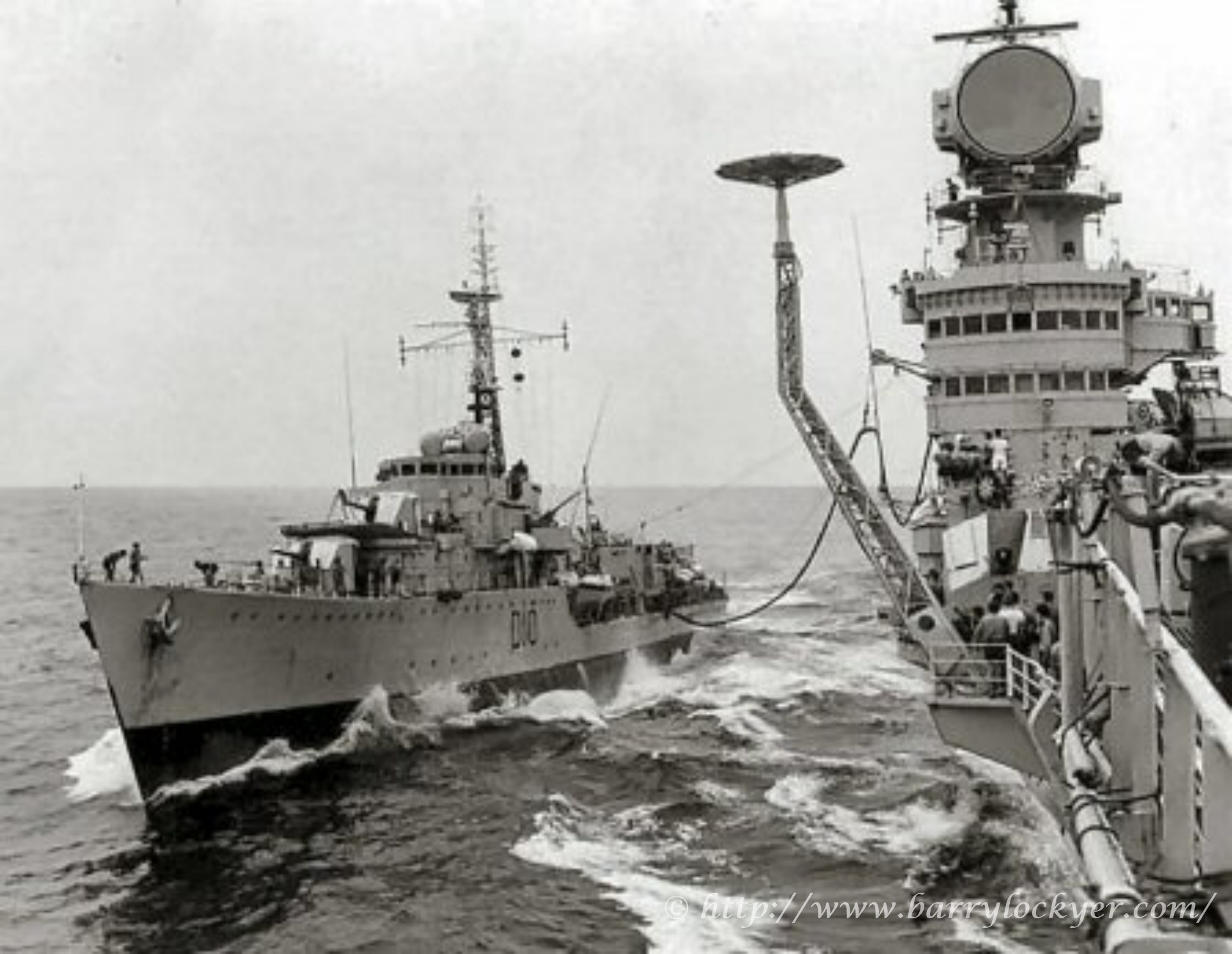 Frying eggs on the flight deck RAS'ing with the Cassandra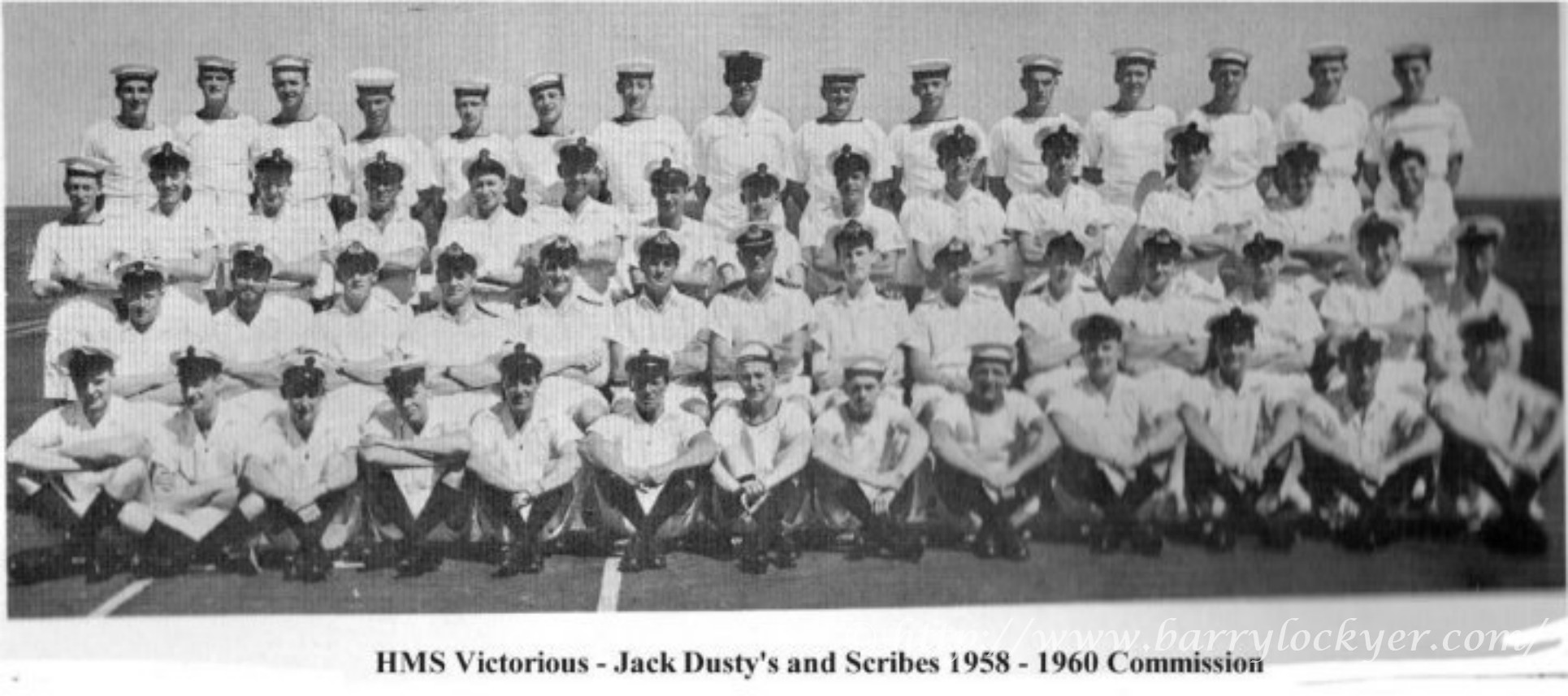 Where are you now, can you identify any of these reprobates.
I am nine from the left on the front row.
Scanned from the ship's commission book?.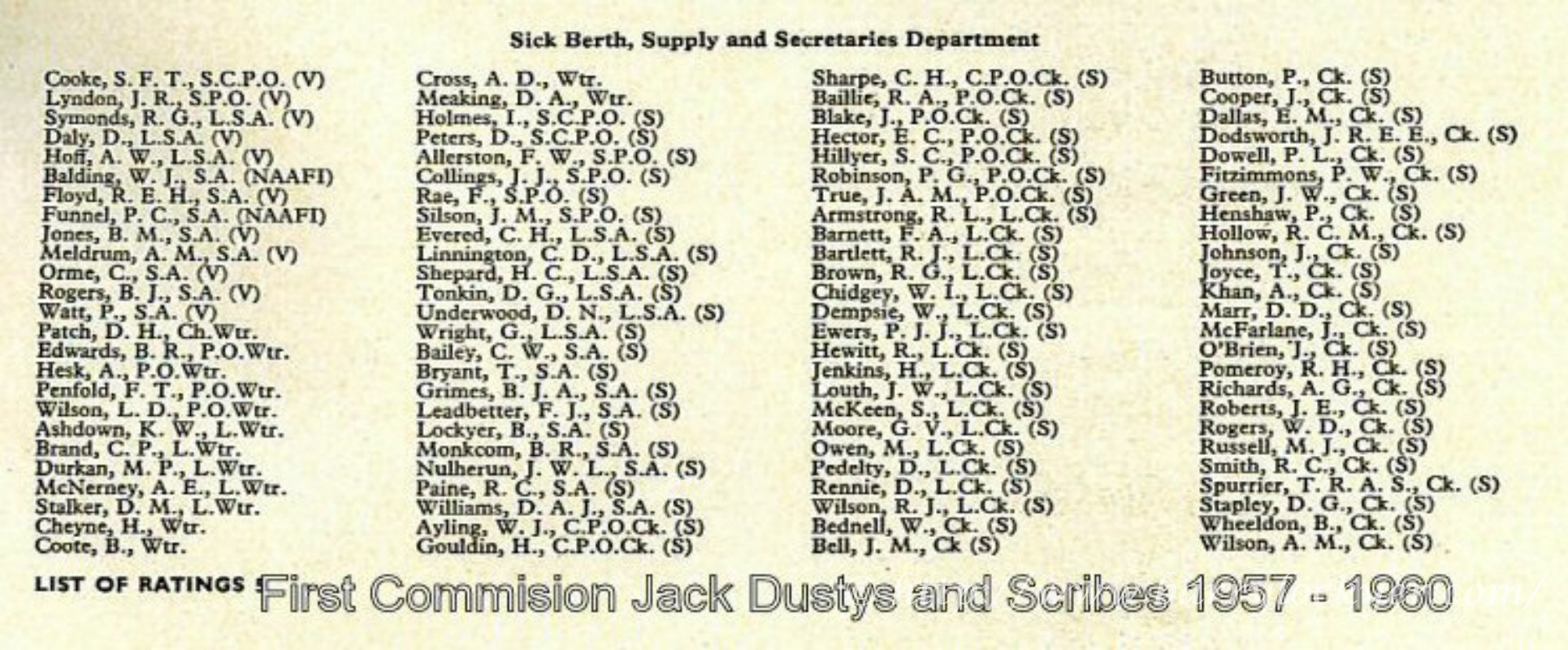 If you want any copies of pages from the First Commission Book, drop me an email.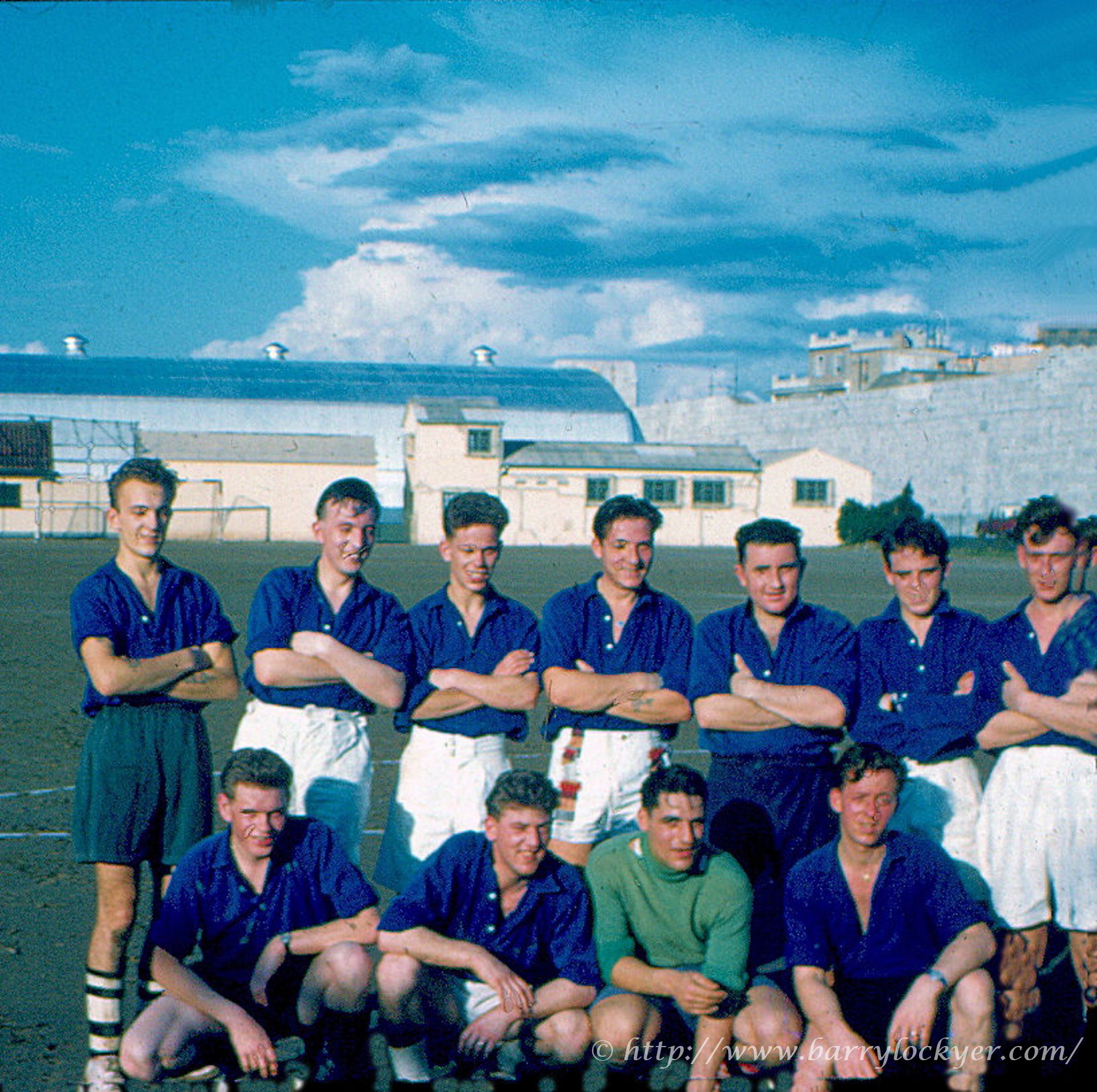 S & S Football team Gibraltar 1958
scribes?, Bernie Rogers, Cliff Orme, Barry Lockyer, Ron Symonds, ????, Jock Meldrum,
Brian Coote. Fred Leadbetter, Dan Daly, scribes?,
Apologies for any mis-identification, the memory fails as time goes by.
Over half a century now.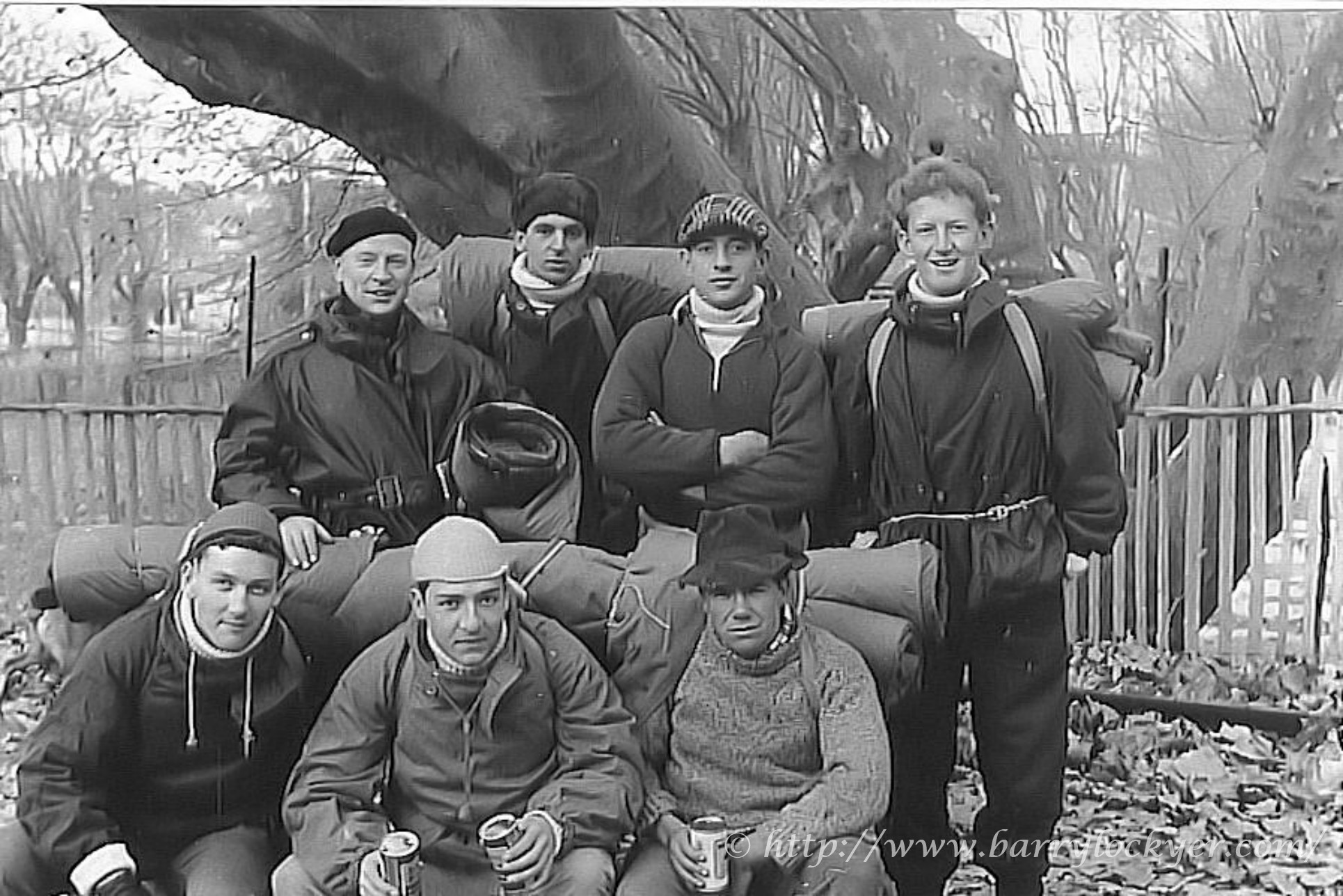 Exped Avignon to Arles, walk, French Authorities cancelled the canoeing trip due to the Rhone flooding December 2nd 1959
Dave (Ginge) Poole top right Barry (me) middle, Roger (Whacker) Paine front right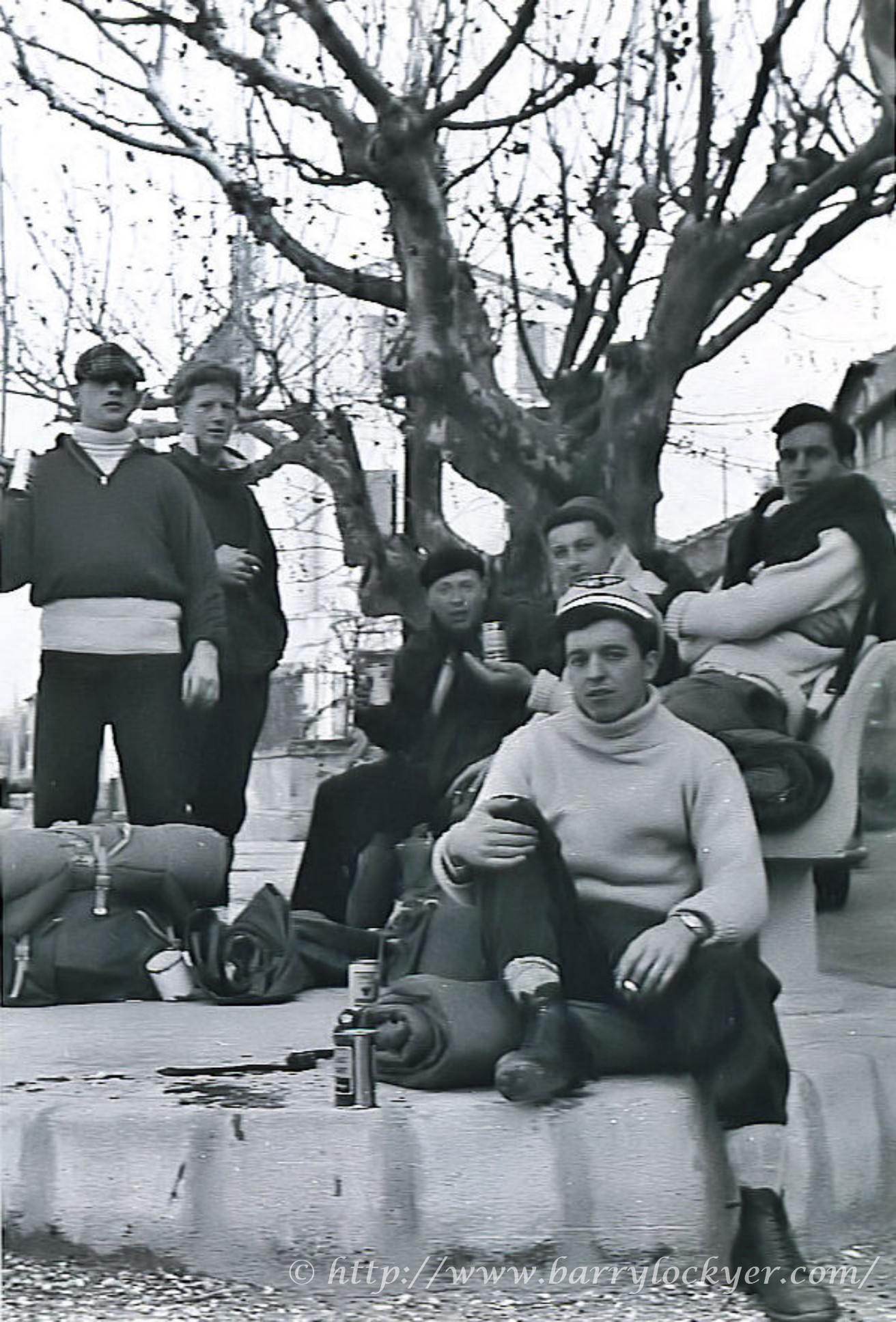 We had to stop for a beer and fag break, remember the cans pre-pull tab.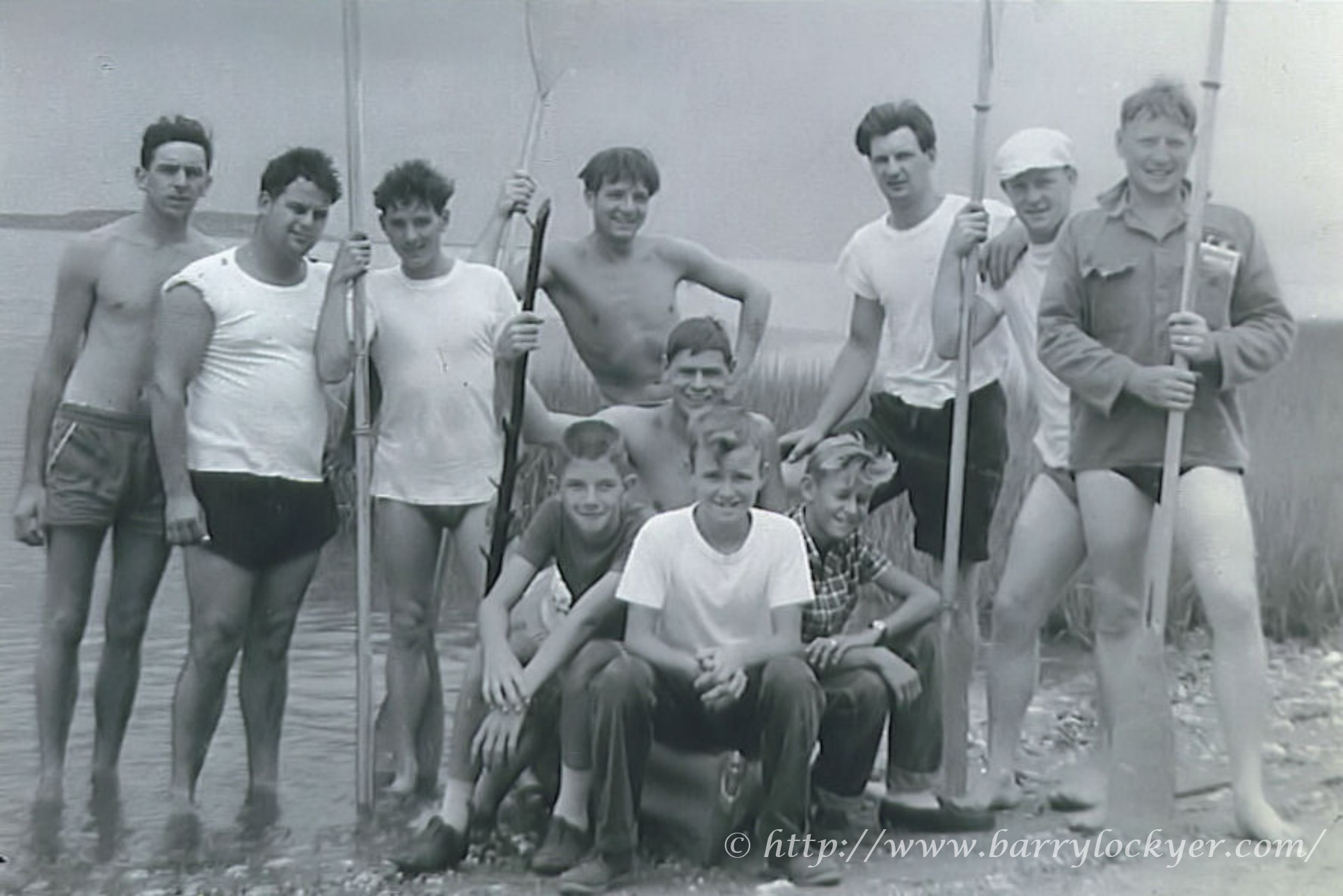 Canoeing Exped, from Norfolk Dockyard across the Hampton Roads and James River to Chuckatuck Virginia, August 1959.
I am the naked one middle back row, oh to be that skinny again.

(a)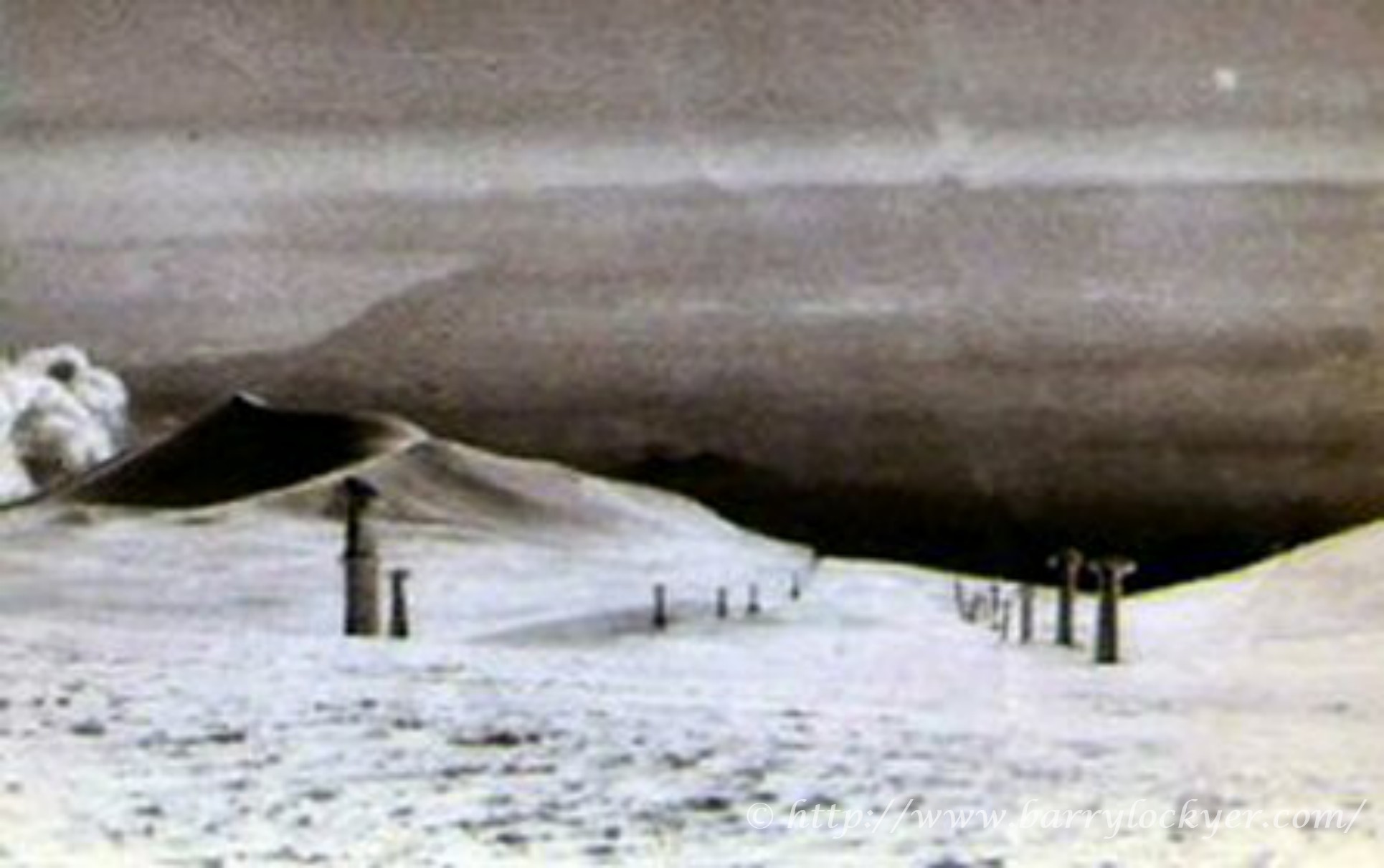 (b)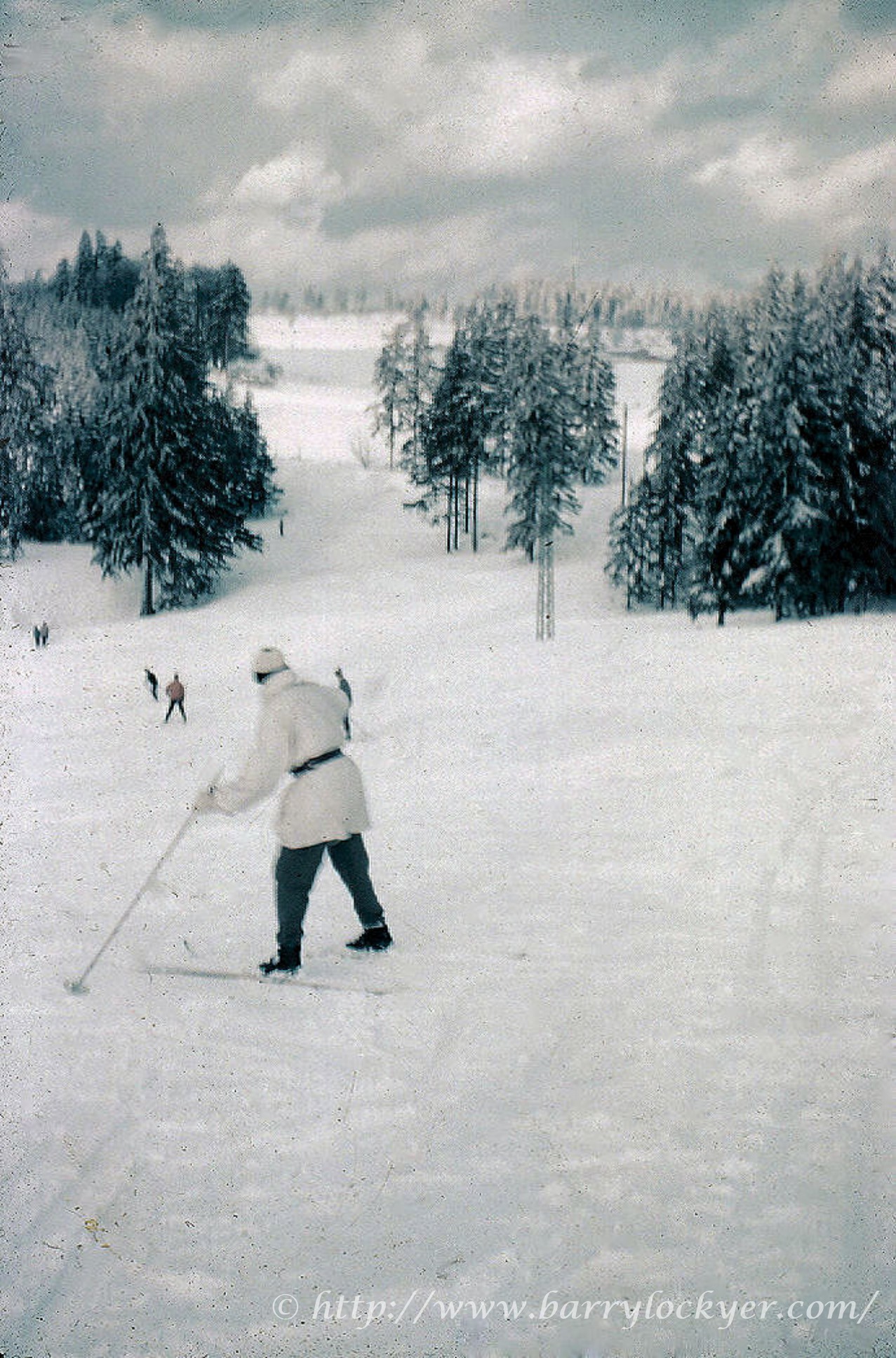 (a) Exped. to the crater of Mount Etna, Sicily January 1959. (b) Skiing in the Hartz Mountains January 1960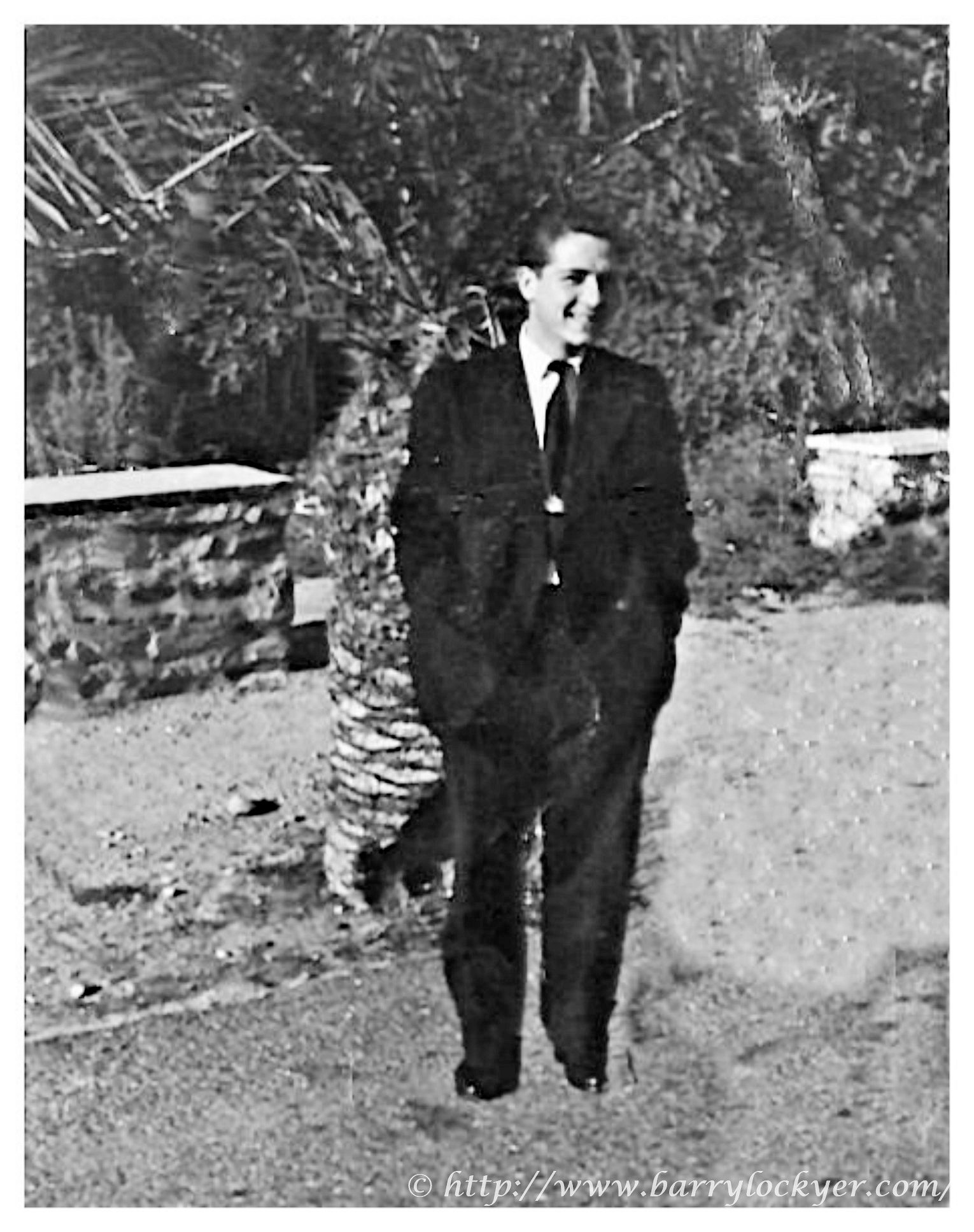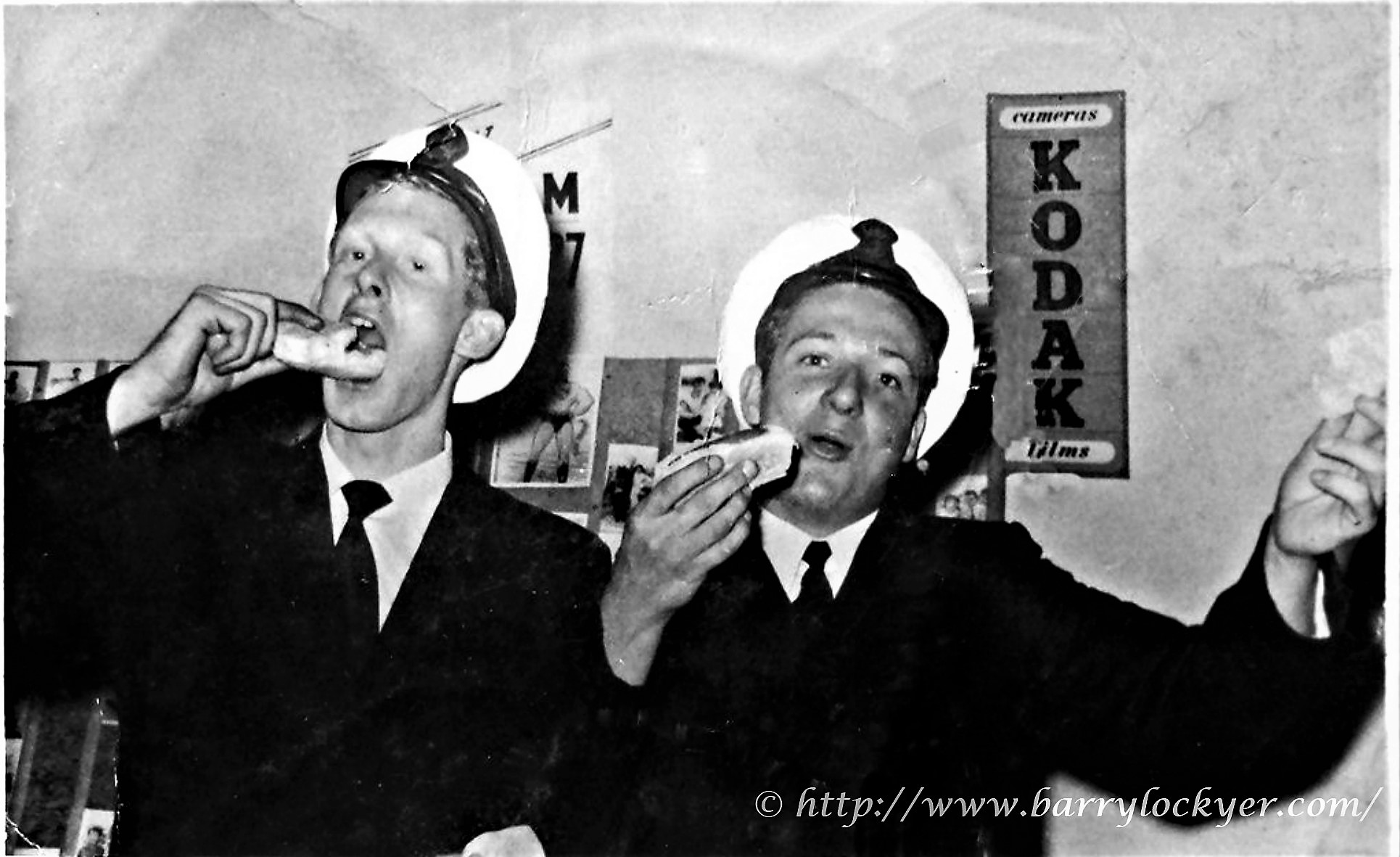 "Ginge" Dave Poole and Me, photo taken at Southsea Fair, 1957
Ginge became a Lt. Cdr.(X), he was Parade Officer for London, we met at the Albert Hall, when the RNR were rehearsing for the Festival of Remembrance, 1979, I think.
Ginge crossed the bar 1995. RIP

(a)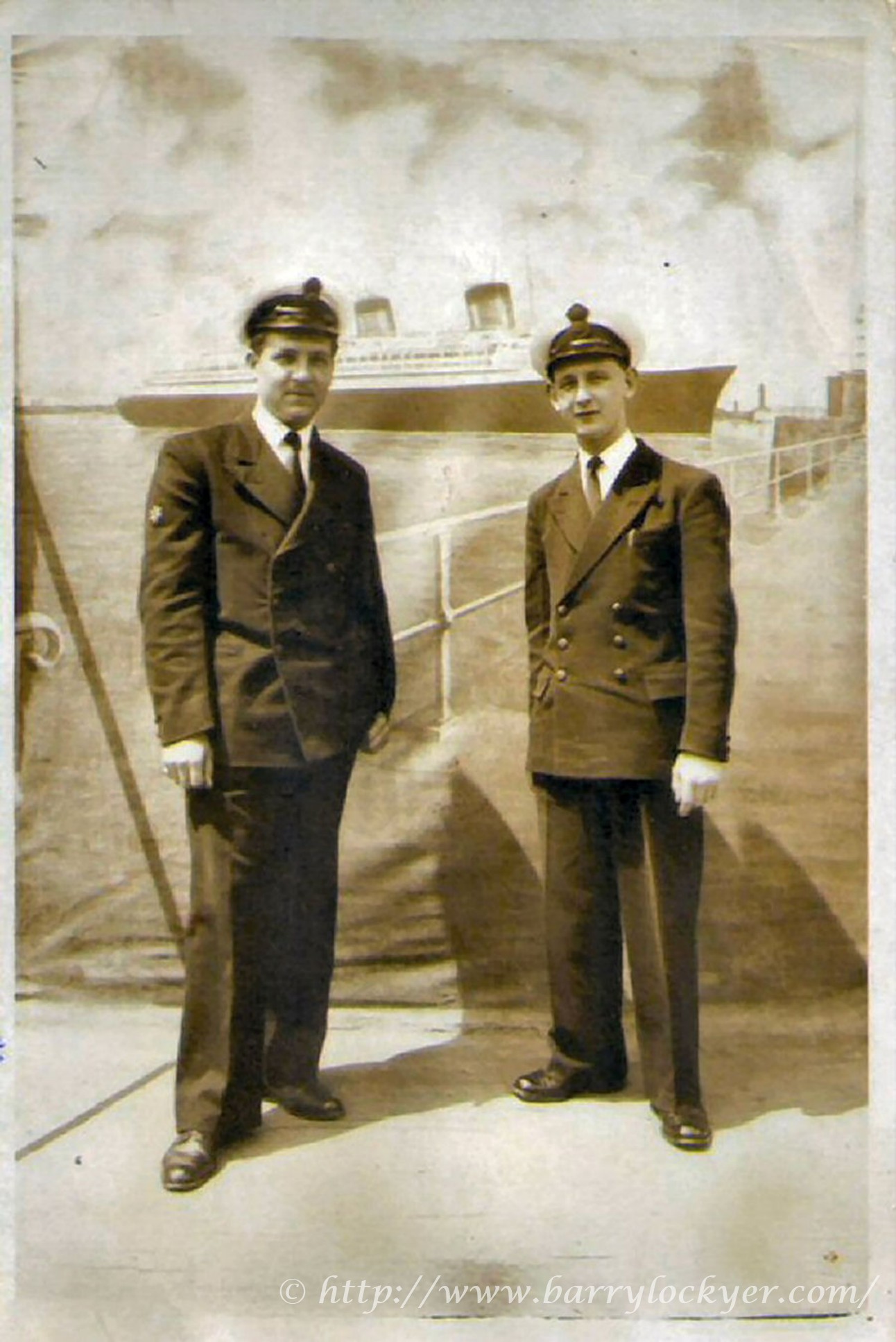 (b)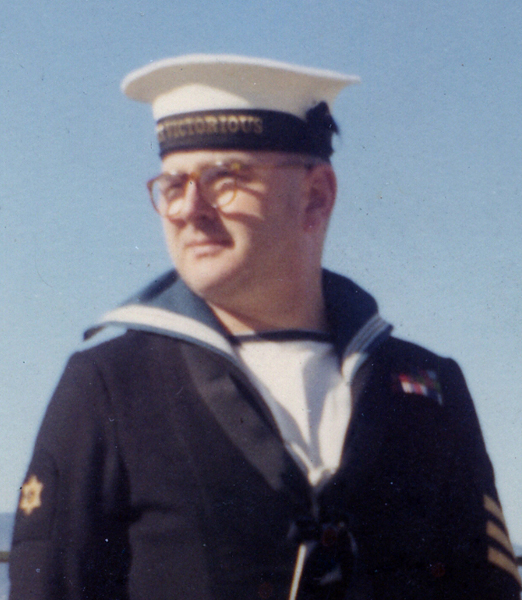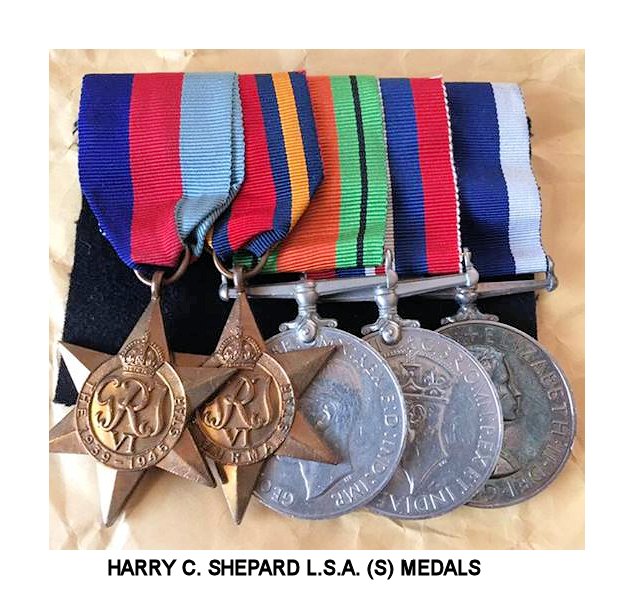 (a) The first foreign run ashore in 1958 to Le Havre,
me (left) and Colin W. Bailey, where are you now Colin????
(b) Harry Shepard LSA (S) three badges gold to f***ing old,
Harry taught the juniors a lot and was a good role mentor.
Harry's medals were sold on EBay, I obtained this photograph from the purchaser.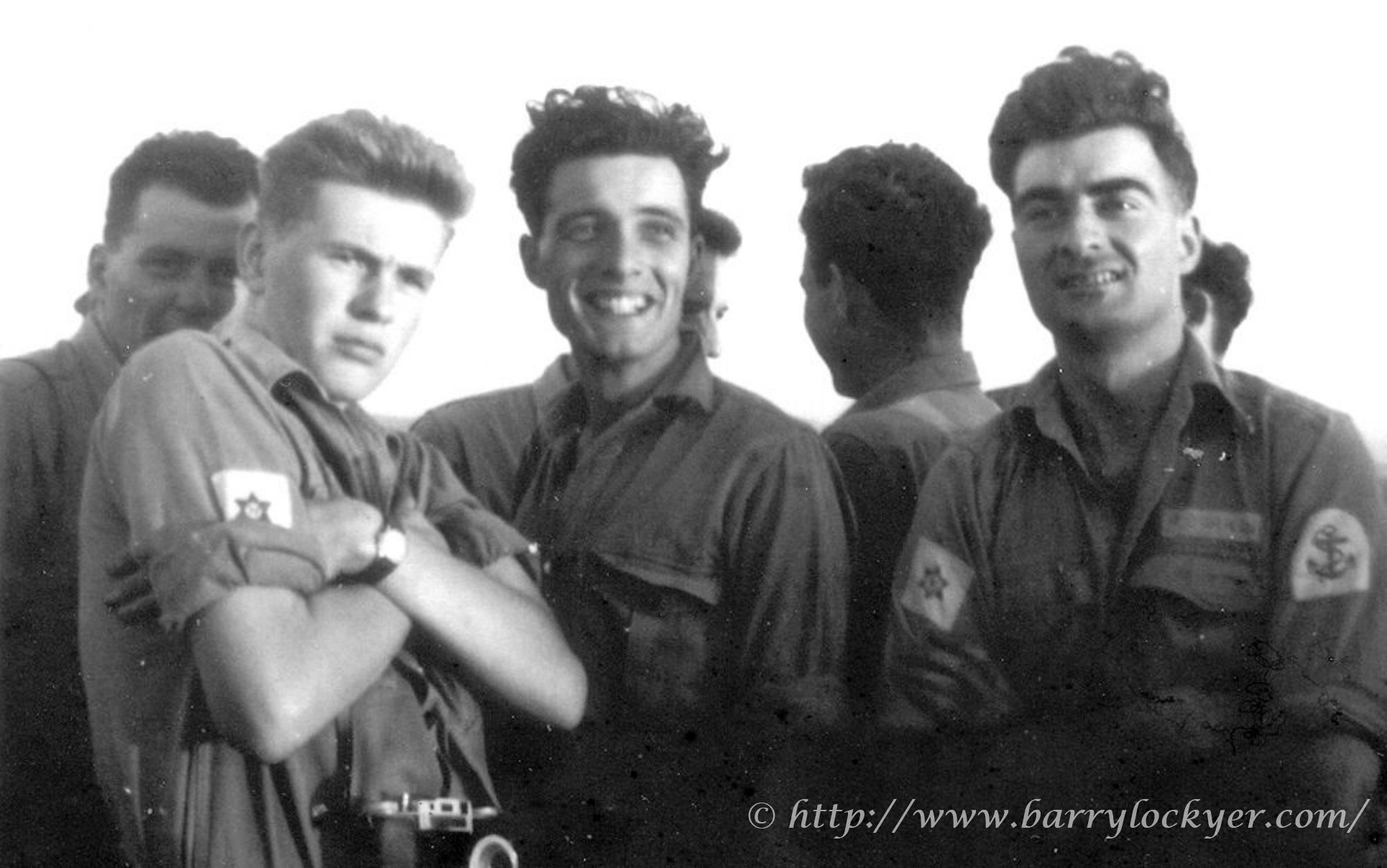 Left to Right SA(S) D.J.A. (Bungy) Williams Wtr. Brian Coote, SA(S) Brian Humphreys, LWtr. Mike Durkan 1958,
goofing on the flight deck as we approached Gibraltar for the first of many visits.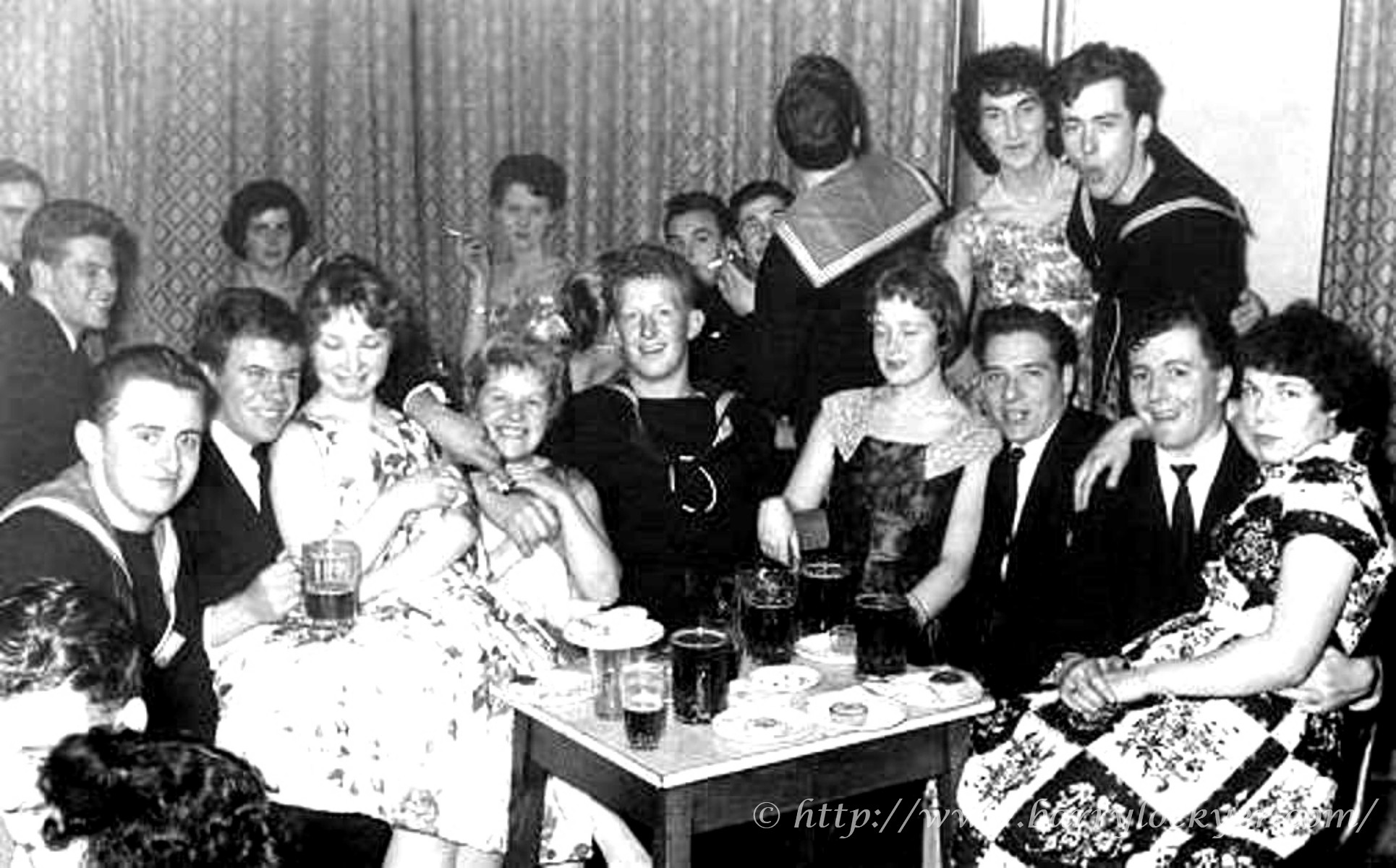 Ship's Dance, Savoy Ballroom, opposite South Parade Pier 1958.
Left to Right; Brian Monckom, Whacker Paine, Ginger Poole, Me, Bungy Williams, sorry girls I don't remember any names.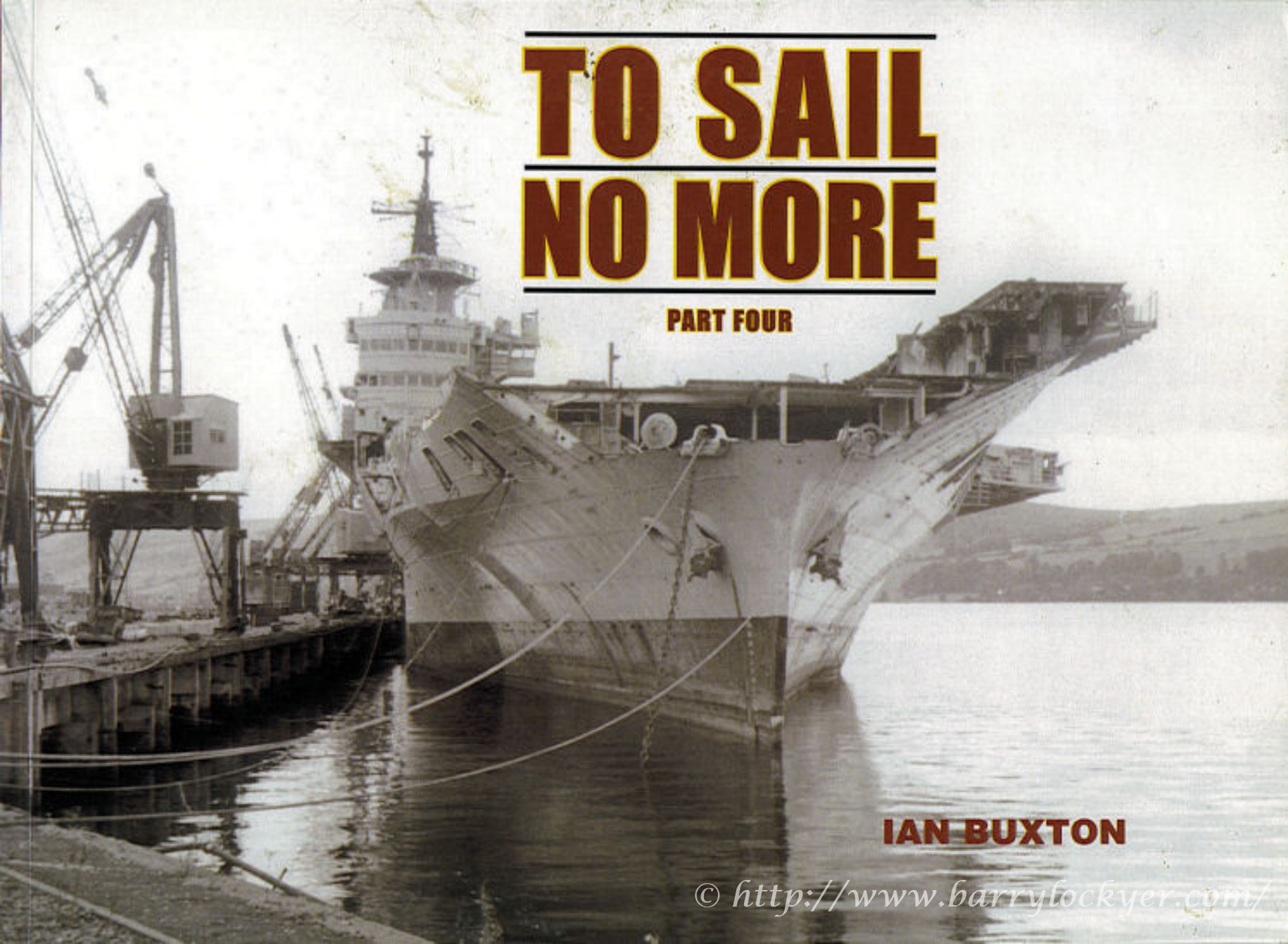 The sad demise of a once great warship, photo taken at Faslane during her scrapping September 1969.
photo courtesy of " To Sail No More part four by Ian Buxton,
published by Maritime Books, isbn 0--907771-77-7
Lodge Hill, Liskeard Cornwall, UK, 01579-343663